Theatres are complicated places, says Charcoalblue's Gavin Green, that's why he loves them. His role in the production is all about what you don't notice – but would if he didn't do it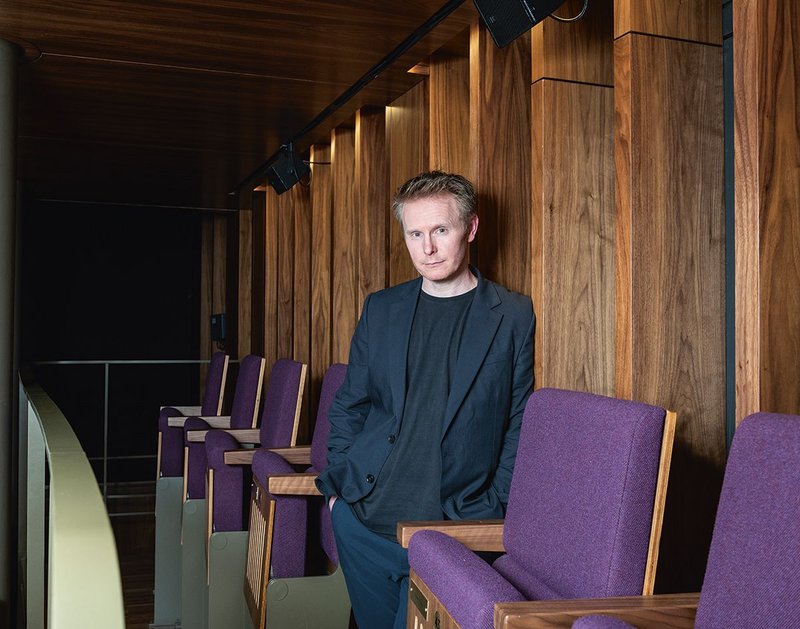 Gavin Green at the Linbury in the Royal Opera House, London.

Credit: Ivan Jones
'Even my parents don't know what I do,' says Gavin Green, theatre consultant and co-founder of Charcoalblue. Theatre design sounds straightforward, but it is not set design, nor is it architecture. It is technical – rigging, acoustics, stage floors that can smoothly swallow up performers – but also about designing for the intangibles, how the audience watches, how it feels – the things that make theatres great.
Why is this needed when great architects like Haworth Tompkins are experts in theatres and seem to get this right every time? But here's the thing: Charcoalblue is long term collaborator with Haworth Tompkins, from the Young Vic in 2006 to the recently completed Cambridge Peter Hall centre via Stirling Prize winning Liverpool Everyman (2013) and many more. And while we are making lists, here are some of its UK projects that opened in recent months:Milton Keynes Gallery, Alexandra Palace, the Kiln Theatre, Bloomsbury Theatre, Bristol Old Vic and the Linbury theatre within the Royal Opera House. And it has almost as many projects – eight – in this year's RIBA National Awards.
It is not just theatres. Green recently sat in on the architect interviews for London's Centre for Music. This Huddersfield-trained architecture student turned theatre designer almost has to pinch himself as he describes interviewing Frank Gehry, and the brilliant Elizabeth Diller, whose team eventually won the design for this high profile concert hall. Charcoalblue will work alongside Diller Scofidio + Renfro. He is also working on OMA's £111 million Factory in Manchester which is due to open next year.
At 13 Green wanted to be an architect. But when he finished his Part II he got a job at Theatre Projects on a Günter Behnisch concert hall in Bristol (unrealised) and was hooked. 'It is the excitement, and clients are so passionate about their building and art.' As he and colleagues from electrical and sound engineering and production ­management, outgrew Theatre Projects along came the small, complex but gripping project of the Young Vic and Charcoalblue's multi-disciplinary practice was set up on the back of this.

Concept sketch for The Factory, Manchester with OMA which will house theatre and arts.

Credit: Charcoalblue
On an early project the client came to the practice with one burning question, says Green: How do I stop my architect screwing up? Much of Charcoalblue's job is translation – of concepts and need as well as the vocabulary. Green feels that his team, many who have worked in theatre, won't lose sight of what is on the stage at the end, which helps when some architecture can be overbearing. He says this all very lightly as if it is the natural way of things rather than anything to worry about – and with an apparently boundless energy, there is a little of the cartoon kid ready to turn action superhero about him. But that might just be the spiky hair.
We meet at a recent project, the Linbury, and walk through spacious interiors that have opened up the Royal Opera House as Green relates how they got the job. 'We were on the losing team here,' he says. The firm entered the competition with Witherford Watson Mann, and came second. But its suggestions for the Linbury were enough for the ROH to ask it to take it on alongside Stanton Williams, and so it did – luckily Witherford Watson Mann was understanding.
The Linbury has been completely transformed from a scruffy, underwhelming black box. It now has curvaceous timber balconies. It feels established, despite being new. A change in rake, shifting staircases to the corners and an electric-acoustic system have changed its character and the experience of watching – all within the same box. It feels like a proper auditorium now, though the shows are still on the experimental side for the ROH, as with the current South African production of the Man of Good Hope, which draws its cast from the townships.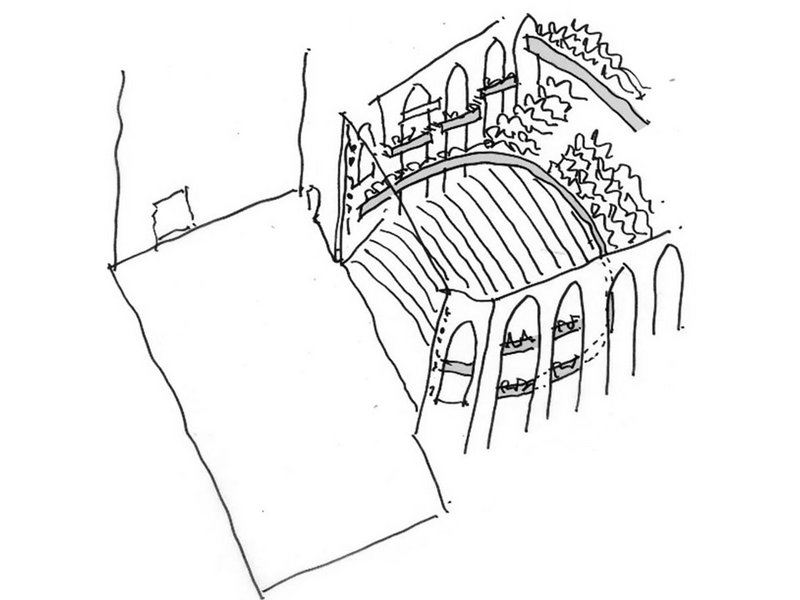 At the Lyric, New York, Charcoalblue's concept was a new theatre inside the old - concept sketch.

Credit: Charcoalblue
Green can explain the technical side, the need for oversized ducts for quiet, slow moving air, the spikes in occupancy – and in toilet use. 'Theatres are fiendishly complicated,' he says. But we are soon back on that magic, the intimacy and sense of togetherness; a cultural phenomenon that is interestingly far harder to achieve in the US and Middle East due to local regulations and expectations about personal space. If the density of seats is lower you can easily lose the sense of the body of the audience and the way that charges the atmosphere.
Green needs to know about theatre and venues abroad because now two of the practice's four offices are overseas, along with 50% of its work. It is a global network – and such things as the way three venues function within the Young Vic have inspired far flung producers and chief executives working in Chicago or on the theatre for the World Trade Centre site. In the typical way of construction, creative directors often leave as their projects finish, but that has seeded collaborators elsewhere in the industry. For 80-strong Charcoalblue this international market is particularly important. He admits they maybe running out of British theatres and venues to work on.'But our ones will need refurbishing soon,' he smiles.
And there is work with Google and Facebook, which are interested in how to engage people, including their own staff, in the real world. 'Google has more conference rooms than anyone on the planet,' reports Green. It is working on tuning them technically, as it might do with apparently tiny interventions into seat heights in a West End theatre.
There are also a few projects where Charcoalblue gets to be lead consultant. When the play Harry Potter and the Cursed Child moved from London to New York it took on the NY Lyric, 'where plays go to die. In the 13 month renovation it pushed through permits and piling into New York's bedrock, bringing seats closer to the stage to create an immersive theatre. Leading a team including Marvel Architecture and set designer Christine Jones, and using the latter's large scale model, Green puts the refurb's speed down to a 'theatrical sense of purpose' and a willingness to challenge construction processes. So here we uncover what a theatre consultant does.
But should you be impressed with the Harry Potter phoenix sconces at the Lyric please note, they were not Charcoalblue.