Unfolding Julian Assange's Home of Diplomatic Containment I & II takes top place in Eye Line student category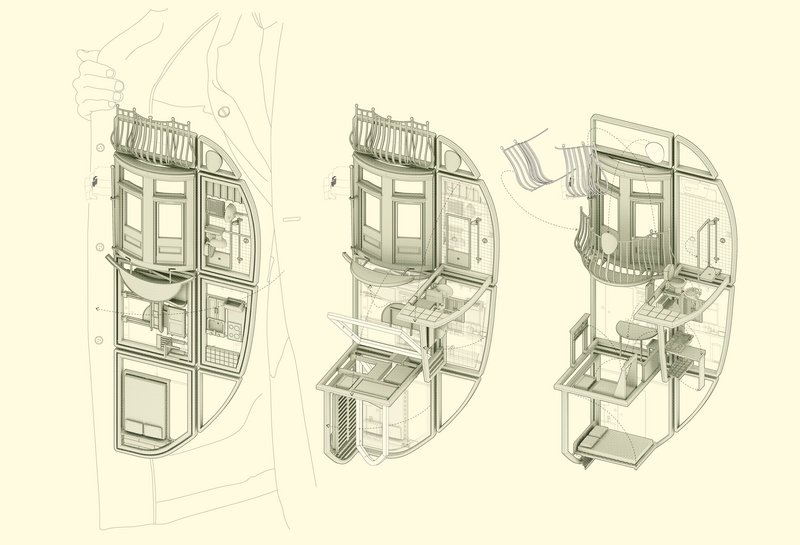 Unfolding Julian Assange's Home of Diplomatic Containment II. Photoshop & Illustrator on paper. 329 × 483mm
Student: Winner
Theo Jones Bartlett School, UCL
Unfolding Julian Assange's Home of Diplomatic Containment I & II
---
'From leaked documents, it has been established that Ecuador considered transporting Assange in a diplomatic bag. For a time, the Met Police even scanned objects exiting the embassy for heat signatures.' So runs the opening paragraph of Theo Jones' explanation of his project analysing the conditions of Julian Assange's political asylum, turning the whole stasis into a proposition, adding: 'The "jacket" acts as a diplomatic bag holding a collection of rooms that can be folded up, hidden and transported with diplomatic immunity.' And so within Jones' flip up, fold-out, pocket-sized world, is contained the means of Assange's eventual liberation.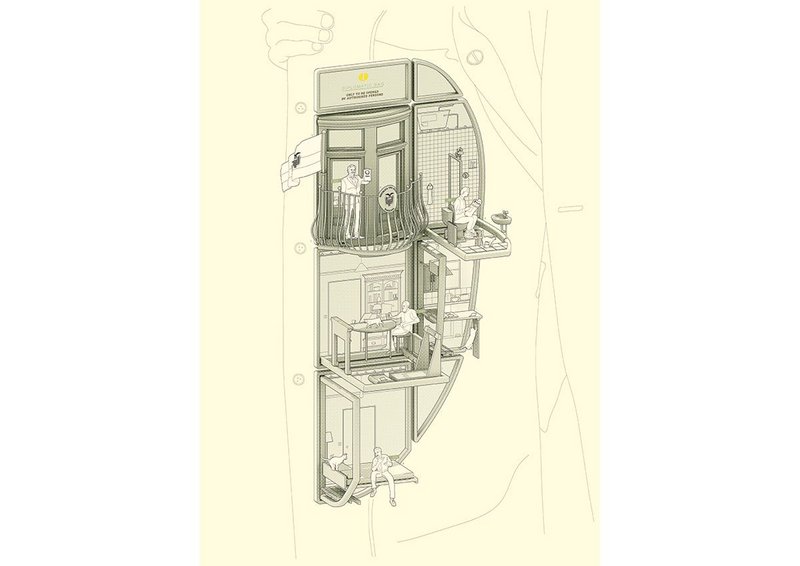 Unfolding Julian Assange's Home of Diplomatic Containment I. Photoshop & Illustrator on paper. 594 × 841mm
Neil Spiller said the theme was popular with students, but it was the resolved manner of its delineation that caught the imagination of the Eye Line judges. Tszwai So called it 'very communicative work coming out of some intelligent and clear thinking. You really do buy into the idea.' Though Hugh Pearman was more circumspect, saying 'while I thought it curious, I was not that taken by it until I really started to look at it in detail.' Anne Desmet was instantly sold, declaring the idea 'ingenious, funny and elegantly put together,' reminding her of a trip on the Orient Express where 'cabins unfold like a box of delights.' Wen Quek felt the drawings to be 'instantly memorable, the folding out done excellently…the programme making it something quite original.'
Spiller was the last to concede, being 'a bit irritated by the intellectual conceit,' but in the end was won over by Jones' political mechanisms. 'It's clever and there's real intricacy in his deployment drawings; of all the Assange schemes I've seen, this is the best.'
The RIBAJ Eye Line Exhibition is open to the public from 1 August to 7 September in the First Floor Gallery at RIBA, 66 Portland Place. See all the winners at their original size, in one space.