As the government announces a capital boost for schools, practice alma-nac has used the pandemic to deepen its relationship with schools by producing a new guide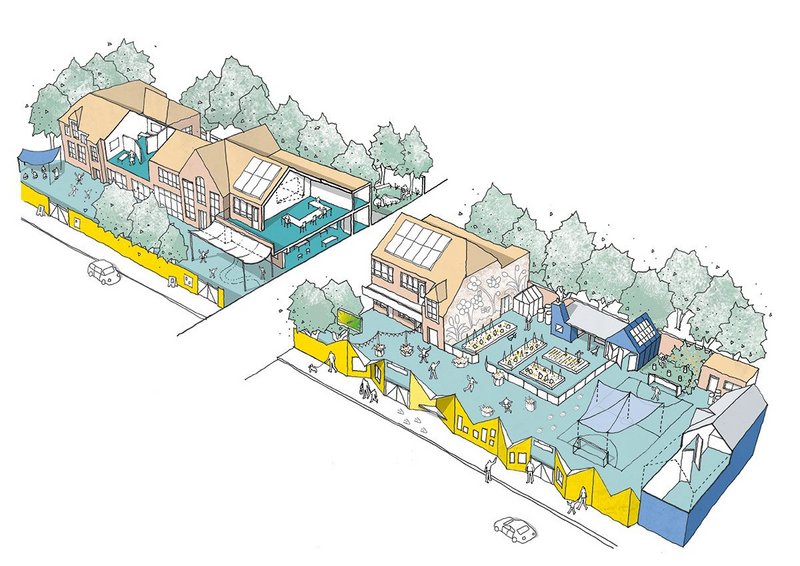 Future Plan – a spatial summary of the ideas in Safer Schools.
'I was blown away by how much it's supported us a school… I found it so useful – it's very visual.' So says head teacher Reema Reid of Simple Solutions for Safer Schools, a guide produced by architect alma-nac to help schools navigate the difficult task of ensuring a Covid-safe school environment.
Initially produced to help schools get ready for re-opening last September, the guide has been updated to assist with the anticipated return to school this spring following the post-Christmas lockdown. It has had the added benefit of building stronger links with local schools for alma-nac and raised its profile far more widely. It is good timing as the government highlights its £1 billion investment into school rebuilding.
Reid's Hollydale School was one of seven in London's Southwark, plus one in Barnet, that alma-nac worked with to produce the guidance. And the document has had far wider exposure not just nationally, but internationally too. Available online, it has been downloaded hundreds of times from as far afield as Australia, India, Russia and Singapore. 'It's certainly reached much further than we thought it would,' says the practice's Chris Bryant. For the firm, the pro-bono project was a self-initiated response to the pandemic crisis that has enabled it not only to provide much-needed practical help to schools, but also to deepen its own research into the design of school buildings.
'When the pandemic hit, we thought about what skills we could offer as architects and what we could do to help,' says Bryant. alma-nac was able to draw on a network of schools it had built up as part of a project (currently paused) to repurpose the 2019 Dulwich Pavilion as planters for local educational establishments.
Clarity and joy
The practice intended simply to supplement rather than supersede the rather dry government advice with positive and achievable guidance informed by insights gained from talking to the schools themselves. 'We felt we could offer something very clear and hopefully more joyous and positive,' he explains. After evaluating the government advice, alma-nac spent time talking to leaders at the cohort of primaries and secondaries, which included both state and private schools of various sizes and building vintages. Where possible the practice visited – alma-nac's Tristan Wigfall was already familiar with the school his son attends – to gain an understanding of the challenges and proposed strategies.
Schools highlighted the particular challenges of facilitating regular hand washing, achieving socially-distanced circulation in narrow corridors, seating configuration, and dealing with the school entrance, which has become the key interface between school and parents/the wider community now that entry is no longer allowed beyond that point.
Presented in an accessible style, the guide sets out key principles of communication, wellbeing and context as well as specific guidance for areas such as drop off/pick up; distancing; circulation, and classrooms including the increasingly important outside learning. This includes diagrams showing different seating configurations – the schools consulted often preferred horseshoe arrangements. There is useful advice on hygiene, classroom equipment and dealing with personal belongings as well as tips such as the use of 'social wings' to help children judge distancing.
Participating schools valued the clarity of the document, and found it useful not only in practical terms for themselves as guidance and a checklist, but as an educational tool for sharing with older pupils, and in doing so, providing them with a reassuring explanation for the Covid-safe changes.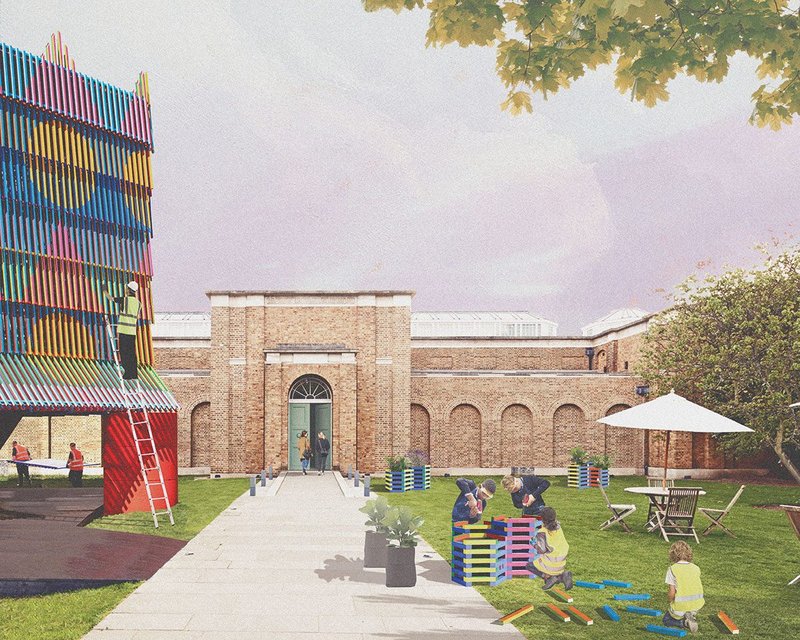 Mandala designs for the playground at John Donne School in Peckham.
Future gains
Not that such projects don't yield valuable other benefits. Already it has indirectly led to a new commission for a playground project at John Donne School in Peckham. Here alma-nac is working with pupils to design 'joyous' mandalas for floor murals.
'Some schools were segregating their playgrounds with hazard tape. We're applying for funding for floor murals to help create informal divisions in a more celebratory way,' says Wigfall. He hopes this will provide a welcome positive and fun outcome.
The guidance has also informed the practice's ongoing education projects such as the redevelopment and enhancement of the junior and lower school buildings at Dulwich College, which was designed pre-pandemic. alma-nac is now re-visiting the design in the light of lessons learnt over the last year.
And it is carrying on with its research – a particular aim is to capture the experiences of pupils over the last year.
Perhaps the last word should go to head teacher Reema Reid, on the importance of taking forward the positives from last year's experiences. She is part of a new steering group of heads in Southwark who are meeting to discuss both the lessons learnt from the lockdowns and their easings, and how schools can be supported. She is keen to use this intelligence to facilitate long-term ­improvements in how schools are designed and managed.
'It shouldn't have taken a pandemic, but it has and we need to hold on to what we've learnt,' she says.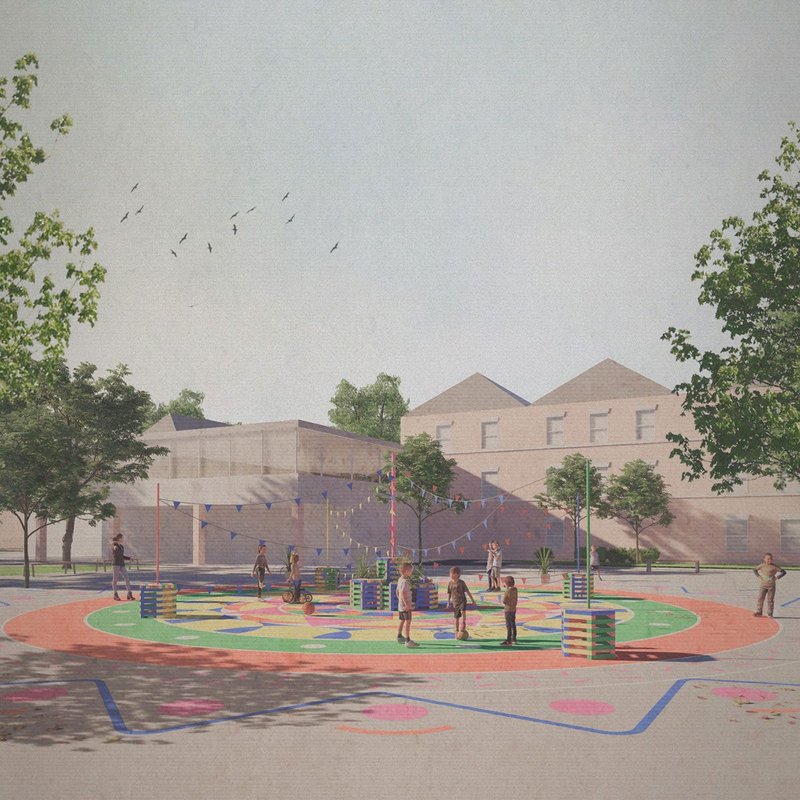 The project started with alma-nac trying to find a way to re-use Pricegore's Dulwich Pavilion in local schools.
Benefit beyond Covid
The guidance ends with a positive 'what if' vision of a school with new elements designed to be of long-term benefit beyond just the creation of a Covid-safe environment. These include temporary structures for outdoor learning, outdoor classrooms with kitchen facilities and allotments, studios to allow for remote teaching, and classrooms equipped for remote teaching sessions.
It's likely that even these relatively modest proposals to adapt existing buildings might struggle to get past the current stringent EFA funding regime that exists for new buildings. But they can, with the rest of the document, feed into what the architect hopes will be an ongoing reconsideration of priorities for school buildings and the value that design can bring to this. Perhaps, for example, the provision of decent outdoor space with outdoor classrooms will no longer seem a luxury, nor hot water for hand-washing in classroom, nor spaces with the flexibility for adaptation.
'There will be resistance of course as money is an issue. But if you get it high up the agenda, as schools are at the moment, ultimately government will take notice,' says Bryant.
So could this proactive initiative be a useful model for other practices? Getting involved 'upstream' in policy and consultation is definitely a good way forward for influencing the design of a building further down the line according to Bryant, who adds that many of their peers have also being doing this.
If_Do, for example, worked with Libraries Connected to produce a Safer Libraries guide as part of an initiative funded by Innovate UK.
However, doing these sorts of projects pro-bono regularly is more problematic.­ ­'Ultimately you want to be commissioned to do this kind of work, or be able to find funding for it, so it's sustainable,' says Bryant.