As Skyroom's £100 million plan to drop keyworker housing onto city buildings starts to become a reality, how do architects get in on the action?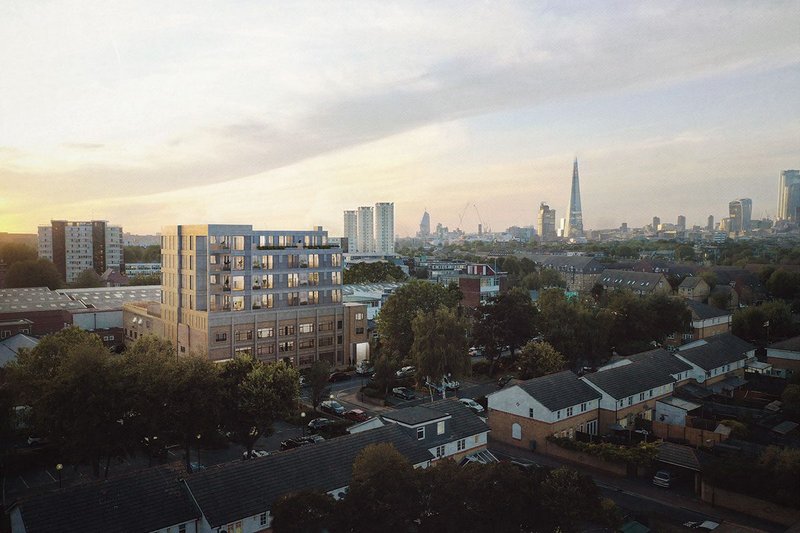 Skyroom's first live project, four storeys in Bermondsey, designed by TDO architecture.
In 2019 an Ipsos Mori poll asked members of the public to identify who in society they trust the most. More than two years and one pandemic later, it's not difficult to see why nurses, doctors and teachers enjoyed almost 100% of that trust. In 2018 a poll of 15 year-olds also put these professions, plus police officer, within the top five most-aspired-to careers. They are least likely to be an unpopular new resident within an existing community… assuming they haven't been priced out of the housing market there. London has the highest rate of teachers leaving the profession. The capital's key workers typically spend over 60% of their income on housing. 62% are looking to move, often citing unaffordability and punishing commutes: hardly statistics to be proud of.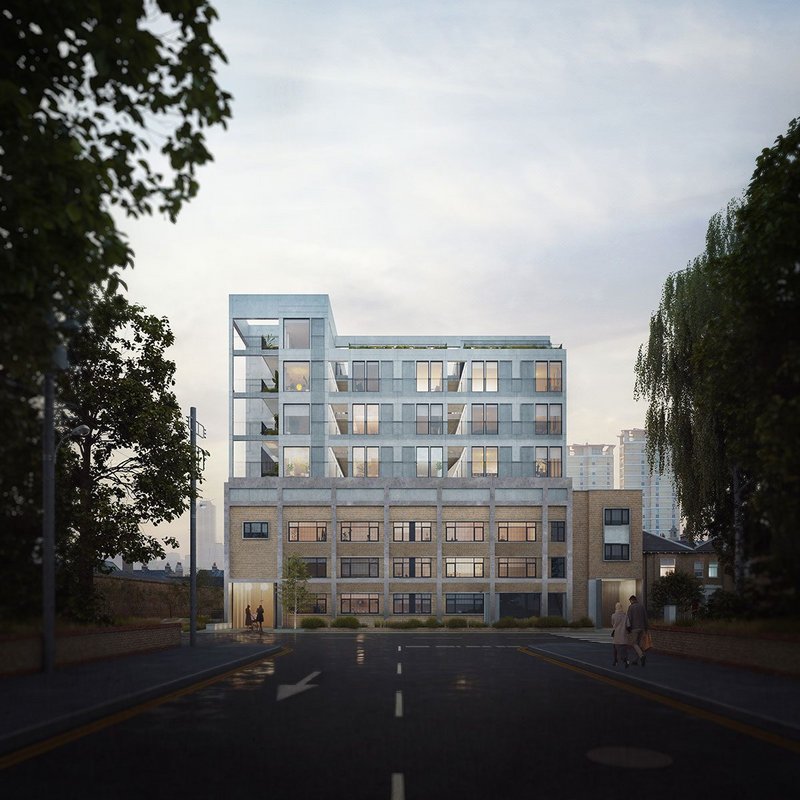 Skyroom's first live project, four storeys in Bermondsey, designed by TDO architecture.
But things don't have to be this bleak. A one hour shorter commute has been found to rival a 40% pay rise in terms of happiness. And according to the '15 minute city' model – where everything an inhabitant needs for housing, transport, socialising, culture and leisure is within a quarter of an hour's walk or cycle – an improved quality of life is possible for all. This local focus seems particularly pertinent to lockdown times.
An array of such sobering data is presented in 'Rise Up', a white paper by Skyroom – a for-profit urban development management company founded in 2018 by Arthur Kay, Lewis Kinneir and James Gerrard. Between them, the trio have experience working for leading architecture practices (RSHP, Carmody Groarke), think tanks, real estate investment companies and clean technology start-ups. Their stars aligned to illuminate a market niche.
What's the shortage?
If there is one upside of the pandemic, chief executive Arthur Kay tells me, it is that the general public is now far more aware of the key worker housing predicament: 'It has underlined, highlighted, put in capitals, that this is not a new problem…finally someone is paying attention that they're having a tough time'. In his view, 'housing crisis' needs reframing. 'It's more of a land availability crisis', he tells me. Rather obviously, it is the short supply of urban land that makes London property ownership – even low-quality volume housebuilder homes – so prohibitive.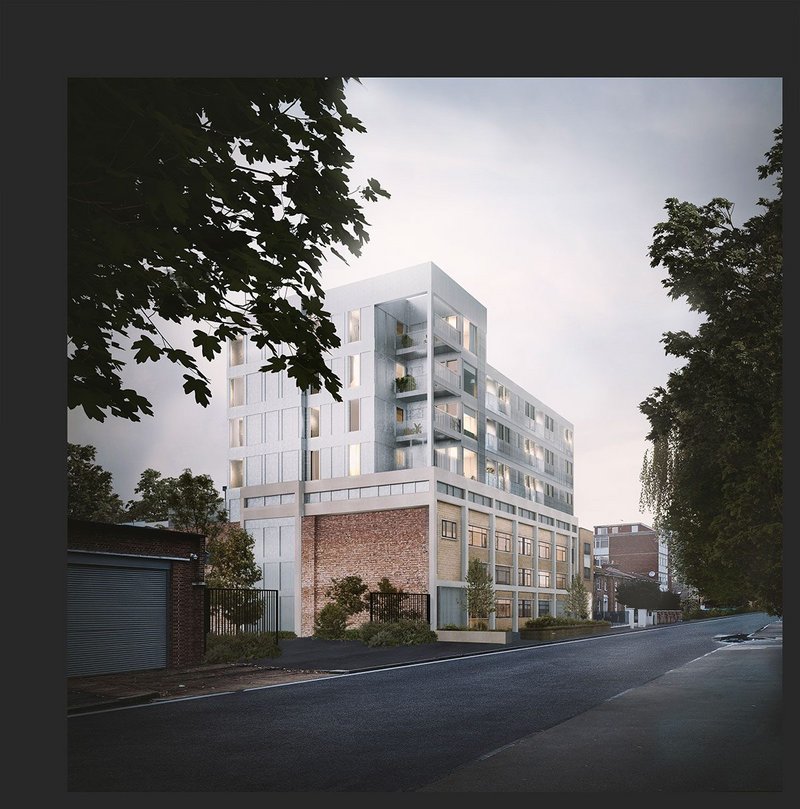 Skyroom's first live project, four storeys in Bermondsey, designed by TDO architecture.
Skyroom's proposition is to capitalise on the airspace above existing buildings. It works with landowners, often local authorities and housing associations, to unlock the value in existing portfolios. Partnering with architects, it puts modular housing on top of existing properties, and then works with ­estate agents who prioritise keyworkers to buy the new homes. Savings through the use of modern methods of construction (MMC) at scale are passed to the end user as well as generating good returns for investors.
Architecturally, the idea isn't completely new. The 'penthouse model' has existed for decades: place an offsite modular construction with 360˚ views atop an existing building and sell it at the high end of the real estate market. Skyroom differs by replacing the penthouse typology with multiple storeys of mixed tenure homes.
It's also not a philanthropic exercise, unlike, for instance, homeless charities Jimmy's (which has installed modular homes on land leased from Cambridge city council), or ­Emmaus (who are doing the same atop their headquarters in Bristol). The business must 'still wash its face commercially', explains Kay.
Consequently, the firm's operating model is canny as well as commendable. It has secured £100 million from a large UK real estate investor, which forms Skyroom's Key Worker Homes Fund. Open until mid-April, this provides development financing to successful projects ranging in scale from a dozen to several hundred homes. Pro-bono technical consultancy is available to all eligible applicants, part of which involves identifying viable development spaces. Architects on the lookout for an opportunity take note: local authorities and housing associations, preferably in partnership with an architect, are invited to make an expression of interest ASAP, before the application window closes.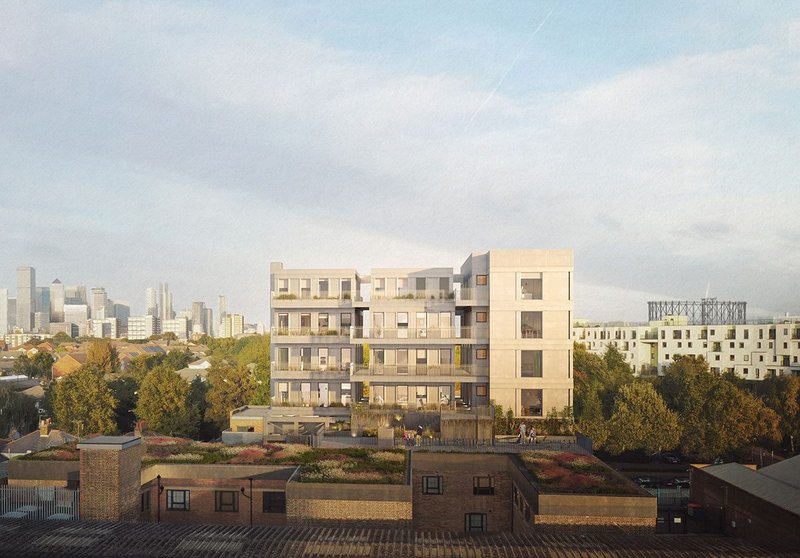 The 15 dual aspect homes for the Bermondsey rooftop are manufactured offsite in the UK.

Credit: Studio Archetype
After a two year slog spent developing technology, securing funding and forming partnerships (such as with Innovate UK, HM Land Registry and Ordnance Survey), Skyroom finally has six jobs in the pipeline and one live project: a four-storey air-space development in Bermondsey designed by TDO architecture. The scheme, a 15 minute walk from Guy's Hospital, is for 15 sustainable, dual-aspect, 2 or 3 bed homes, precision-manufactured offsite in the UK. It also involves installing renewable energy sources and a communal outside space for the existing brick and concrete apartment block.
Recognised assets
Bespoke technology and MMC are the cornerstones of Skyroom's model. Its two specialist technologies are a proprietary podium system (PPS) and a geospatial mapping tool. One is a structural solution to support the additional massing on the existing structure – like an exoskeleton or 'table'. The latter is used for implementation studies and initiating Stage 1 of the RIBA Plan of Work. It allows for comparatively simple scanning of parts of a city, revealing roof spaces that are ripe for conversion. Skyroom can then present the landowner with the good news that it is sitting on 'an unrealised and unrecognised asset'.
As for MMC, Kay's attitude is to 'like it for what it does, rather than in and of itself'. It offers standardisation to achieve economies of scale, reduces the embodied carbon cost of a project, and minimises time on site and disturbance to existing tenants. On the Bermondsey project, dropping the new homes onto the existing structure using cranes will take mere weeks. It's vital that the key worker housing should be well received, and 'respecting and understanding who lives in the building and how we can sincerely invest in the quality of their lives too, is really important to us', insists Kay.
Architects looking to work with Skyroom must be bedded in the community and, critically have an in-depth understanding of precision manufacturing and the supply chain, as TDO does. While the concept appears the same across the board, sites vary from supermarkets to apartment blocks to car parks – diverse and unique design challenges.
But what of the pandemic? Aren't we all deserting the capital for the suburbs these days? Kay is unequivocal: 'I believe cities will come roaring back and everyone will forget about ever thinking of moving to the suburbs', he asserts. 'Be it around economies of scale, minimising environmental impact, increased cultural opportunities …scientifically and socially cities work'. In any case it has already licensed its proprietary technology and intellectual property to businesses in New York and Dublin, two other notoriously unaffordable places.
So far, Skyroom is a small player in a big and complex market, but Kay's hope is that it is making 'small interventions with outsider impact'. Its model places key workers quite literally at the top, so, 'if we can succeed in providing good quality scalable homes, that can cascade down to society,' he says.