Grenfell Tower cast a long shadow over the latest RIBAJ/AluK discussion about city living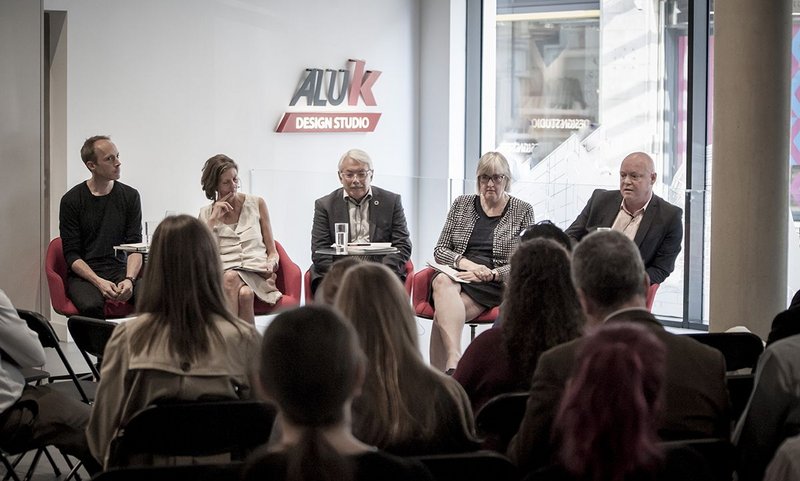 There is a fear that something might be rotten in the state of UK housing. We know we are falling short of delivering on the government's housing targets and that affordability and availability have become key concerns, particularly in our major cities. We also know that the homes we build and refurbish can go very, very wrong, with the catastrophic consequences seen at Grenfell Tower.
A string of government reviews and think tank reports have identified the factors that have brought us to this point, and more will follow in the light of Grenfell. Failings have been identified in such diverse areas as the land market, planning policy, the structure and culture of the UK housebuilding industry, housebuilding methods and regulations, and government policies that promote home buying and the sell-off of council housing, while largely ignoring the provision of social rented housing.
Peter Head, founder and chief executive of charity The Ecological Sequestration Trust, has an unequivocal view of UK housing. 'It is a completely failed system,' he said as he opened the latest in the series of RIBAJ debates, all dedicated to the challenges of liveable cities and sponsored by AluK. The debate, which took place in London last week, followed two earlier events on green and social infrastructure and was chaired by Head with a panel of industry experts.
While the broad theme of the latest event was housing, the discussion homed in on the design of today's homes and the architectural profession's role. Debate panellist June Barnes, board member of master developer Urban&Civic, drew attention to the development of ever taller and more complex residential schemes in the capital, with their equally complex strands of subsequent ownership. 'We are taking real risks in the homes we are building, but architects are at the end of all this [the system] and have no control,' she said.
We need to give people the space to live – there is a limit to how far we can go in continuing to compromise on space
Joao Soeiro Goncalves, architect, Create Design + Architecture
In 2016 a record 26 towers of at least 20 storeys were completed in London, 24 of them for residential use. Tall buildings now account for about a third of all new homes being constructed in the capital, according to the London Tall Buildings Survey carried out by New London Architecture and property consultant GL Hearn.
Living densities in the capital have grown dramatically, explained panellist Julia Park, head of housing research at Levitt Bernstein. A decade ago Levitt Bernstein, with HTA, Pollard Thomas Edwards and PRP, carried out a study into intense urban living, called Recommendations for Living at Superdensity. 'Then we thought a density of 150 dwellings per hectare seemed brave,' said Park. 'By 2015, our revisit of the study found 150 dwellings per hectare was the starting point and so we came up with the term 'hyperdensity' to describe 350 dwellings per hectare or more. Now there are plenty of schemes in London with densities of more than 1,000 dwellings per hectare.'
High property prices and density levels are driving a range of innovative design solutions for urban living, including the micro-homes springing up across the capital. Micro-homes provoked differing views among the panellists and the audience. Park, author of the book One Hundred Years of Space Standards: What Now?, had reservations, saying: 'It's important that we don't put people under too much pressure by making homes too small, and it's important that people aren't stuck in these homes. They need to be cheap so that people can save for the next step on the ladder. I'd like to see micro-homes built by not-for-profit landlords and let incredibly cheaply.'
However, panellist Tim Bell, director of Bell Phillips Architects, emphasised the need to use land and other natural resources sparingly. 'It's our responsibility to be building sustainable buildings, and high density is key to using land as efficiently as possible.'
Lifestyles are changing. We spend 10-12 hours at work and seven or eight hours sleeping, so only four hours utilising the space we call home
Alan Crawford, founder, Crawford Partnership
Sustainable housing, however, can take many forms and initiatives. The Buildings As Power Stations innovation programme, being carried out by the Specific research centre in Port Talbot, for example, could point the way to other new models for the future such as its £125,000 Solcer House that exports more energy to the grid than it uses. The programme is working with Neath Port Talbot Council and housing association Pobl Group to bring through a pilot scheme of 16 homes in Neath that will be able to generate, store and release their own energy. It is hoped that over time the concept will be rolled out across the Swansea Bay city region, for both new and existing homes. 'It provides an alternative energy scenario for the UK,' said panellist Paul Jones, technology director at Specific. 'We need to think about where technology is going in housing – components could well need to be replaced.'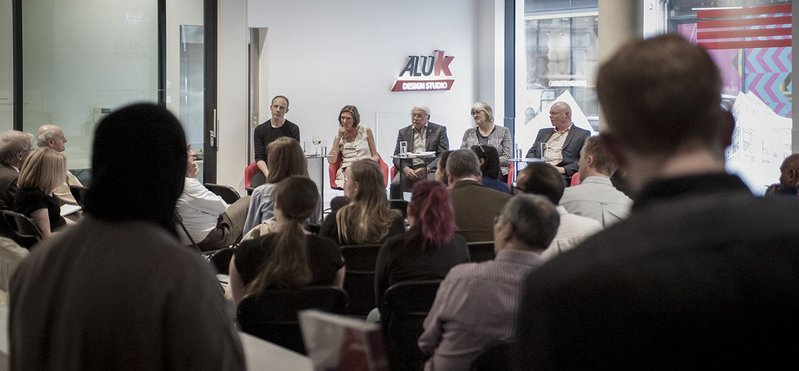 That brought the discussion back to June Barnes' initial point about the risks that could be concealed in today's new housing developments, as well as to questions of value, quality and longevity, and the architect's influence in delivering these. Levitt Bernstein's Park said there was cause for some soul-searching in the profession: 'Somehow as architects we've failed to communicate the value of design.'
At the same time, Tim Bell voiced an all too-familiar complaint: 'On a lot of our projects, we're working to stage three and then the project goes out of our hands to a design and build contractor. Then the end result is not necessarily a building that will stand the test of time well.'
He saw glimmers of hope in changing client practice: 'A number of our clients are increasingly realising the risks of lack of quality and are asking us to remain on board in some capacity.'
We won't solve the housing issue at a local level. It is an area that needs a macro-economic solution
Steven Boxall, consultant, Regeneration X
But debate chair Head argued that the most effective solution for closing the gap between initial design and ultimate realisation would lie in the adoption of a performance based approach to procurement: 'Housing should live up to its expected performance,' he said. 'Unless we're doing that, we're letting everyone down.'
Throughout the debate Grenfell Tower was barely mentioned by name, but that hardly seemed necessary. Events there are causing everyone working in the housing sector to think long and hard about what they do and the way in which they do it, and the points raised in this debate look set to reverberate over the coming months and years.
---
This was a RIBA Journal event organised in association with AluK www.aluk.co.uk. The final panel debate in the series will take place on Thursday 7th September and will be focused on providing commercial space in our cities.