What: Solcer House Where: Bridgend, Wales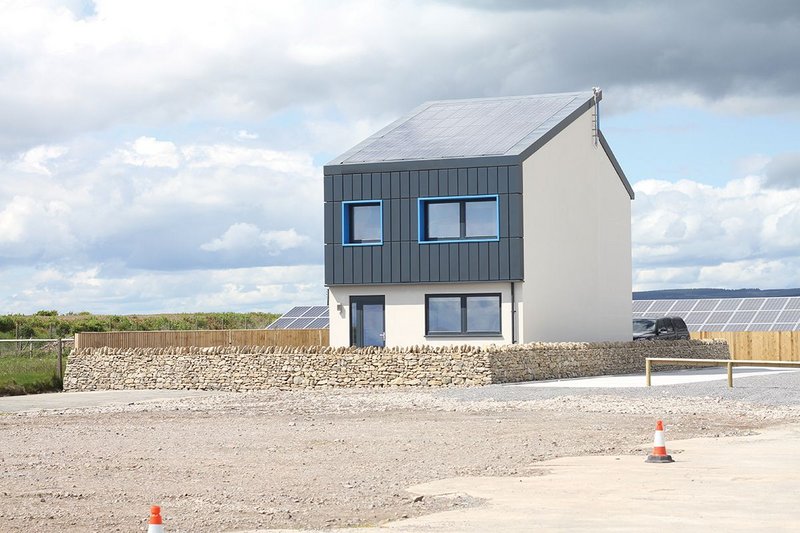 Incorporating off-the-peg technologies, Solcer House shows that zero carbon homes can be affordable and mass-market.
With an energy export to import ratio of 1.75, Solcer House in Bridgend, south Wales, is the UK's first purpose-built, affordable solar energy smart house capable of exporting more energy to the national grid than it uses. A joint education-business partnership based at Cardiff University with Swansea University, the project started in the fourth year of a five year funding plan when it was decided to test out the group's 'buildings as power stations' idea. The team's hopes are pinned on the 100m2 prototype as the answer to requirements for all new buildings to be zero-carbon by 2020.
Key to the building is the way its environmental technologies are integrated into its fabric and, at a total cost of £125,000, its comparable price to other three-bed new-builds. Moreover, says Swansea's Paul Jones, building more than one at once could bring that down to £100,000.
Built on land donated by Cenin Renewables, developed over six months with architect Ester Coma Bassas and constructed in only 16 weeks, its energy saving is organised into three parts: reducing demand, creating renewable energy, and thermal and electrical storage. The house is 75% autonomous when energy is used directly from either the renewable sources or from storage. It is made affordable by avoiding expensive green installations such as ground-source heat pumps in favour of off-the-shelf technologies from local suppliers and supply chains.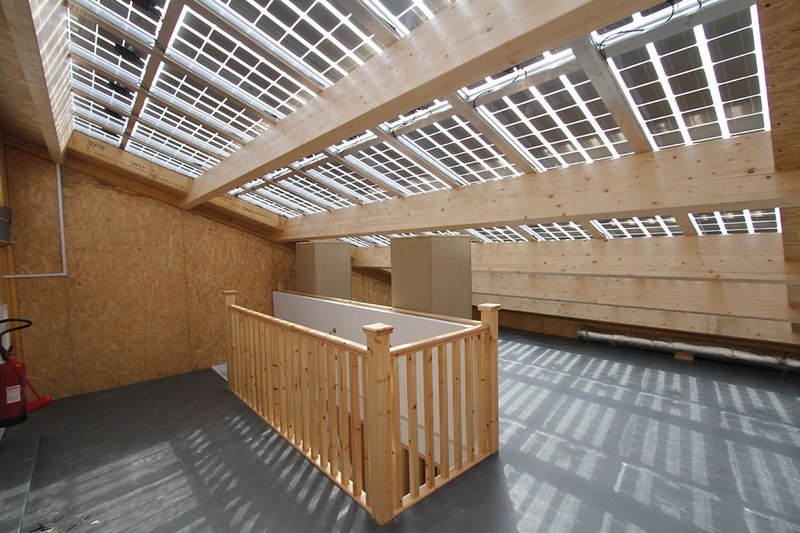 PV panels are integrated into the roof structure, allowing the space below to be naturally lit.
'Building low-carbon homes is generally perceived to be costly and difficult in this economic climate,' explains Coma Bassas. 'This integrates all these systems together as well as into the architectural design, showing what is possible.
Focusing on solar powered technology, this integration has minimised the project's budget. With PV panels forming the fabric of the roof, there is none of the additional expense of the underlying roof with bolt-on technology. A thermal air collector has been built as part of the wall and the building's structure is prefabricated off-site using structural insulated panels. Meanwhile, heating is delivered through the ventilation system, again doubling up components and reducing expenditure.
It costs £25,000 more than your typical new-build house, but with projected savings and energy generation worth £1,000 a year, the extra construction costs can be recouped in only 25 years. Just a warning, though – M&E equipment might last only 15-20.
---
Hot-bed of sustainability
Wales is styling itself as a hot-bed of sustainable design and technology. It is one of three countries in the world which has sustainability written into its constitution, is home to the Centre of Alternative Technology and the Ecodesign Centre, and research into green technologies has been going on at the Welsh School of Architecture for more than 30 years through the Low Carbon Research Institute (LCRI). It is using joined up thinking to spread risk in testing and developing new technologies by creating partnerships across government, industry and academia, as well as between universities such as with the Solcer project. The country outperforms England and Northern Ireland in reduced CO2 emissions from recycling – with 84kg CO2 equivalent saved per person in 2013/2014 compared to 67 and 65 in England and Northern Ireland respectively, according to the Recycling Carbon Index Report. And it's home to the world's second largest offshore wind farm, which can generate enough energy to power 400,000 homes.
---
Sustainable features
Foundations: Cenin low-carbon cement.
Structure/walls: Structural insulated panels, 194mm thick, with BASF Neopor insulation with a U-value of 0.14. External wall render brings this down to 0.13.
Photovoltaics: Asymmetrical south-facing pitch carries 40m2 of PV providing 4.3kWp of energy. Supplied by GB-Sol.
Battery: Lightweight, wall-mounted lithium ion battery supplied by Victron Energy, comprising six batteries with a total 6.9kW/hr capability.
Transpired solar collector: Tiny perforations in the 17m2 collector capture warm air from the sun. Air is drawn into the ventilation system and distributed round the building.
Heating, ventilation and hot water: Mechanical ventilation with heat recovery, with a 450W heat pump powered by the PV/battery – or from the grid when needed.
Windows: Aluminium clad timber windows supplied by Vellacine, incorporating Pilkington energiKare energy-efficient glazing.
---