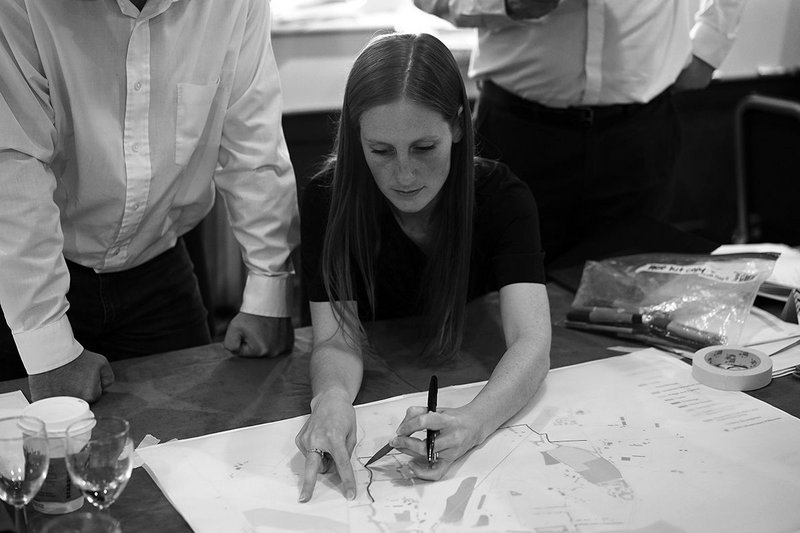 RISING STARS 2017 COHORT
Senior urban designer, JTP
Part 2: 2017
The judges were impressed both by Anna Howell's achievements at JTP while studying, and the faith the practice is putting in her by allowing her to open a Bath studio within a year of completing her part 2 in January. 'To let someone set up a Bath office is impressive, you are underwriting it,' says John Nordon.
On joining the practice as a part 1 Howell discovered her interest in designing at an urban scale. She took a masters in urban design while working in London at JTP part-time on a study of urban densities which has continued to inform the practice. She then studied for her part 2 as an office-based exam at Oxford Brookes, winning student prizes on both courses. The judges consider this quite an achievement given the move from the practical matters of office and projects to a wider creative space and back again.
Her main project is Southall Waterside, a new neighbourhood of 3,750 homes in west London. She has taken it from due diligence and consultation to on-site co-ordination, while maintaining a strong relationship with the client.
Her referee, JTP managing partner Marcus Adams, has high praise for Howell: 'Anna is a rare and exceptional talent,' he says. 'An architect and urbanist, she is confident across a range of scales, contexts and environments. Cool under pressure, she combines client confidence with creativity. Anna is hardworking, determined and driven, yet understated and respectful in her demeanour.'
It may be these traits that have allowed her to drive important elements of change in the practice. Five years ago she helped put JTP at the forefront of BIM-enabled masterplanning with her project at Southall, which was the practice's first attempt at BIM at an urban scale. The methodology developed for this continues to be used in the practice and gives clients chances to test and measure viability, composition and design options.
With an increasing number of masterplans requiring design codes coming into the office, Howell was at the forefront of developing a system to ensure a balance between coherence and flexibility for areas that would inevitably be handed over to housebuilders. Through workshops and using her project as a pattern, this has become the basis of a new way of working for the practice.
As Howell sets up JTP's Bath studio, she is getting out to see important players in the region with the aim of bringing in work from the South West.
What would you most like to improve about the industry?
There is often a disparity between what is taught in architectural schools and the reality of practice, leaving many students underprepared or underwhelmed. I believe a broader range of young people from a variety of backgrounds should have alternative opportunities to enter the profession through routes such as apprenticeships and work-based learning, to diversify the profession and give greater flexibility to architectural education.
What existing building or place would you most like to tackle?
I am excited to see that Bath is finally acknowledging its river frontage and realising the benefits this can provide to the city's urban fabric. I would like to tackle one of the missing pieces at Green Park, which is not a park but two run-down car parks and a road bridge, carrying a constant flow of pedestrians into the city centre. I can see an opportunity for a series of carefully considered public realm interventions that could connect the riverside masterplan with the increasingly popular Kingsmead Square, and could transform this well-trodden route into a vibrant place for visitors and residents alike.
---