On Architecture's volte-face after threatening staff with disciplinary action; Chipperfield's affair of honour; Trump supporters love classical Capitol to bits; and Antepavilion prepares to tweak Hackney council's nose once more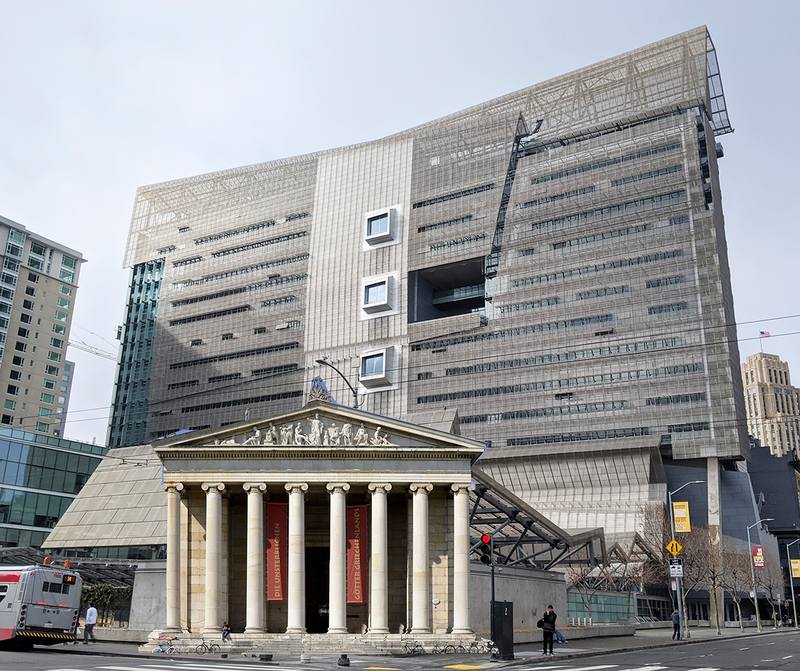 Morphosis designed Federal_Building in San Fransisco imagined with classical add-on.

Credit: HaeB
When we look back on the coronavirus pandemic in years to come, there are several things we will associate it with: out-of-control hair, Zoom gatherings and, of course, u-turns – clearly set-out policies that are then abandoned days, if not hours, later.
Fully getting into the spirit of this is London and Kent-based practice On Architecture. On Friday, Building Design reported that the company was demanding its staff keep coming into its offices despite the newly imposed lockdown.
By the end of the day, it had completely reversed its position, emailing staff to say it was 'actively encouraging homeworking'.
Earlier in the week, the 40-strong practice had told staff they should keep coming into the office or face disciplinary action.
Kent has seen some of the highest infection rates in the country while in London one in 30 people are believed to currently have the virus.
On Architecture stressed that it had taken 'expert health and safety advice' to ensure its offices complied with Covid-19 guidelines – slightly sidestepping the point that said guidelines stipulate people should only travel to work if it is not possible to do so from home. Transgressors can be fined £200.
The vast majority of architecture practices have been working largely from home. It may not be ideal at times, but it's certainly possible. Indeed, On Architecture allowed its employees to work from home during the spring lockdown last year.
However, the practice does not look back on this time fondly. 'We found that turnover and productivity during the earlier lockdown reduced dramatically,' it told BD, 'and so it is vital that we keep business operating under its current terms.'
Many staff seemed unconvinced by the safety measures, saying they were generally seated within a metre of the person opposite with no screens between desks.
They also said they were not told when colleagues had been sent home with Covid symptoms.
As well as facing a public media shaming, On Architecture also suffered a walkout by a number of staff who were members of the UVW union's Section of Architectural Workers.
The BD story also prompted the RIBA to have a quiet word with On Architecture, which is an RIBA chartered practice.
On Architecture will now offer staff the opportunity to carry out their work any time between 6am and 9pm seven days a week, saying the hours can be split between office and home working 'dependent upon the needs of their specific projects'.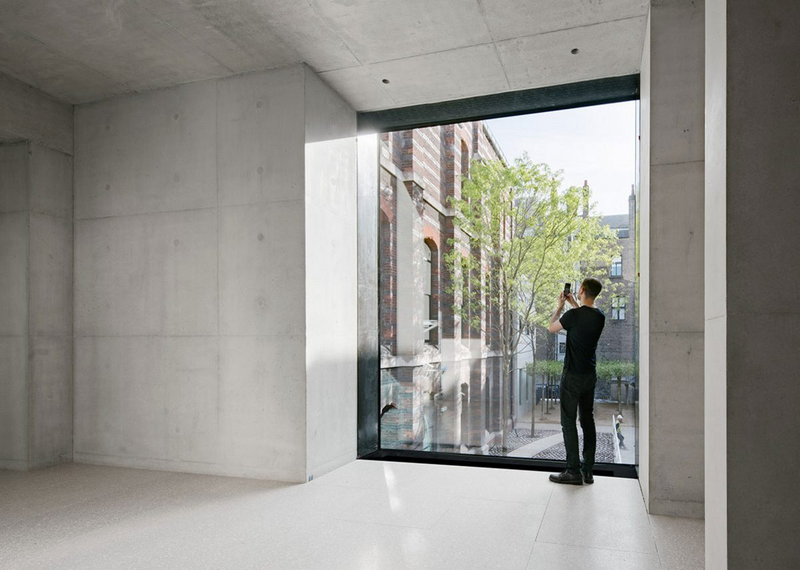 David Chipperfield Architects' Royal Academy of Arts, an RIBA Regional Awards shortlisted project.

Credit: David Chipperfield
Honour before profit
One practice that isn't seeking to blame coronavirus for its troubles is David Chipperfield Architects. Director Billy Prendergast said 'working from home has been successfully achieved with very little impact on current projects'.
It is hoping to reverse its financial fortunes after recording its second loss in as many years.
Latest company accounts show it made a loss of £550,000 in the year ending December 2019, which does nonetheless represent a substantial improvement from the £1.5 million loss the previous year.
Despite the figures applying to the period before the coronavirus outbreak, the company insisted it was 'moving towards a stronger future', with new premises and a new management team.
And while its total headcount fell slightly, the number of architects employed rose from 49 to 55.
The figures came days after founder David Chipperfield was made a Companion of Honour in the New Year's Honours. This very exclusive title is limited to a maximum of 65 people at any one time, with the bonus of not making reference to the British Empire.
Current Companions of Honour include several retired politicians as well as Delia Smith, JK Rowling and Paul McCartney … oh yeah, and Richard Rogers. Chipperfield commented that he was 'hugely flattered to be in the same company as so many people I greatly admire'.
Chipperfield is arguably one of the most respected figures in UK architecture. When, in 2018, it was rumoured that he might run for RIBA president, a straw poll suggested he would be the clear winner.
The practice's commission to design a new Chinese embassy in London has, however, strained this adulation with some architects accusing it of turning a blind eye to an authoritarian regime. Former director of FAT, Sean Griffiths, told the Architects' Journal that Chipperfield was 'much revered' but was 'risking that reputation by undertaking this commission'.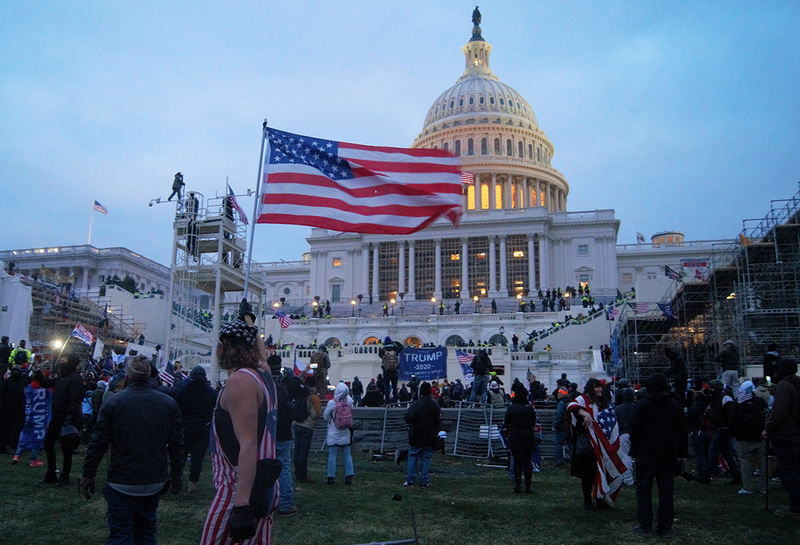 Storming of the United States Capitol.

Credit: Wikicommons
Trump's love of classical architecture takes strange twist
People love classically designed federal buildings, according to Donald Trump, who last week encouraged his supporters to show that love in a very special way, inciting them to storm one of the US's best examples of such a building.
This time last month, the US president's attempt to impose classical design styles was merely a quirky question in an end-of-year quiz, a toyed with intention that appeared to have fallen by the wayside.
Yet with just weeks left as president, Trump found time – between pardoning convicted criminals, blocking coronavirus aid packages and inciting an attempted insurrection – to sign an executive order decreeing that all new federal buildings costing more than $50 million be classical or traditional in style.
Such a style, the order says, will enable buildings to 'inspire the human spirit, ennoble the United States [and] command respect from the general public'. Though respect might not be many people's first choice of word to describe the motives of those who attacked the Capitol Building.
Trump's executive order also took the time to criticise modernist styles, singling out Morphosis Architecture's Federal Building in San Francisco, which he said was praised by 'elite architects' but regarded by many San Franciscans as 'one of the ugliest structures in their city'.
And it rules that when such buildings undergo refurbishment, consideration should be given to the possibility of adding a new traditional exterior.
The title of the order, Promoting Beautiful Federal Civic Architecture, draws obvious comparisons with our own Building Better, Building Beautiful Commission that published its final report last year.
But, speaking to the AJ, that commission's co-chair, Nicholas Boys Smith, said imposing a style was 'not the right approach'. He added that, while polls showed that the US public overwhelmingly preferred classical architecture for such buildings, 'if, in a certain US state, people want a far more modernist approach, then they should have that'.
There is a general presumption that president-elect Joe Biden will overturn the order, though it may not be particularly high on his list of priorities.
Last September, the government appointed Boys Smith to set up a new body that will oversee the creation of legally binding design codes for neighbourhoods throughout England.
It's brutal up north
The British solution to 'unpopular' brutalist buildings has not generally been to add classical frontages but simply to demolish them. John Madin's Birmingham Central Library, the Smithsons' Robin Hood Gardens and a number of Owen Luder buildings are among those recently added to the Twentieth Century Society's 'Lost Modern' list.
A new book, Brutal North, documents brutalist architecture in the north of England. Its author, photographer Simon Phipps, told The Guardian that many of the finest buildings featured face being torn down and that a crucial part of the country's architectural history could be lost as a result.
He blamed the 'unnecessary demolition' on a lack of maintenance and a general undervaluing of the architectural style.
And he made the point that demolishing and rebuilding was 'incredibly damaging and wasteful', lacking in environmental credibility.
Among the buildings at risk that Phipps highlights are Cruikshank and Seward's Barnes Wallis Building in Manchester, Carlisle Civic Centre and Dorman Long tower and Steel House in Teesside.
Upping the ante
Bruised but not broken, the Antepavilion has launched its fifth annual competition to design a demountable structure in Hackney, east London.
The competition, first launched in 2017, has been won by PUP Architects, Maich Swift and Thomas Randall-Page and Benedetta Rogers, who all created eye-catching installations at Hoxton Docks.
However the programme took a surreal turn last year, when the competition was won by architect Jaimie Shorten's proposal for six fibreglass sharks in the Regent's Canal.
Following Hackney Council's attempts to remove PUP and Maich Swift's winning structures, the 2020 brief explicitly asked for 'entries that respond to the tension between authoritarian governance of the built environment and aesthetic libertarianism'.
Shorten's winning entry referenced the case of the Headington Shark, which sat on the roof of an Oxford house in the 80s and was the subject of a long-running planning dispute.
Hackney was, however, unimpressed by this gesture. It said the Antepavilion sharks breached planning control and won a High Court injunction to have them removed.
This year's brief appears to continue the grudge match, asking for radical visions for a 'bartizan' – an overhanging wall-mounted turret projecting from the walls of a fortification.
But it appears that last year's shenanigans have proved too much for the Architecture Foundation, which organised the previous four contests, but whose name is notably absent from this year's brief.