For years Second Home has famously worked only with Spanish firm SelgasCano. But that's all changing, and you'll want to work with them too
Thirty-five mature trees were included in the design at Second Home Holland Park.

Credit: Iwan Baan
If there was ever an argument in favour of the value of bold and brave architecture, Second Home is it. Since the shared workspace company opened its first location in London's Spitalfields only four years ago, it has found that companies based there create jobs 10 times faster than the national average. One renewable energy start-up named Bulb that began with two people two and a half years ago now has 143. Another, Threads Styling, started in one of Second Home's private studios and now has five. In fact, companies are growing so quickly that last year Second Home had to find a solution for them.
'The biggest studio we had when we opened was for 50 people,' explains co-director Rohan Silva. We've just sat down in one of the bookable shared meeting rooms in the original part of Spitalfields' Second Home, having done a whistle-stop tour with the other director Sam Aldenton. Downstairs is the orange café booth seating bulge designed by Spanish firm SelgasCano that instantly put Second Home on architects' radar. Its snuggle-in shape, transparency to the main space and street, buzzy colours and clattering, impermanent materials have come to define Second Home as a company – open, creative and energetic.
In the meeting room there is polymethyl methacrylate plastic all around us. We're deep into the plan but everywhere plants are growing in pots and if I stand up I can see across the floor through many rooms from one side to the other. Perhaps it's just the bright yellow floors and mirror floorplate trims, but the space has a flavour of Richard and Su Rogers' 1960s Wimbledon house.
So while Second Home's objective is to make other companies grow quickly, its own is too. What started as two floors of a former factory in east London for 350 people has now spread across all five floors to house 1000. Its largest studio can take 150, but Silva wouldn't be surprised if it has teams of 200 before too long. What's more, Second Home has opened a bookshop called Libreria over the road, a school in an urban slum in Kibera, Kenya, a workspace in a redundant part of a market hall in Lisbon and another new workspace for 250 members in Holland Park in the past two years alone.
I've come to speak to Aldenton and Silva, who arrived in the co-working space business from different angles – multi-occupied office management and government policy on Tech City respectively. We want to discover what Second Home wants from its buildings and how its architects – until recently exclusively SelgasCano – create successful collaborative workspaces and Second Home isn't just for techy start-ups, its workspaces support all kinds of industries. Santander's investment fund was an early occupier, but there are also roaming members who can drop in when they want. This mix of big companies with early stage ones is the whole idea. The firm's mission is to support creativity and entrepreneurship by building a community of organisations that draw on each other's skills and knowledge.
'We are engaged with the question of where the jobs of the future are going to come from,' explains Silva. 'Creativity matters, because that's one thing the technology, software, algorithms etc are pretty rubbish at. As technology automates more of what we do, the question becomes how can we make high quality jobs. Creativity and entrepreneurship are important because people increasingly have to create their own jobs. We've gone from 700,000 small businesses in the UK 30 years ago, to 5.5 million today.'
Silva and Aldenton don't think creativity just happens; you have to create environments, communities and cultural programmes that make it more likely. This is where José Selgas and Lucia Cano, Aldenton's wife's aunt, came in.
Second Home's recipe is to use buildings 'that other people might not look at' and transform them, leaving the architect to design everything down to the furniture. Early on, the brief included private workspaces, a drop-in area, a café and hotdesking areas, but it's more than that. Aldenton and Silva say the architects themselves can't necessarily put a finger on it – a lot comes down to intuition. At Spitalfields, Aldenton told SelgasCano to make everything straight to be cheaper, but when it came back with curves they quickly understood about giving people the freedom to do what they do.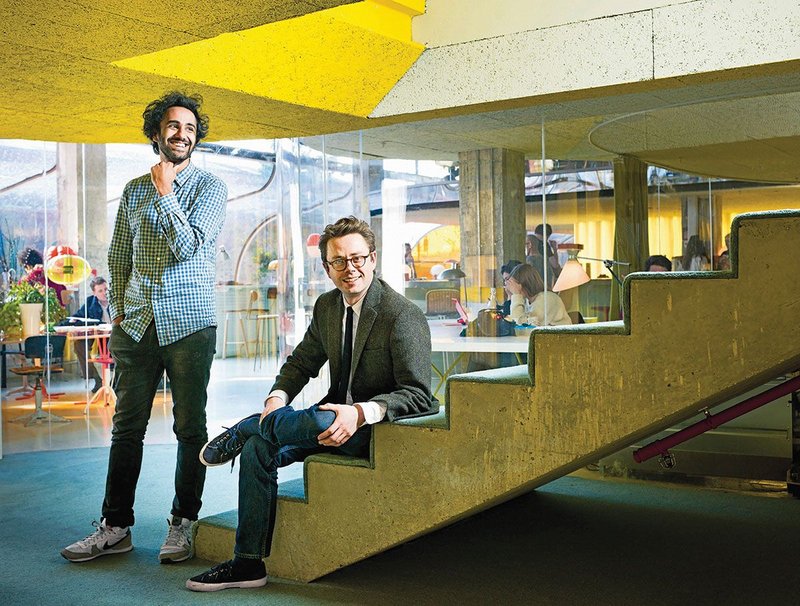 Rohan Silva (left) and Sam Aldenton at Spitalfields.

Credit: Iwan Baan
Nevertheless, there are elements that can be deciphered. The thing that hits you first is the colours, which are chosen to create an uplifting, optimistic environment and bring life to the old buildings Second Home reinhabits. This is part of a sustainable approach – focusing resources into reuse, repair and recycle rather than demolish and start again. The second thing that strikes you is the variety of spatial experiences on offer – from studios to cafés and large desks for co-working. Each Second Home location is tailored to the local business demographics. The largest studio at Holland Park, for example, is for 10 people as it is a mainly residential area.
Biophilia is another aspect, and Second Home employs a team of gardeners to deal with the foliage. But it is more than stuffing plants into buildings. At Spitalfields, the materials may be man-made but the forms are from the natural world – curves, bulges, the lack of spatial repetition. Every element exposes visitors to new experiences; the design is complex, in a way unwieldly, but an adventure to move around. It's that kind of continual provocation that Silva and Aldenton believe spurs creativity.
'In the natural world, every tree is different, every snowflake is different,' says Silva. 'We didn't evolve in environments that look anything like the grey sterile buildings that we build today.'
Consequently, at a future site in Hollywood, LA, SelgasCano is taking biophilia one step further. Instead of filling it with full-height trees as at Holland Park, it is taking the building out to nature. Eighty studios will be spread across a 90,000ft2 campus, connected by walkways, trees in between.
Another major element of SelgasCano's work is about experimentation. All locations are recognisable as 'part of the same family', but they all have their own architectural peculiarities. At Spitalfields 2.0, an outdoor pond rings the upper floor like a moat and acoustic insulation is made from hanging upturned orange felt hats. At Holland Park, a double skin clear roof stretched over the courtyard can be pumped with soap bubbles for warmth. In Libreria, a mirrored ceiling and end wall make a small space feel like Jorge Luis Borges' infinite Library of Babel.
Yet pushing boundaries carries risk. At Spitalfields, for example, Second Home fell out with the ponds contractor and so the snagging is unfinished. 'With any creative process, there is an element of risk because if there wasn't it wouldn't be creative,' says Aldenton. 'But doing this is quite hard.'
In fact, what Aldenton and Silva end up doing is run around trying to get everything in a design on price, materials as well as labour.
'Take the methacrylate plastic,' adds Silva. 'It hasn't been used in an office before. Consultants, engineers do two things when something comes up that's new: the first thing is say you shouldn't do it and then that it will cost you. I was thinking perhaps there is a reason why it hasn't been used before until an old sea dog engineer said: "Listen, the reason it has never been used in Britain before is because it has never been used before. Go for it."'
Subsequently, the pair admit that if they hadn't been such outsiders to the industry, there is no way they'd have had this kind of guts. They're hardened enough now to plough on regardless though. For a new site in London Fields, they have spent 18 months in planning to replace the facade of an awkward 1960s building with an ambitious ETFE topographical structure reminiscent of Frei Otto's work, but because it is considered unusual, everything has to go to design committee.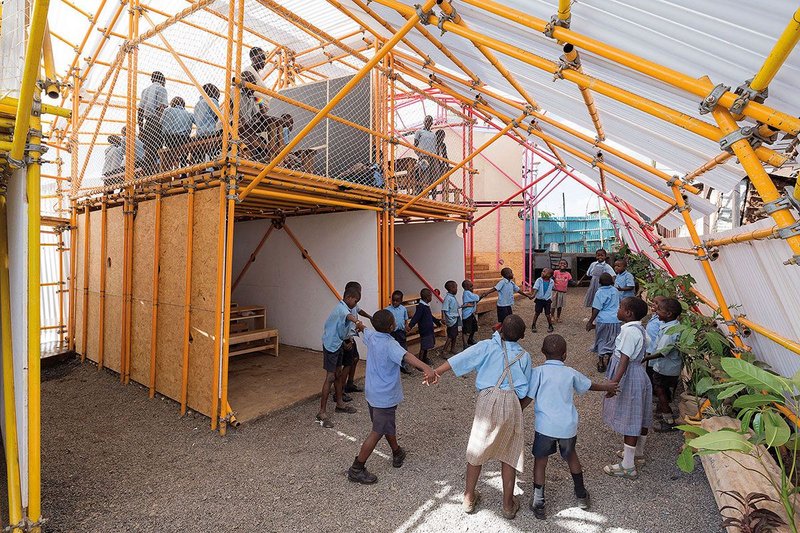 Every pound spent on attending Second Home's cultural programme goes to the school in Kibera.

Credit: Iwan Baan
'A committee of 20 people is never going to agree on anything,' says Silva. 'You have two choices if you are rational – luckily for now we are not. Choice 1: do something so bland it doesn't go to design committee. Option 2: make your thing really bland to get it through design committee. Option 3 being spend 18 months fighting for what you think is good. It has cost us a lot as a business.'
Yet it's clear this struggle is the only way Second Home thinks it can get the environments it needs, and they have become quite reflective about the industry as result, seeing flaws that others accept as par for the course, for example how few new materials ever get into British cities – though as Silva says: 'Generic architecture is really bad for creativity and entrepreneurship.'
Nevertheless the struggle is working: Second Home is growing so quickly that its collaboration with SelgasCano can't keep up. It has had to hire other architects to help. However, instead of organising competitions it has commissioned the architects SelgasCano has recommended. The first, Cano Lasso, is Lucia Cano's father's practice that is now run by her brothers. The other is Dosis, a young firm run by one of Selgas' students at MIT that is experimenting with pneumatic structures. If the next project goes ahead, Dosis will create a 40,000ft2 hub in west London at the Royal College of Art. Cano Lasso is designing the London Fields location to create a family friendly environment to overcome the impediments to entrepreneurship faced by parents – it will have a nursery, tables with rounded corners, a soft floor made of recycled tyres and an adult climbing frame to mix things up.
In all, Silva and Aldenton go out of their way to get good architecture and thus make good clients too. When SelgasCano presented them with the first plans for Spitalfields and the flying table on a winch they'd been discussing was missing, Silva and Aldenton asked for it to be put back in. To which Selgas and Cano responded: 'Oh cool, clients that actually want us to do the good stuff.'
---