Does this design use local and sustainable materials? Are there better alternatives? Does it even need to be built – could a refurb do it? Architecture of Emergency thrashes out action points
On an unseasonably warm mid-September evening last week, the Barbican hosted the Architecture of Emergency event. The evening promised to call forth radical proposals and ideas for the ever-pressing climate crisis.
The event itself, a summit of sorts, was contextualised by the goal set in the Paris Agreement of 2017 on net zero carbon emissions. Kicking off the first half was a steady stream of speeches ranging from climate change policy doctorates-cum-stand-up-comedians to land ownership reform campaigners. Each fired off their own six minute contribution to the topic of climate emergency (some hitting a cheerier tone than others), reiterating that the reality of the climate crisis is not just about cutting out milk from your coffee, banning plastic straws and planting more trees, it's about reframing our priorities as a society.
After a short interval, the questions began to coalesce into what felt like answers. As the panel – Michael Ramage (Cambridge University), Renaud Haerlingen (Rotor Architects), Ken De Cooman (BC Architects and Studies), Monica von Schmalensee (white arkitekter) – joined in conversation with the evening's host the Architecture Foundation's Phineas Harper and presented their provocations, it became clear that the challenge of building in this period of climate change presents many new opportunities for design. But with such a huge task ahead of us, it is difficult to know where to begin.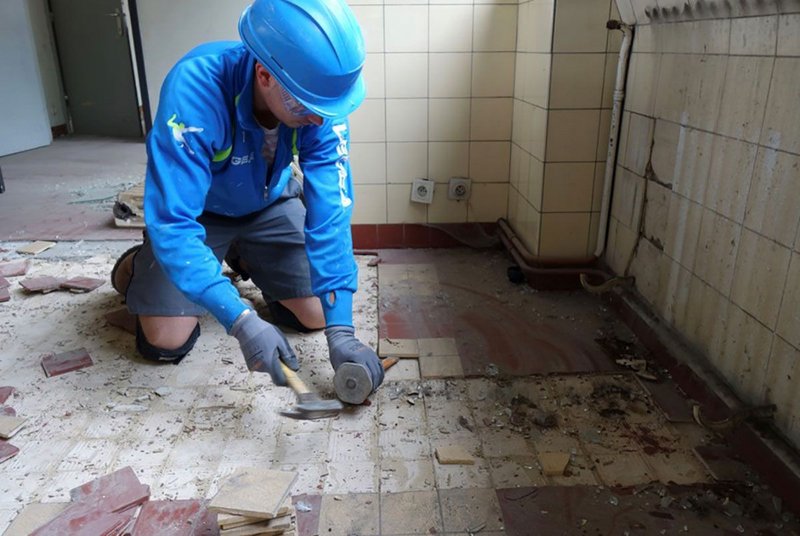 A holistic approach to material lifecycles from start to finish includes considering every aspect of a building.

Credit: Rotor Architects
One place to start would be in our offices – more specifically, perhaps, our material choices. Through our practice, we can encourage the use of local and sustainable materials wherever we can, adopting a more rigorous approach. We must move away from the culture of the new and finished, towards one of reuse and repair – in terms of both materials and the techniques we use to put them together. Such an approach has been present in vernacular architecture all over the world, from earth rendered mosques in Mali to thatched roofs in Coventry.
Or better yet, perhaps we can question our briefs. Are there any alternatives to what you're proposing? Could an existing building serve the same purpose? In our practices, we must always begin by asking what the value is of what we're building, and whether there is a need to build it in the first place.
That may mean continually having these discussions in the office, with your clients and contractors. It is imperative that we keep referring to these considerations about the environmental impact of the buildings we design and oversee.
Architects inspired by the Extinction Rebellion movement have recently formed Architects Climate Action Network. ACAN aims to facilitate debate and direct action within the industry, breaking out of the self-imposed seclusion of architects stuck in their professional silos. The network hopes to do this through its upcoming programme of explicitly action-oriented events, debates and assemblies. Such collective action is another place to start to tackle the crisis head on.
Outside practice, as citizens we could take further steps to instigate political and civic action. It is difficult to understate the role that policy can play in helping us reach our net zero emissions target by 2050. Using your voice as a member of the electorate is key to ensuring your concerns are heard, bringing the urgency of the climate crisis further up the agenda in political discourse. We must go beyond questioning the materials that we choose to build, we must also question the systems of political and economic power that allow us to build in the first place.
The race to meet our Paris Agreement goals by 2050 is wholly collective movement, and we as architects must do our bit as one of the biggest contributors to carbon emissions. Whether it is through design and practice or through business, political campaigning and lobbying, the challenges that are presented to us by climate change are an opportunity to help us rethink architecture and the built environment on a fundamental level – imagining an architecture of a low carbon footprint that is rooted in local vernaculars, cultural and architectural.
---
Hani Salih is a Part 1 architectural assistant