David Miller gives five good reasons why adopting BIM has been good for his growing practice, while opposite Richard Saxon explains how Britain could become a world leader in the uptake of the software
As a small practice, there is clear evidence that the year on year growth that David Miller Architects (DMA) has achieved in the past five years has been underpinned by BIM. We believe that this new disruptive technology, a difficult economic environment and the clear focus from UK government, have created an opportunity for small practices to change the odds in the construction industry.

Motivation

Adopting BIM just 'because you have to' is missing the real opportunity. The government has mandated its use and BIM is beginning to be included in pre-qualification questionnaires.

BIM has particular attractions for small practices, including increased efficiency and profitability, and a better way of working.

Designers add considerable value through our ideas, but time spent developing them eats away at our fee. BIM tools offer speed, accuracy, improved co-ordination and quality control – all helping to protect our fee.

As a small practice we also had it easy when it came to rolling out BIM, because the real barrier isn't cost, but change management. We were able to spot the opportunity and make the change very quickly. We could act on experience and instinct, without having to convince boards or middle managers, so BIM is a real opportunity for small practices to capture market share.

Adoption

Roll out is incremental as there is a learning curve. At DMA we have become more sophisticated over the last four years, although this is the optimum moment to start. The process that we have been through would now take just months, given the clarity of the government's BIM mandate and the wealth of information and support now available.

Being able to start out on smaller projects is another advantage for small practices. We knew on our early projects that we could easily revert to CAD if we got into difficulty.

However, the most important moment is making the commitment. We appointed a BIM champion to lead the process with an emphasis on training. She developed a six day training schedule broken into 40-minute modules so it was easier for the team to find time to learn. Her BIM Boot Camp fully immerses new starters during their first week in the office before there are any project distractions.

Once BIM is embedded in your office culture individual members of the team start to explore parts of the process and share their experiences. This enabled us to broaden the services we offered to include rapid energy modelling, rapid cost modelling and logistics planning. We're now exploring opportunities in facilities management.

Cost

For DMA BIM has cost around £10,000 per work station, so it is a big investment. This includes hardware, software and training. Costs for bigger practices are the same, just scaled.

We have spent around £30,000 a year over the last four years. This felt like a lot early on when there were only four of us, but now it is far less painful to add new workstations as we go and this confirms there is a financial push at the beginning. It's important to note though, that half of that cost is training. When you view cost in relation to salaries and fee income it looks far less alarming. It is easy to see why we view BIM as an investment in our team and working methods rather than in technology.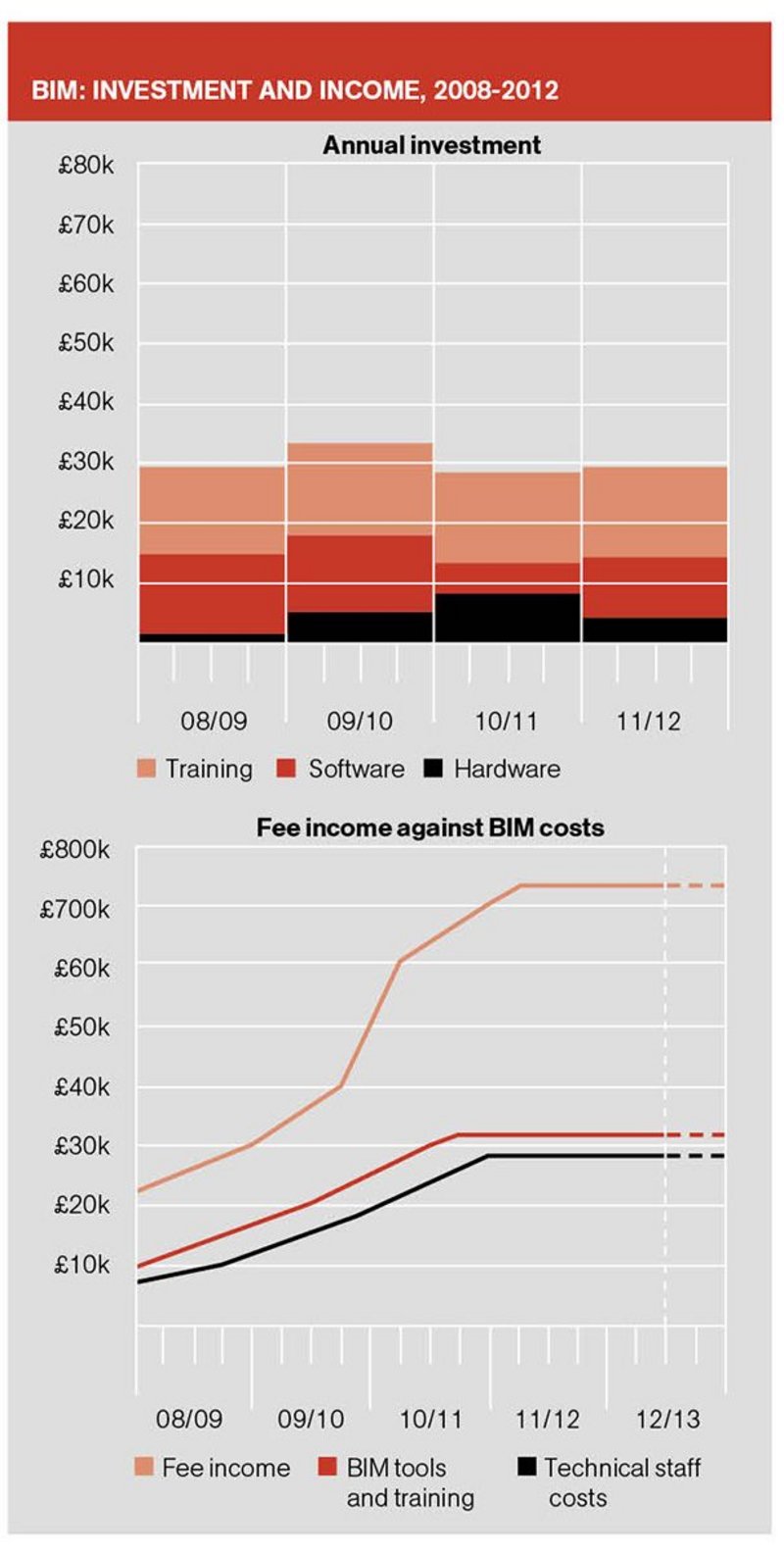 Support

The framework that brings everything together and which has given the UK construction industry such a clear focus, is the Government Construction Strategy (2011). This has been elaborated and built on by the BIM Task Group and its website (www.bimtaskgroup.org/) is very reliable – it could be seen as the single source of truth for BIM adoption.

The site provides contract documentation, Employer's Information Requirements, the RIBA Plan of Work 2013, and clarification and examples of COBIE outputs and implications on Government Soft Landings. It also answers the commonly asked questions around copyright and IP especially with regard to sharing model data. Hugely useful is PAS 1192 Part 2, and there are links to sector related groups including BIM4SMEs.

The best thing is that all of this is free. So if you read the Construction Strategy and make the BIM Task Group website your home page, you are off to a good start.

Benefits

BIM has made us more efficient and we are sure it has given us a competitive advantage. Being able to offer additional services has differentiated us in a difficult market. We also believe our consistent output has generated repeat business, not least because we have been able to drive efficiencies from project to project as our database of components has developed.

The new processes encourage collaboration at every level and re-focus the team on the end product rather than just project trackers and compliance reports. The virtual building is on our monitors and the office projector screens constantly: it's a more satisfying way to work.

The quality controlled output of BIM has also reduced the drudgery of production of information, enabling the team to punch above its weight which again has improved morale.

Importantly, stakeholders can see exactly what they are going to get which manages expectations and smooths projects through the review and approval process. This is happening at every level of the project, from concept design through to safety on site.

As a bonus we found that our new workflow has simplified design management and allowed us to build our internal processes around BIM. All our external accreditations including ISO9001 Quality Management and ISO14001 Environmental Management have been positively affected by BIM.

When reviewing fee income against technical costs, the impact on business is clear. There is a period of adjustment, but once it's embedded real efficiencies can be gained. Some of this could be a result of a small practice growing and taking on larger projects, but that in its self could be due to using BIM tools.

We believe BIM has allowed us to grow in a difficult market and to take on bigger and more challenging projects.
---
David Miller is director of David Miller Architects