A vicious circle of poverty, natural disaster and unsuitable building techniques lies behind the mudslide in Sierra Leone that killed hundreds of people in August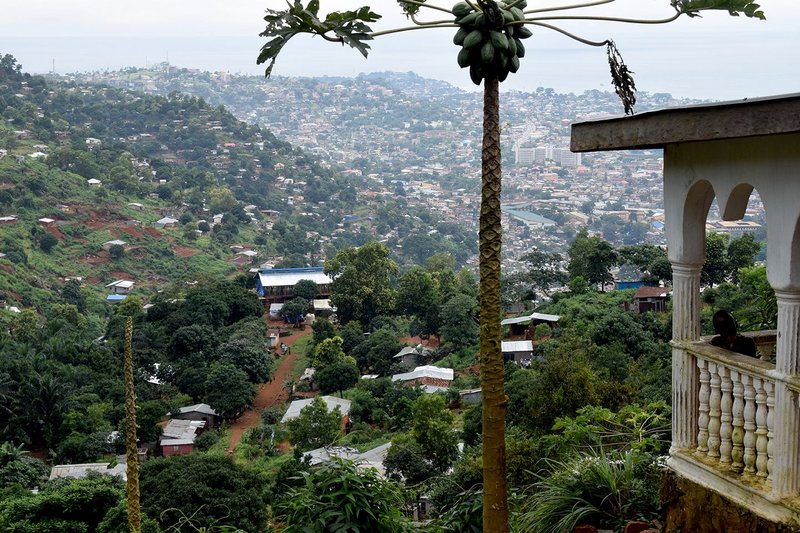 Typical view over the Freetown from informal housing on the lion mountain tops to the city centre and the sea.

Credit: Edward Dale-Harris
Every year Sierra Leone gets hit by some of the worst rainy seasons in all of Africa. Some 53cm of rain fell in Freetown in August this year. The infamous yearly 'seven day rain' usually happens in late August when as much as 20cm can fall in one go. Usually lasting from May to October, the rainy season sees the country's productivity drop sharply as flooding blocks roads and swamps many impoverished informal settlements along the coast.
On 14 August this year, Freetown had one of its most torrential rainfalls. Regent, a village on its outskirts, suffered a huge mudslide, covering the same area as 11 football pitches. More than 1,000 homes were buried under rock and earth by the disaster, and while the precise number of people killed is uncertain, more than 400 bodies have been found so far. Estimates put the death toll as high as 1,000, with 3,000 people made homeless. In the aftermath, people want to know how and why it happened. Was it a man-made or natural disaster? Could it have been prevented?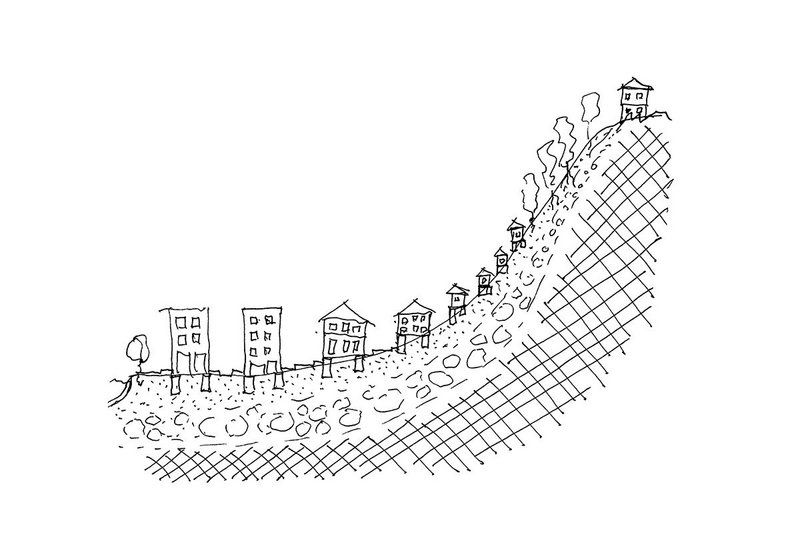 Sketch section of the valley showing the reinforced concrete housing in the valley & more basic earth block houses on the steep slopes in Freetown, Sierra Leone.

Credit: Edward Dale-Harris.
Geography and poverty
Freetown was founded on this spot for two reasons: its natural harbour, which is the largest in Africa, and its distinctive mountain range. Viewed from the coast, the mountains jut up dramatically some 500m. The combination of high humidity, as much as 100% in the rainy season, and the steep topography means that when the saturated air is blown over the mountains it rises and cools, with the high altitude causing mass condensation. The high temperatures, humidity and mountains create conditions for violent storms. Rain falls on the hilltops and cuts steep gorges and gullies in the landscape. The erosive power of these annual storms make construction work almost impossible.
But it is not these torrential rains alone that cause all this rock and earth to disconnect from the mountain side. Before Freetown grew so large, the hills were heavily forested. It was the roots of the rainforest that held the earth in place. Now, with Freetown's population exceeding one million, the prime area for building on flat ground has long gone. The wealthy have built formal reinforced concrete high rise buildings on the desirable flat land of the valley floor near the city centre, while the those with fewer financial resources have had to make do with the steeper slopes where they build using stone and earth, only spending money on cement plaster and tin roofs.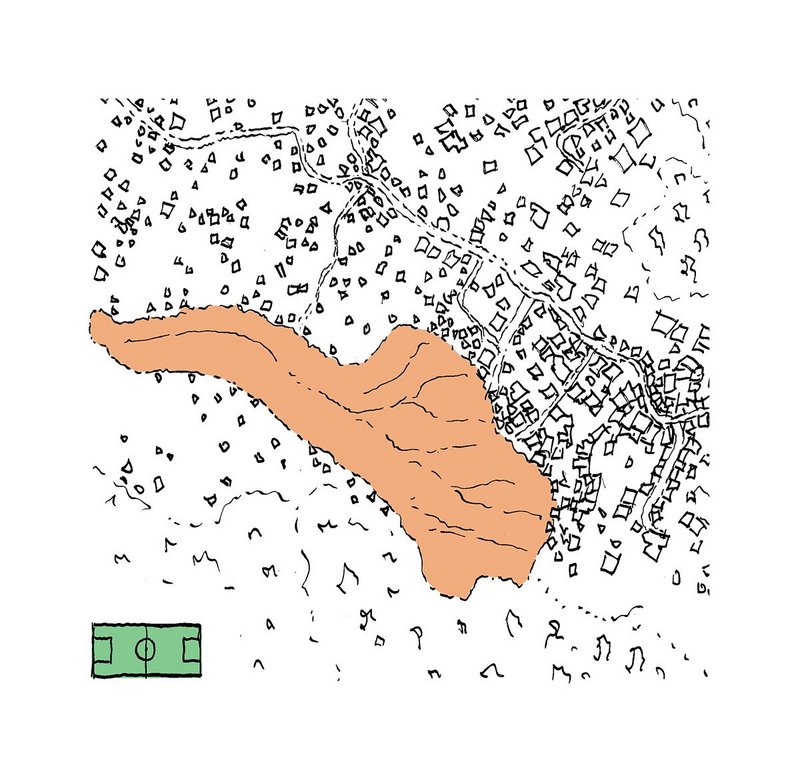 Sketch plan of the valley mud flow which covers an area of 11 football pitches in Freetown, Sierra-Leone.

Credit: Edward Dale-Harris
Building standards
Sierra Leone does have building standards, but little is done to use, check or enforce them. Freetown has broadly two kinds of new building types. The first is a community/local self-build, put up with no formal training. It is usually an earth block house with a cut timber pole mono pitched roof, covered by corrugated zinc metal sheets, and with timber frame doors and windows. If the builder has some money, he will cement plaster the floor and walls to keep out damp and protect the blockwork. The second type is made from reinforced concrete and sand/cement blocks with metal windows and doors. These are found in more formal government and middle class developments and would be built with the expertise of a contractor and engineer.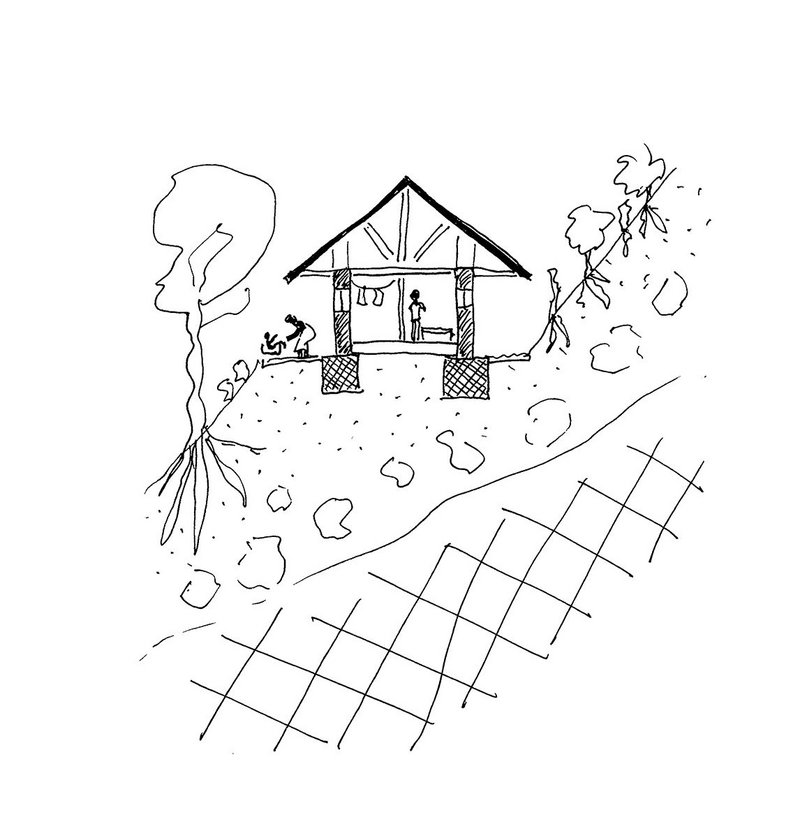 Sketch showing the typical section of a local house built in the hills in Freetown, Sierra Leone

Credit: Edward Dale-Harris
Both types of building were destroyed by the latest mudslide; its volume and speed engulfed and knocked down all in its path. However, the latter type would have been much more resistant, and for many concrete buildings it would have been a case of digging out the mud that had swept through. Yet the biggest challenge is urban planning. Freetown has a complex and hugely political planning process. Its communities have huge potential and could be easily enabled, but they need guidance, education and support. In Regent there was evidence of deforestation and unstable soil – which was known about before the mudslide. There had been an intention to plant trees as a means of prevention.
Development also needs to be better managed. Forests on the steepest slopes around the hilltops of Freetown need to be carefully considered by planners, engineers and geologists. Informal settlements are hard to control and monitor but are growing at an uncontrolled rate, and many are illegal. Nevertheless, the poverty in the area means that getting anything done in these communities difficult, with high levels of corruption and crime. The government needs to find a dialogue with the communities to manage their growth in an incremental and environmentally responsible way.

Sketch section showing the sequence of the deforestation that destabilises the hill side-.

Credit: Edward Dale-Harris
So was this a man-made disaster or natural one? As always, there are many causes, both natural and man-made. Could this disaster have been prevented? Yes, with diligent planning and management. One local summarised: 'If you hurt nature, nature hurts you back'.
---
Edward Dale-Harris is one of RIBA Journal's Rising Stars 2016 and is founder of Socially Active Workshop Architecture (SAWA)