Newcastle finds itself becoming a centre for BIM expertise, and it's helping practices that are struggling with recession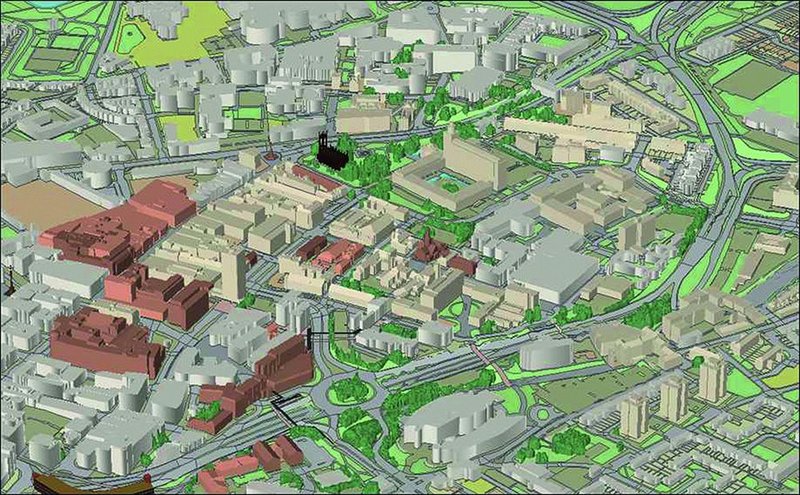 Could BIM linked to geographic data incorporate wider environmental modelling?

Credit: Ordnance Survey
Walking under the grand steel arch of the Tyne Bridge with the once busy river far below, it seems incredible that, just up in Newcastle's streets, are many of the people figuring out the construction landscape of the future. There are practices which have found a way to add value to their design – Space Group and its BIM consultancy and Ryders with its sponsorship of the BIM Academy at Northumbria University. There's NBS, part of RIBAJ's parent company RIBA Enterprises, which is forging ahead creating BIM objects for specification. And then there are digital BIM-enabled surveyors EBim and 4Projects, which design collaborative software solutions from nearby Sunderland (as an aside, even London-based Ash Sakula is using Newcastle for BIM, learning through a housing project at Ouseburn).

And they haven't just got their heads down getting to grips with BIM on live projects. They are also imagining and defining the future of BIM and how it works across construction. Late last year many industry and government professionals gathered at Ryder's office in Westgate Road, Newcastle, to look at where BIM would be in five years time.
'It has a very different formula to most private practices; a long term, contractual bond with the council yet a corporate push to look for other jobs; the security of a major firm but the uncertainty of contract renewal'
There is definitely a BIM cluster going on here. The NBS' Stephen Hamil, who has become one of the faces of BIM both in the UK and abroad, has been quoted as saying that at the UK's biggest BIM show last year 'almost everyone who spoke had a Geordie accent'. He puts it down to the good university construction courses nearby, not only at Northumbria University but also Teesside, Durham and Newcastle itself. Hamil graduated in structural engineering from Durham before a PhD in computer modelling: the perfect cocktail for a BIM specialist.

The second factor, he believes, is the way areas like the north east have been hit hardest by recession. Practices have had to reinvent themselves and look for new business. The Space Group has long been based in Newcastle, as Waring and Netts until 2008. In 2011 it formed the fast growing BIM. Technologies. Work includes laser scanning existing buildings such as a listed building at Central Newcastle High School in preparation for refurbishment, and co-ordinating BIM for subcontractor packages on the work to prepare the Commonwealth Building for the arrival of the Design Museum. It has also played a major part in the annual BIM Show Live. Without BIM only the first of these would have been a Space Group project.

Ryder announced in 2011 that it was helping set up the BIM Academy with Northumbria University. At a time when most practices were being squeezed this seemed a bold and optimistic move. To Peter Barker, managing director of the BIM Academy and a Ryder board member, the joint venture was a way to grow BIM beyond internal efficiencies which had given the firm a certain robustness in delivering quality. The profit-share on the limited company means the benefits and profits of work in teaching at the university, and wider consultancy and enabling role on BIM, flow into Ryder without putting it in a BIM straightjacket.
The Academy is at the forefront of research on using BIM as an everyday tool to enable carbon assessment. Through 4BIM it is helping provide the capabilities for the construction sector to meet government targets for all public sector construction projects to use collaborative BIM by 2016. The university's estates department is also going BIM, exploring its potential live on 32 buildings on its campus which have all been modelled – some down to the detail of power points and fire extinguishers. Ordnance Survey BIM models of the city have been used to show its potential for plugging into geographic data, for example on flood modelling.

The list of staff at the BIM Academy shows quite what an industry-wide project BIM has become – as does its list of collaborators from national contractors VINCI Construction and manufacturer Kingspan on its 4BIM research, led by 4Projects. The North East BIM Hub, run by the Construction Industry Council, also brings in many disciplines including facilities management. Newcastle is the ideal size to encourage such collaborations: large enough to have a significant construction culture but not large enough for professional silos.

Barker sounds a note of caution about the Newcastle BIM cluster: the contractors are not even halfway there. In Newcastle and other regions to which the BIM Academy has taken its free seminars, 'contractors still have their heads stuck in the sand'. Barker and NBS' Hamil shuttle up and down to London (where contractors in particular are investing in the technology) or jet off to talk about BIM in the Middle East. On the upside it clearly shows that this investment in BIM in Newcastle is driving not just a local industry but a national technological and cultural change for the future, and one that is eminently exportable.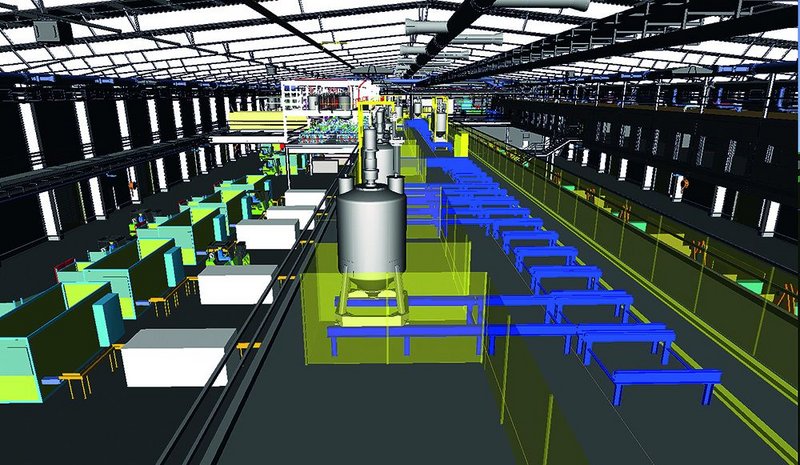 Ryders' factory for Akzo Nobel – modelled in BIM.