This year's conference considered the potential integration of AI, improved landscape architect workflows and advancements in BIM, plus inspiring case studies and all the latest software updates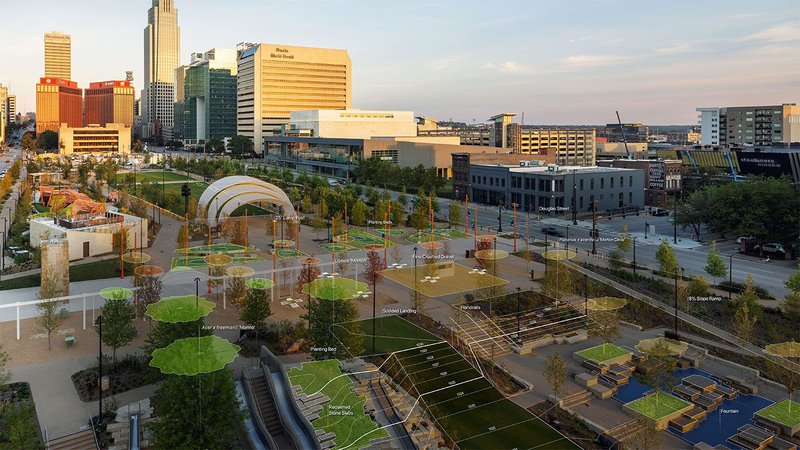 Gene Leahy Mall at The Riverfront.

Credit: OJB Landscape Architecture and Dan Schwalm
Vectorworks Design Day UK is an annual event exploring the latest trends and advancements in the company's family of software products. It brings together design professionals from a variety of disciplines including architecture, interiors and landscape.
This year's event on 3 October heralded the release of Vectorworks 2024 and put creativity, productivity and innovation centre-stage under the tag line 'What is design freedom?'
Despite a minor setback caused by a train strike, over 150 attendees gathered at 30 Euston Square in central London for a glimpse of future working practices.
The conference kicked off with an introduction by Vectorworks CEO Biplab Sarkar. He provided an overview of the past year's achievements and outlined the company's plans for the future. One key highlight of Vectorworks' commitment to its users is the regular updates released every two months. These updates not only address bug fixes, but also introduce additional functionality based on user feedback and the Vectorworks public roadmap.
Sarkar gave previews of new features, such as a ground-up redesign of the selection & modification tool, enhanced support for illustrating construction phasing and a combined window and door tool system.
Perhaps most intriguing is the potential integration of artificial intelligence (AI) to provide rendering options through the use of text prompts. As AI continues to make inroads in the design industry, it will be fascinating to see how Vectorworks and other CAD and BIM systems adapt to this evolving landscape.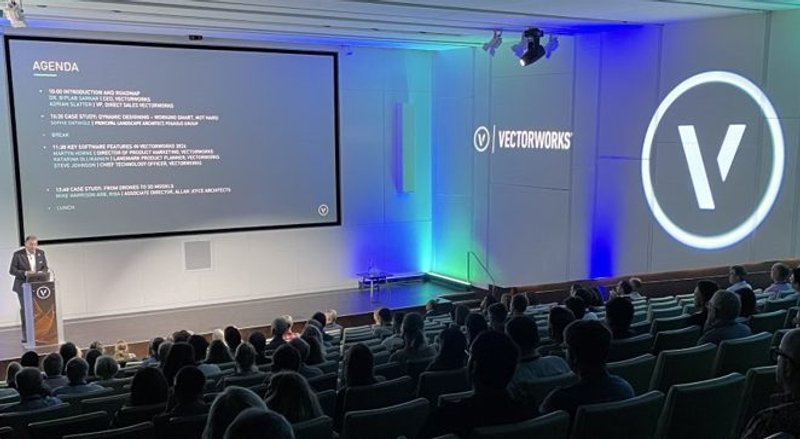 Vectorworks Design Day 2023 at 30 Euston Square.
Sophie Entwisle, principal landscape architect at Pegasus Group, then took the stage to discuss the growing importance of collaboration between practitioners and software providers in the field of landscape architecture. With landscape architects increasingly relying on digital tools to create and communicate their ideas, software packages like Vectorworks play a vital role in enabling effective and efficient workflows.
Entwisle highlighted some key innovations and collaborations between Vectorworks and interactive mapping provider ArcGIS in the realm of landscape architecture. The partnership has allowed the development of mobile application features tailored specifically to the needs of landscape architects for site data collection as well as efficient team communication workflows.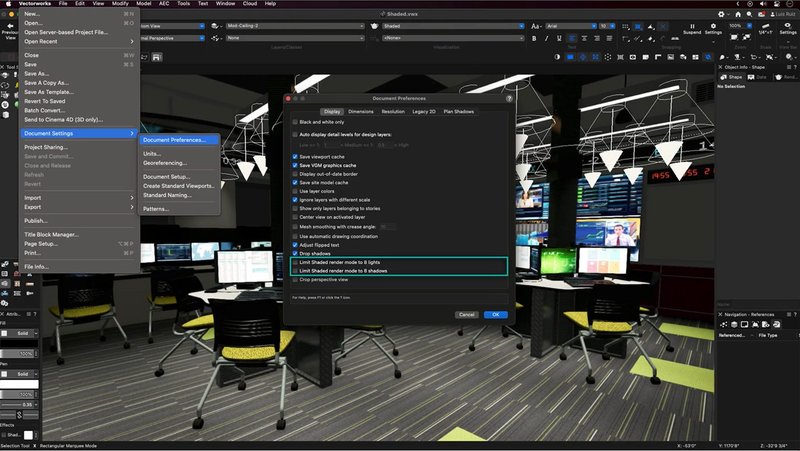 New shaded rendering process in Vectorworks.
Unveiling Vectorworks 2024
New features in Vectorworks 2024 were unveiled in presentations by the company's chief technology officer Steve Johnson, director of product marketing Martyn Horne, and Landmark product planner Katarina Ollikainen. Major upgrades to the core technology will allow users to save even more time and work more efficiently, while the updated interface provides a modernised look and feel.
Creating realistic-looking images will be easier than ever with the improvements to shaded rendering with unlimited shadow casting in real-time processing, plus new camera settings, enabling users to define depth of field and exposure. The speed of operations should allow for more accurate assessments of designs on the fly.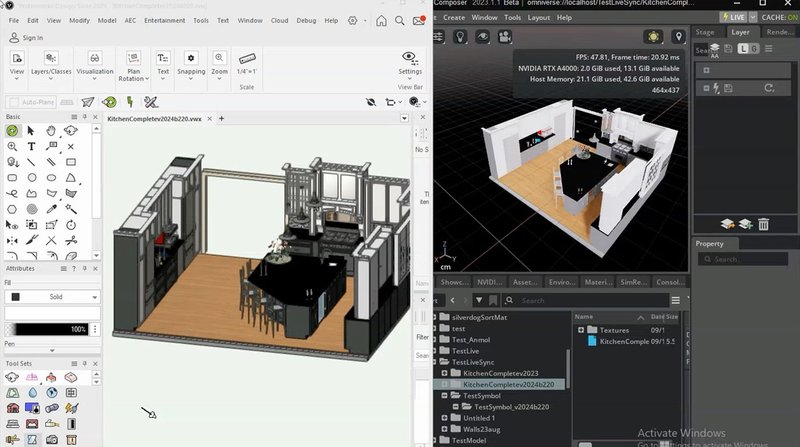 The Omniverse Connector tool, introduced to Vectorworks in 2023, allows users to publish a 3D model to the NVIDIA Omniverse Nucleus server to be opened, viewed and modified by other Omniverse users.
A much-requested parametric tool for handrails and fencing tools has been added, plus parametric cabinets - including libraries of products from manufacturers such as Ikea and Howdens - that now enable architects and interior designers to develop kitchen layouts and fitted furniture design with much greater ease.
Two standout features are the introduction of Viewport Styles and Excel referencing. These powerful tools allow users to save customised viewport settings as styles, making them easily transferable between viewports, and to sync external project data stored in Excel files.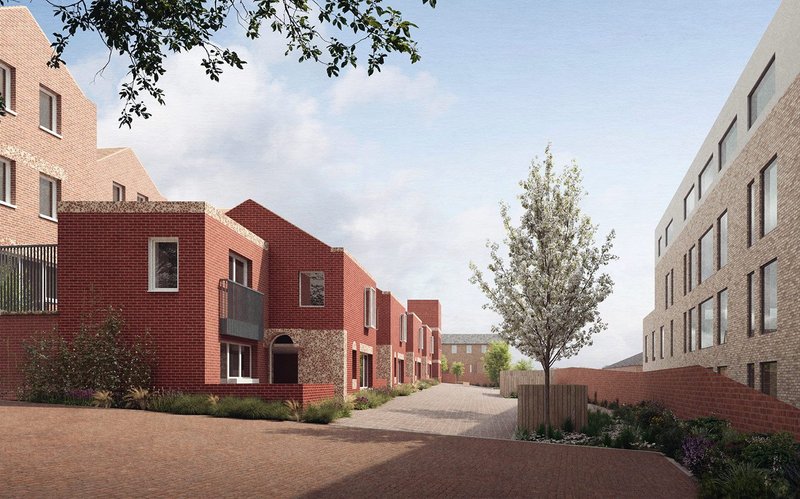 The Elms, Nottingham.

Credit: Sarah Wigglesworth Architects
Innovation in practice
Mike Harrison, associate director at Allan Joyce Architects, shared their successful transition from traditional 2D workflows to the dynamic world of 3D and BIM (Building Information Modelling). The firm seamlessly integrated Vectorworks Cloud Services into their workflow, enabling them to process drone imagery and create 3D context models. Harrison showcased a case study on an historic building that demonstrated the innovative use of a 3D point cloud plus drone surveys to use and share an IFC (Industry Foundation Classes format) building model with a team of consultants.
Pete Champion and Kirsty Vance of brand experience design consultancy I-AM took the audience on an immersive journey through the evolving landscape of hospitality design and their unique 'LIFE-LED' approach, which combines research, design and human experience to craft spaces that cater to the changing needs of guests. They discussed how the focus in hotel design is shifting from traditional room-centric experiences to encompass the peripherals that enhance the overall guest experience. The case study of Center Hotels showcased how Vectorworks played a pivotal role in realising I-AM's design vision.
Rachel Pickford, project architect and the Vectorworks lead at Sarah Wigglesworth Architects (SWA), showcased the practice's Vectorworks strategy and its evolution over time. SWA, known for its sustainable and people-centered approach, emphasised the importance of optimised workflows, continuity and standardisation across projects. Pickford presented The Elms - a new residential neighbourhood in Nottingham - and explained how Vectorworks facilitated the design development process across the whole scheme, from housing to streets and public realm. As a fellow architect and Vectorworks user it was equally interesting to hear about how SWA had set about organising its system - file structure, referencing and master files - to produce all the necessary planning drawings and schedules for a project on a difficult sloping site.
The event concluded with Vectorworks sales enablement director Tamsin Slatter looking back at some of the most significant enhancements introduced through the regular service pack updates during 2023 - helping to ensure that such frequent changes don't go unnoticed. Among the improvements highlighted were Apple LiDAR scan-to-model support and improved collaboration tools. Slatter also recalled that Vectorworks has now integrated Solibri - a leading model checking and quality assurance software - into its platform. With Solibri Inside, Vectorworks' Solibri integration, users can now perform advanced clash detection, model comparison and code compliance checks within their familiar Vectorworks environment.
Looking backwards and forwards, Vectorworks Design Day UK provided designers and architects with invaluable insights, inspiration and a glimpse into the ways new technology will reshape our processes and capabilities. From Vectorworks' ongoing commitment to regular updates to the possible integration of AI, further integration with the workflows of landscape architects, entertainment design and advancements in BIM, Vectorworks continues to evolve to meet the ever-changing needs of the design community. As the industry embraces new trends and technologies, it will be interesting to track how Vectorworks continues to empower designers to unleash their creativity and transform their visions into reality.
For more information and technical support, visit vectorworks.net
Contact:
01635 580318
uksales@vectorworks.net
---
Jonathan Size is a partner at Foster Wilson Size, where his recent projects include the refurbishment of Southampton's Mayflower Theatre and London's Trafalgar Theatre.