A design for an ultra low carbon, timber-framed, secondary school built from a standardised kit of parts could hold the key to a greener future for education buildings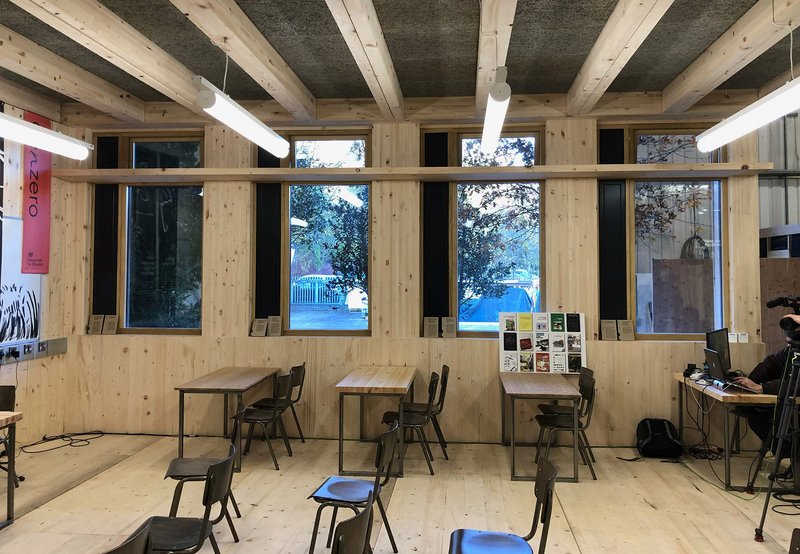 Prototype GenZero timber classroom built at a fringe event to COP26 at the Construction Scotland Innovation Centre in Glasgow. Designed by Lyall Bills & Young, the classroom has Glulam columns and beams and CLT panels. When built for permanent use, it will have a concrete-topped hybrid floor.
It might not have made the headlines amid the climate conference's struggle to achieve a deal, but on the fringes of the recent COP26 in Glasgow, something potentially rather significant in the realm of school design was making its debut.
This was GenZero, a prototype design for an ultra low (net zero in operation and low embodied) carbon secondary school, the result of a two year research project between the Department for Education (DfE) and Innovate UK. A full-scale timber classroom prototype was unveiled at the Construction Scotland Innovation Centre during COP26, created using a standardised kit of parts.
Billed as the next generation of school building, the concept could in time be a 'game-changer' according to Crawford Wright, head of architecture and design: schools and colleges at the DfE. As well as demonstrating the potential of standardisation to deliver high quality, sustainable design that is net zero in construction and operation, he describes GenZero as offering a more holistic, pupil-centric approach away from the 'narrow perspective of the cheapest constructed space'.
By encouraging interaction with nature, he hopes the prototype will encourage a 'healthier and more pleasant environment' than some earlier offsite modular [?] solutions. 'This drives forward our ability to have more buildings that are good every time. We want to develop a system-build kit of parts that can be constructed easily and that delivers the quality outcomes that we want as clients.'
The research project will be tested in a number of built pathfinder schools over the next few years, and will be used to inform DfE specifications and inspire greater use of standardisation in school design. This follows the adoption this month of net carbon zero in operation in the new S21 contractors' framework (see What the School Rebuilding Programme means for architects)
The timber classroom forms part of a standardised kit of parts for an entire secondary school, designed right down to a set of five chair types. As part of the research team, architect Lyall Bills Young has developed designs for both a constrained and unconstrained site to RIBA Stage 4.
The concept has three main interlinked elements – a central 'commons' including dining hall and library, conceived as the social and civic heart of the campus with wide views of the surrounding landscape, plus a teaching wing and a halls component. All are simple extruded forms with no turning corners. These are set within a protective landscape with trees providing solar shading and rain gardens to make the most of run-off from heavy rainfall. As well as easily accessible green space, these will have dedicated spaces for outdoor learning.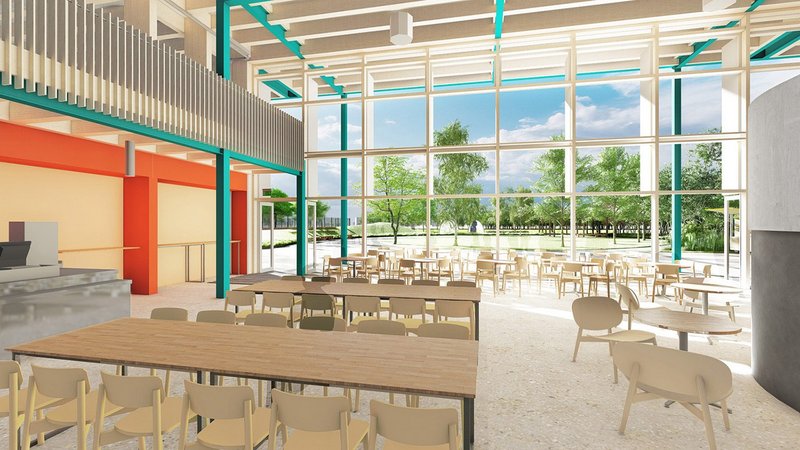 Render of commons element of the GenZero prototype

Credit: Lyall Bills & Young Architects and Ares Landscape Architects.
The structure is primarily CLT and glulam and is organised around a 1.8m grid. The exterior is wrapped in timber cladding with opening windows, and the classrooms have glulam beams and columns with exposed CLT wall panels. The prototype is estimated to use 35% less timber than a typical mass timber school, and the use of timber is intended to help promote a biophilic response.
'The idea was to use timber. We wanted to expose it as much as possible to give a very good-looking and robust interior. We challenged ourselves to strip away plasterboard and paint finishes,' says LBY's Neil Young.
Other materials are incorporated where appropriate, including glulam both for columns and as part of a new composite glulam/concrete floor panel, which will be the subject of further research. Steelwork is incorporated to help create large, column-free spans in the halls for example, and for volumetric elements such as changing rooms, plant rooms and toilets. In total, 85% of the construction is panelised with13% volumetric and 2% componentised.
A key element is a spine wall of glulam structural columns and CLT panels containing services, acoustically attenuated airpaths for natural ventilation and lockers. Furniture is solid timber where possible with what Young describes as an emphasis on 'robust, simplified solutions' that can be deconstructed and repaired.
So does GenZero provide sufficient flexibility? Young says the prototype offers a working model for a low-carbon, standardise solution 'with quite a lot of wriggle room' that he hopes will offer inspiration to the industry. 'Here's an opportunity and this is one way to do it. It's a challenge to industry to see how it could respond,' he says.
The first pathfinder school, planned for Crawley's new Forge Wood neighbourhood, will adopt all the principles of the GenZero prototype and is expected to complete in 2025. This will be adapted to a constrained site in Fulham, London, and at the Ashington FE college in Northumberland. There will also be a number of applications for parts of the prototype, such as a classroom block or a changing room pod, to be incorporated at existing schools.
Costs will be determined more accurately by the pilot projects, but research suggests the GenZero design is currently 15% over school budgets.
By 2024, the DfE hopes to have a construction platform to deliver standardised school designs. In the meantime, research and development into GenZero will continue, with the prototype providing valuable learnings that, Wright hopes, will enable it to 'step into the future more quickly'.