One of eight artists selected for the BBC Television Centre East Tower commission, Hilary Powell works via film, installation and scenography, focusing on participatory space. We asked about her plans to bring her own bit of culture to the Beeb before the site is redeveloped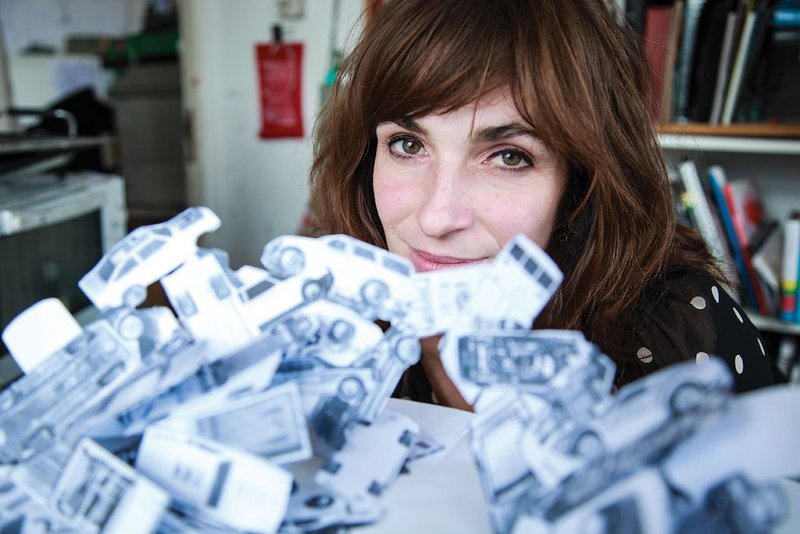 Before this, your interventions were on the London Olympic site. What's the story?
Having graduated in Fine Art I did a PhD on old sites in cities like Berlin and Paris on the brink of change. But I was living in Hackney in 2005, just as the Olympics construction was gearing up so decided to work with that. I chronicled a 'DIY Games' on the derelict site – people trampolining on old mattresses, racing through abandoned factories, that kind of thing. I wanted to creatively celebrate the area before it was erased.
And the Bartlett residency? You're not even an architect
That came from the Olympic work, other interventions and books I worked on, such as 'Adventures in London's Olympic State.' Through Professor Jane Rendell, I secured AHRC funding for a project inspired by Robert Smithson's quoting of Nabokov's 'The Future is the Obsolete in Reverse'. Looking at cycles of creation and destruction I made a pop-up book, 'A-Z of the Lea Valley'; as the act of turning its pages physically embodies those notions.
Is this particularly architectural?
In terms of production, yes. Pop-up books are generally made in China and I wanted to bring back skills to the East End. So I sent 10 'pop up apprentices' for a day course to the London Centre for Book Arts and they spent a week at Assemble's Sugar House Studios in Stratford making the book. I made all the parts for 200 copies but the process was slow and we only ended up with 50. But that said, it won an excellence award at the London Art Book Fair and there are copies in the V&A and MOMA.
And the BBC East Tower commission?
Well, it's all about to be knocked down and redeveloped, so it is a variation on the creation/destruction cycle I've been running with. I looked at children's TV programming from the 1960s and decided to concentrate on the minimalist but surreal storytelling of Jackanory. I want to use the building as a collaborative tool and to document the dismantling of the floor I'm on while locals slowly read a story as it proceeds – I'm thinking Ted Hughes' Iron Man; in this way I want to create a new, similarly surreal story for the site. I imagine I'll screen it somewhere else – perhaps the BBC's new central London HQ.
A story with an unhappy ending?
I'd prefer to call it 'choreographed demolition'!
---