Log mentoring on your timesheet and recognise the power of mentoring both for your staff and students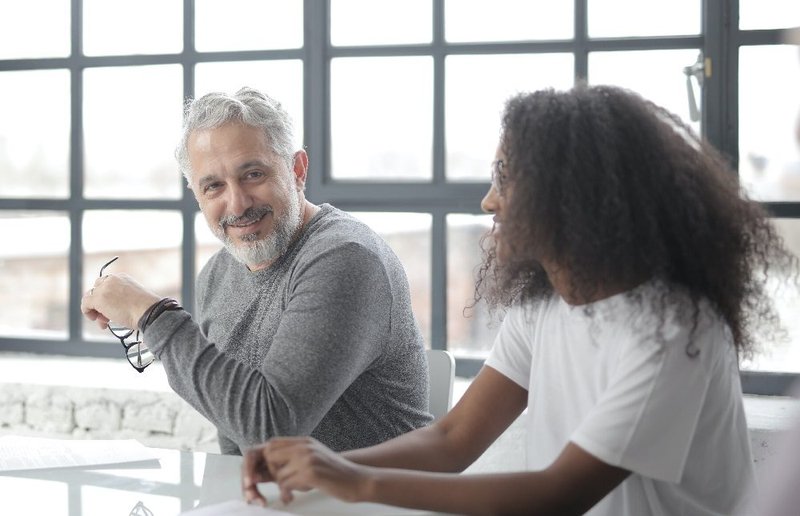 A real passion for architecture goes a long way when it comes to mentoring.

Credit: Pexels
Practice mentors play a critical role helping students to make the transition from university to professional practice by imparting practical knowledge, sharing experiences and exposing students to the realities of the industry.
Their help does not go unnoticed - many young architects hold mentors up to be the unsung heroes of the profession.
The mentoring system is well embedded with a recent survey of Part 3 student employment outcomes by the University of Westminster finding that 81% of students were assigned a mentor by their practices.
How can mentors keep an eye on students' progress from the start?
Director Joan McCoy from Belfast-based White Ink Architects says the practice runs several in-house schemes, starting with a formal induction process where mentors keep an eye on new employees' progress from the outset.
The senior team will have published targets or time allowances for mentors. By creating 'mentoring' items on timesheets, it ensures mentors feel supported in the time they invest so that it is not something to be shoe-horned in around project work.
'University projects focus on design and exploration, often without the constraints and complexities of real projects,' McCoy says. 'This is crucial in the development of critical thinking skills, but creates gaps that need to be bridged by learning within the practice environment. These gaps include real world constraints such as budgets, construction detailing, regulations and client management.'
She continues: 'Architecture is a collaborative discipline that requires multiple inputs from consultants, contractors, clients and external stakeholders. Whilst university education can try to replicate collaboration skills in university, these are often not subject to the same criticality as real-world situations. The ability to work effectively within a team, understand various professional perspectives, and communicate ideas clearly is crucial in professional practice.'
Why mentoring is rewarding
Mentors themselves will be the first to point out that mentoring tends to be fulfilling for them too.
Byron Duncan, Associate Architect at Napper Architects in Newcastle upon Tyne says it is the mentor-mentee relationship that brings him the greatest joy at work. 'Seeing the growth and transformation of aspiring architects under my guidance is truly rewarding,' he says. 'Being able to share my knowledge and expertise, and watching them learn and develop their skills, is immensely satisfying.'
He continues: 'One aspect I enjoy is taking mentees to live construction sites. Experiencing the creation of architecture first-hand and witnessing the students as they connect theory with reality is gratifying. It gives them a deeper understanding of the practical aspects of architecture.'
Napper runs its own workshops designed to bridge the gap between university education and practice. For instance, the practice's business management workshops provide insights into running an architectural firm, procurement workshops explore project delivery approaches, and education workshops offer interaction with staff at different stages of professional development.
Students will usually lack an understanding of the complexities and variations of unique design teams, says Duncan. By introducing them to diverse teams and stakeholders, they gain insights into the collaboration and coordination needed among multidisciplinary teams.
They also need to understand the 'inner workings' of the business of an architectural office, which means being introduced to project acquisition, client relationships and project management.
'Honest feedback and transparency in everything we do in practice is the only way to give students a true understanding of the industry they are going to be working in,' he says.
Why a passion for architecture is essential
Both Duncan and McCoy are agreed that a genuine passion for architecture is essential for mentors when they are encouraging students to strive for excellence and push their creative boundaries. McCoy adds that patience is another virtue, of course.
Students often come into practice with confidence in their design abilities, but they may be intimidated to find there is so much to learn about the practice of architecture, she says.
Sharing real world experiences and stories from experience – recounting challenges, lessons learned and successes – will help to build the mentor-mentee relationship.
'One of the best parts of being an architect is that as a profession we are continually learning and growing throughout our careers. The best mentors will instil this sense of excitement about continual learning in their students while creating a culture of openness that allows discussion about performance and improvement,' says McCoy.
Thanks to Joan McCoy, Director, White Ink Architects; Byron Duncan, Associate Architect, Napper Architects.
RIBA Core Curriculum topic: Business, clients and services.
As part of the flexible RIBA CPD programme, professional features count as microlearning. See further information on the updated RIBA CPD core curriculum and on fulfilling your CPD requirements as an RIBA Chartered Member.