The RIBA Future Trends Workload Index remained negative at the close of 2022 but showed a welcome uptick after five months of steady decline. The recession may have arrived, but is less painful than expected… so far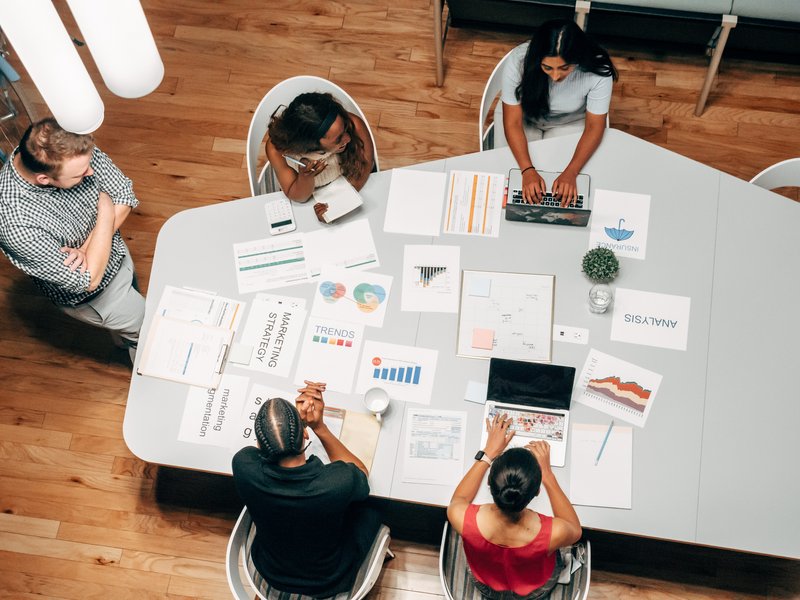 Some architects expect workloads to increase in 2023.

Credit: Pexels
With the post-Covid recovery petering out in the second half of 2022, widespread uncertainty in an increasingly challenging economic climate became the profession's predominant mood. The war in Ukraine, rising energy costs, supply chain problems and rapidly rising inflation all contributed to a fragile economy and well-founded concern about the profession's growth prospects.
On the back of the release of the RIBA Future Trends Workload Index for December 2022, a new RIBA Economic Panel will discuss and explore current and future trends in the construction and architecture sectors. The panel will be led by Adrian Malleson, the RIBA's Head of Economic Research and Analysis, and Noble Francis, Economics Director at the Construction Products Association and Honorary Professor at the Bartlett School of Sustainable Construction.
The online discussion, taking place on 1 February, will also feature senior architects from small, medium and large practices.
What did the Future Trends Workload Index conclude?
Is the economic darkness lifting? Let's not read too much into one month's data, but after five months of declining confidence, the RIBA Future Trends Workload Index for December 2022 saw a welcome rise (to -8). Practices have ended the year with a less pessimistic view of their prospects for early 2023, with fewer architects anticipating declining workloads over the coming quarter.
Previous month's balance figure of -21 had marked a low point for 2022, a year that had started with a sunny outlook of +18 in January.
The value of workload output ended the year 7% down over 12 months.
In December, 17% of practices expected workloads to increase and a quarter expected a downturn, with the rest anticipated workloads to remain steady.
What do the figures mean?
Commenting on the latest figures, Adrian says while the uptick is welcome, 2023 is still likely to be challenging to many practices. With an economic downturn remaining likely, risks to the profession are also coming from client hesitancy and uncertainty, labour shortages, downward pressure on fees, planning delays, and PII costs. On the upside, the challenges around the availability of costs and materials are finally abating and inflation may well be peaking – making a shallower downturn more likely.
Anecdotal evidence from practices suggests that capital-rich clients are proving more recession-proof, while some pipelines of work such as hotels and high-end residential work are proving robust.
All monitored work sectors remained in negative territory at year-end, despite an improved outlook except for public sector work, which remained steady. Private housing rallied from -21 in November to -11, commercial work rose from -12 to -4, and the community sector added ten points to stand at -4.
Pessimism remains throughout large parts of the country
Large and medium-sized practices (10-plus staff) are notably more optimistic than small practices. With a workload index figure of +13, larger practices expected workloads to increase. In contrast, small practices (1-10 staff) expect contracting workloads with a balance figure of -11; although this was a significant improvement on the previous month's -25.
With the exception of London, all regions remained pessimistic at the close of the year.
Since the beginning of the pandemic, London has often been among the more pessimistic regions. December saw a turnaround, with the capital alone returning a positive balance at +4. However, only one region reported a deterioration – Midlands & East Anglia saw its index fall, from -12 to -16.
The Future Trends Staffing Index remained consistently more stable than the Workload Index throughout 2022, suggesting practices are looking to keep their teams intact through this fluctuating market, wherever possible.
In December, the RIBA Future Trends Permanent Staffing Index remained in negative territory but recovered slightly to post a balance figure of -3, up three points on the previous month's figure of -6.
The RIBA Workload Index shows 11% of practices expected to employ fewer permanent staff over the coming three months, while 8% expected to employ more. Medium and large-size practices are neutral about staffing levels, with small practices responsible for the slightly negative outlook.
What do the experts expect for 2023?
Despite some encouraging signs reflected in the RIBA Future Trends Workload Index, RIBA Economics Panel member Fiona Clark, Practice Director at David Miller Architects (DMA), warns that the only certainty is that uncertainty will continue during 2023.
"This time last year, people were expecting a calmer period, a turning point after the pandemic. People were upbeat about getting back to normal," she says. "Our view is that this uncertainty is going to continue, although the outlook is not looking as gloomy as many people were thinking.
"We were expecting a slowdown, but that has not materialised for us."
Fiona says that her practice will continue to be tightly managed from a business perspective, particularly by understanding internal costs and watching cash flow.
Moving forward, she says DMA's strategy will be to make sure the practice maintains both a diverse portfolio – Fiona tips life sciences as a growth sector to watch – and a mix of work at pre- and post-planning stages. Last year's tender price uncertainty led to a lot of stop-start projects, which makes it important to maintain work across different work stages.
It is also a time to keep close to your existing clients, she advises. If past recessions are anything to go by, larger practices will be tempted to go fishing in smaller pools, as she put it: "Keeping clients happy is really important. If you don't stay close, you will soon find someone else knocking on their door."
To book tickets to the RIBA's Economic Panel, follow this link.
Thanks to Fiona Clark, Practice Director, David Miller Architects.
RIBA Core Curriculum topic: Business, clients and services.
As part of the flexible RIBA CPD programme, professional features count as microlearning. See further information on the updated RIBA CPD core curriculum and on fulfilling your CPD requirements as an RIBA Chartered Member.