While the downturn is set to be comparatively shallow and brief, a number of construction sectors are set to contract, warns the 2023 RIBA Economics Panel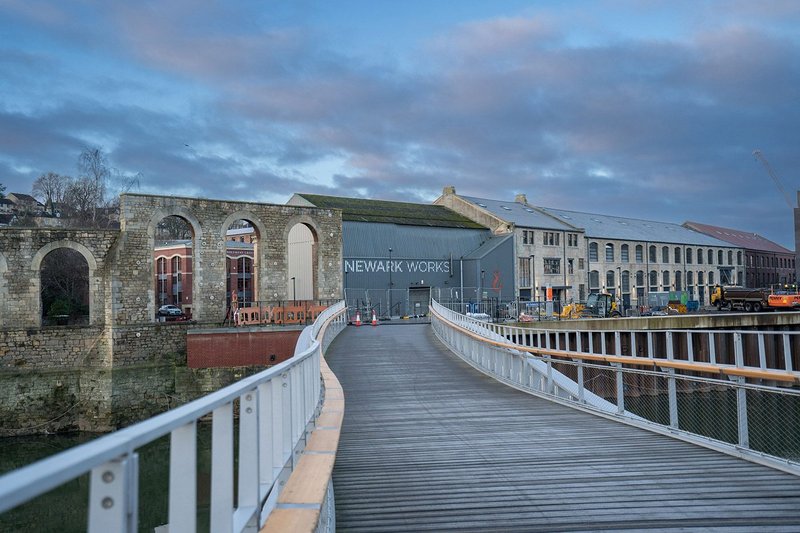 Infrastructure is forecast to grow modestly despite the downturn, and has an important role in unlocking further development. This bridge, designed by Marc Mimram, is part of a new commercial development in Bath which is being spearheaded by Newark Works.

Credit: TCN UK
Last week, the International Monetary Fund (IMF) predicted that the UK will be the only G7 country to suffer an economic contraction this year. It was against this ominous backdrop that the RIBA Economics Panel held its first webinar of 2023, bringing together insights from the Construction Products Association, represented by its economics director Noble Francis, and the RIBA, represented by its head of economic research and analysis Adrian Malleson. Their statistical analysis was bolstered by on-the-ground experiences from three leading architects: David Miller Architects practice director Fiona Clark, Knox Bhavan founding partner Sasha Bhavan and Buttress associate director Chithra Marsh, who reflected on the forecasts with webinar chair and RIBA publishing director Helen Castle.
The CPA Winter Forecast, published at the end of January, expects a recession – two consecutive quarters of economic shrinkage – in line with the Bank of England and other macro-economic forecasters. Francis pointed out, however, that this was unlikely to be the apocalyptic event that many fear. 'Recession covers a wide variety of outcomes,' he said, and this one is likely to be 'briefer and shallower' than the previous three (2008-9; 1990-91; 1979-81). In the 2008 financial crisis – which looms large in our collective memory – UK gross domestic product (GDP) fell by 5 per cent compared with an anticipated 1 per cent in 2023. And, whereas that crash's epicentre was the financial sector, which is now in far ruder health, today's ailments have a different aetiology – politics, inflation and interest rate rises. Only last week the Bank of England increased its base rate to 4 per cent.
But what does this mean for architects? Overall, current construction output remains strong, said Francis, despite a 4.7 per cent forecasted fall. At the end of 2022, activity was still higher than pre-pandemic levels, including in the private housing, private housing repair, maintenance and improvement (RM&I), infrastructure and industrial sectors, with only commercial failing to match its former output.
This is corroborated by the RIBA's data. Its Future Trends Workload Index, at -8, shows that, on balance, architects are expecting workloads to contract but not disastrously so, with the index higher than in 2009 (-31), and likewise in the first lockdown (-82). The RIBA Benchmarking report, which gathers detailed data from RIBA chartered practices about the business of architecture, shows that total practice revenue for 2022 was £3,057 million – lower than 2018 levels but now stabilised. So, there is a 'dampening', said Malleson, but 'not a catastrophic drop'.
The detail: sector forecasts
Construction is also a varied market, so it is necessary to drill down by subsector and region for a comprehensive picture. In 2023, according to the CPA, the following sectors are forecast to contract: private housing (-11 per cent), public housing (-10 per cent), private housing RM&I (-9 per cent), commercial (-5 per cent) and public non-housing (-1.7 per cent). Conversely, infrastructure and industrial will likely grow by 2.4 per cent and 2.3 per cent respectively.
Across all sectors, inflation is taking its toll on both clients (who are hesitant) and architects. As Marsh observed: 'The problem is not keeping busy but that profits are lower. Fee levels are pre-agreed, but now architects need to be creative in the way they design to match these budgets.'
Explanations for these predictions are hardly esoteric. Housing associations and local authorities are squeezed, reducing the demand for public housing new build, and refocusing attention towards maintenance of existing stock. 'They don't want to be named and shamed over high-profile issues such as mouldy properties and unsafe cladding,' commented Francis. Moreover, councils must act on decarbonisation due to changes in EPC regulations taking effect from 2025, with non-compliance preventing property lettings.
In the private housing market, housebuilders have had two strong years, stimulated by a race for space, particularly outside London, and further incentivised by cuts to stamp duty land tax and other government policies. But rising interest and mortgage rates are affecting affordability, and Help to Buy ends in March. A sharp fall in demand is predicted, with a 20 per cent fall in property transactions. This is set to lead to a drop in house prices, by around 8 per cent on average, which will bring the figures back in line with 2022.
Private housing RM&I peaked in March 2022 but is also cooling as inflation causes people's wages to fall in real terms, evidenced by a drop in planning applications.
However, environmentally driven retrofit projects, such as solar PV installation, will grow. Indeed, architects developing sustainable solutions are likely to benefit from pursuing this line of creative inquiry, as Knox Bhavan has discovered with its growing expertise in modern methods of construction, and the carbon calculator it developed in-house. 'There wasn't anything like this at the time,' said Bhavan. 'We have worked hard on it, it has helped us and helped others.'
While the picture looks gloomy for commercial, a sector dominated by tower construction, particularly in central London, and often requiring substantial upfront investment, there are pockets of growth in refits and residential conversion. The Future Trends survey suggests that there is confidence among architects here. 'Our experience echoes this,' said Clark. 'There is an increased demand for [refitting] workspaces, in particular co-working spaces ... but we're hearing that clients are having a more cautious attitude to new build.'
The picture also varies for differently sized practices and their locations. Of RIBA chartered practices, 3 per cent are large (50+ staff) and account for 55 per cent of total revenue; 17 per cent are medium (10-49 staff) bringing in 28 per cent; and 80 per cent are small practices (1-9 staff) responsible for 17 per cent of revenue. Yet in terms of work sectors, small practices are the most reliant on housing as it typically accounts for over 60 per cent of their revenue. So, the decline in housing (especially RM&I) will be felt more keenly here, with an attendant drop in confidence being reported.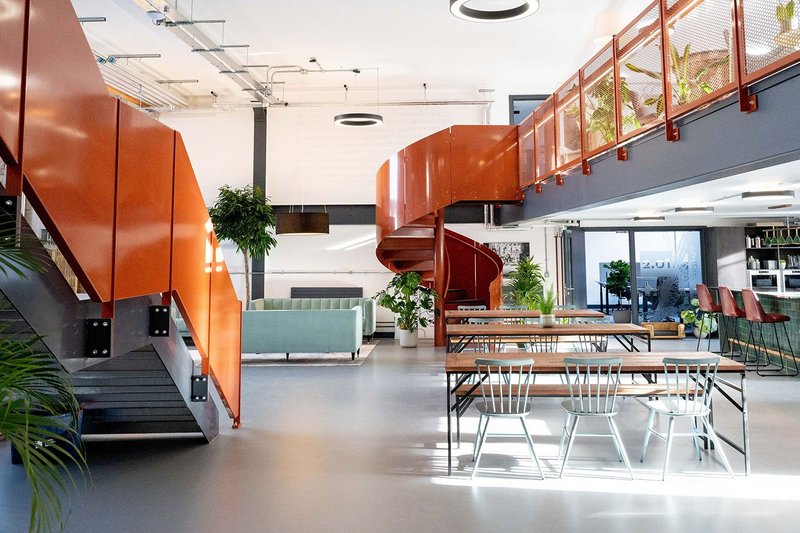 Business hubs, such as Newark Works, give companies a base and shared facilities, increasingly important for companies that now need smaller offices due to staff working from home.

Credit: TCN UK
Diversify for success
Diversifying sectors can help build resilience. 'We are split between public and private sector which cushions and balances us,' said Buttress's Marsh. 'Our heritage expertise has also helped balance efforts to bring in as much work as possible.' While this is easier for larger practices, smaller studios can achieve this too through creativity. 'We are small and do a lot of private house work,' said Bhavan. 'A good thing that has happened to us is that we have been able to move across sectors. Southwark Council has opened its Architect Design Services Framework to SMEs and those with more inclusivity within the practice; we have a beautiful project from being on that framework.'
As if further reasons were needed, a diverse workforce helps with staying relevant and robust. Marsh added that for Buttress, diversity applies to 'both projects and company environment. It is not all about buildings but about people – understanding cultures, understanding the people you are catering for, diversifying talent knowledge. This is good not just for our company but for the industry as a whole.'
Although the RIBA Workload Index is at -8 points, the Permanent Staffing Index is at -3, suggesting that practices are doing their utmost to retain their talent. This is related in part to skills shortages but tells a significantly different story to 2008, which saw the widespread shedding of staff.
Clark added to the recommendations for future resilience. 'We are seeing increased demand from clients for better information management, in particular relating to the Building Safety Act – clients need to demonstrate the golden thread of information,' she said. Therefore, keeping abreast of technology such as BIM, cloud-based solutions and common-data environments all help develop excellent client relationships and a streamlined workflow for practices. 'Absolutely keep your clients happy,' Clark said, 'so that next time they have that fantastic new opportunity, they will think of you first.'
Finally, geographically, 54 per cent of the revenue generated by chartered practices is based out of London. Traditionally, London dominates, but 'in the last couple of years, there has been a shift towards the regions,' said Malleson. 'I always tell clients that the train goes both ways,' Marsh said. 'It is just as accessible to use northern-based architects on southern projects. We hope that more exposure means that a broader spectrum can get used.' This more dispersed picture suggests a gradual, positive, rebalancing.
There is certainly some reassurance there. Yes, the immediate future will be challenging, but (as Francis put it): 'Construction is still strong. This isn't 2008.'
Top tips from our panel
Strong financial management is key. 'Know the market and where it is going,' said Marsh. 'Use your experts in these sectors. Work together to form a strategy for the next three years and revisit this every year. Look forward in the market.' This applies to SMEs too. 'Small practices don't panic,' said Bhavan. 'Build a war chest, do keep some money back, and look to the future.'
Diversify your workforce and your projects as best you can. A diverse workforce will bring fresh and unexpected solutions to the table, while operating across sectors will help buffer against sector-specific droughts.
Keep up to date with technology. Understanding information, construction and sustainability-based technological advancements will generate efficiencies, enable you to stay relevant, help improve client relationships, reveal new opportunities and help corner your market.
Keep everyone in the practice informed. A well-informed workforce will want to see the practice succeed. Keep everyone on your team updated on how the practice is performing to create a strong, collective, loyal workforce.