Liquid waterproofing keeps balconies watertight for residents enjoying views of the Thames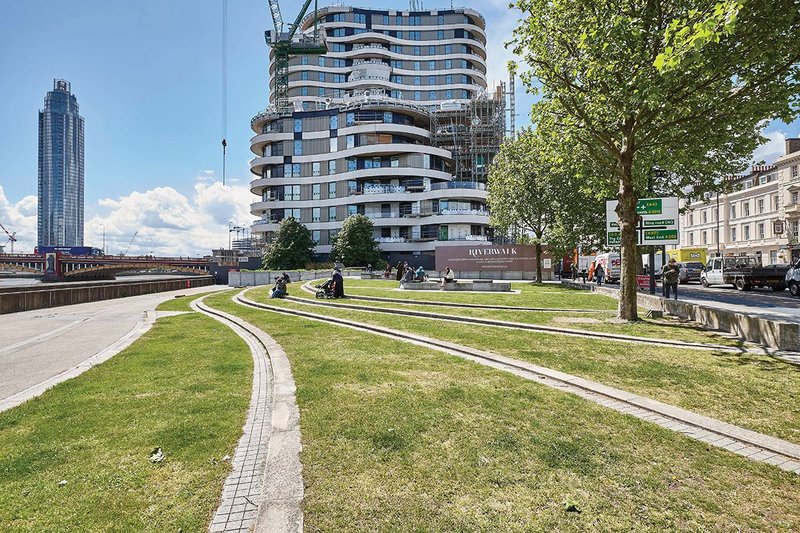 Riverwalk east elevation, its sinuous cladding referencing the Thames' curves.

Credit: Adam Coupe
The sinuous curves of the Thames inspired Stanton Williams' design for this amorphous-shaped block of 116 high end residential apartments on the north bank of the river at Pimlico, just moments from Tate Britain.
The building's facade resembles a series of strata, its curved strips of limestone cladding at each floor level alternating with bronze-coloured metal and glass bands that form windows and balconies. Step-backs on the upper floors help define the roofscape and provide large roof terraces for penthouses.
Riverside Walk's massing and its curved shape were informed by factors including the winding river, height restrictions and protected views of the Houses of Parliament from Hungerford Bridge, as well as efforts to maximise viewing angles of at least 180° from flats towards central London and the suburbs.
Doriano Chiarparin, associate at Stanton Williams, told RIBA Journal: 'Decisive to the design was the brief from client Ronson Capital Partners to create an original and unmistakably residential building that could not be confused with an office block. That led us to think of balconies, but rather than make them a stuck on element, the challenge was to make them sculptural and integral to the building form.'
In plan, the windows and cladding are laid out as two curved ribbons that pull apart and come together at various points to form the crescent-shaped balconies, which differ in size and shape depending on the size of each apartment and its orientation.
Each balcony structure comprises a cast in situ concrete slab with prefabricated steel end sections, which is connected to but thermally separated from the main building's concrete structure. Balconies feature hardwood timber decking and are clad, externally, in curved limestone panels, topped by a frameless curved glass screen.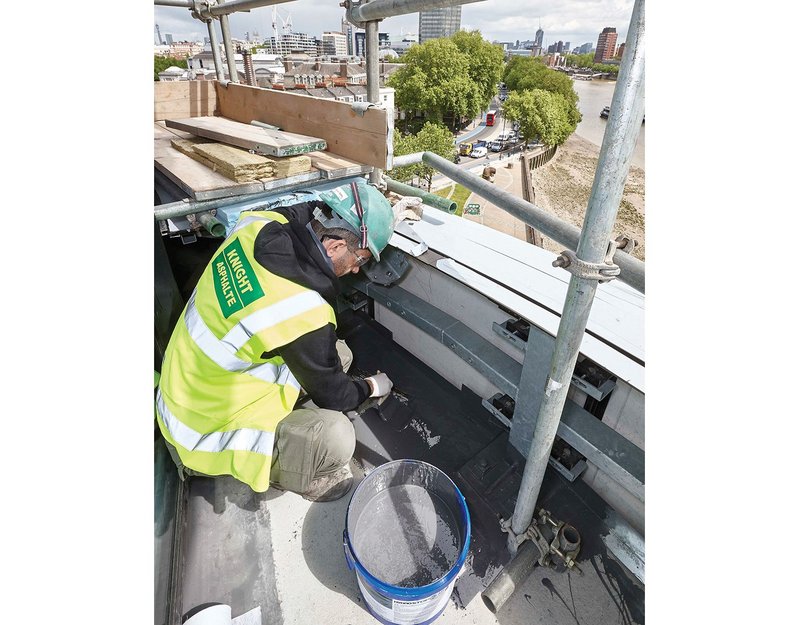 Cold-applied Hydrostop waterproofing on balconies meant less interruption to the cladding critical path.

Credit: Adam Coupe
The balcony floor slabs were waterproofed using the alpha-hybrid liquid waterproofing product Hydrostop EU AH-25, supplied by roofing specialist SIG Design and Technology, following consultation with the architect and main contractor Sir Robert McAlpine.
'Initially, we considered using a hot-applied waterproofing system, but realised that a cold-applied product was much more practical,' said Chiarparin. 'It meant less interference with the cladding installation and less time had to be assigned to Health & Safety procedures related to the use of gas and open flames. The Hydrostop product also has a very good performance warranty.'
The numerous cleats and bolts linking into each balcony made application of a homogenous liquid layer more straightforward than the cutting required to install a sheet membrane solution. In addition, using a liquid made it possible to waterproof the prefabricated steel balcony ends ahead of installation and before the remaining areas were waterproofed.
SIG D&T provided Knight Asphalte with design and technical advice, and technical inspections on site. It also trained the roofing contractor's staff to use the product, both on site and at the firm's offices.
'We looked at half a dozen liquid products and were very impressed with the technical performance of AH-25,' said David Knight, technical director at Knight Asphalte.
'It was the best fit to the project constraints, having just received its Agrément Certificate, which was essential for the contract. Many liquid products have a pungent smell, but AH-25 doesn't smell at all. It's a new generation technology and it actually works.
---
---
To find out more and download additional resources visit http://bit.ly/SIGRoofLines5
---