In the first of a series on re-use, Duncan Baker-Brown explains the urgent need for an end to the throwaway culture that is killing our planet and meets some pioneers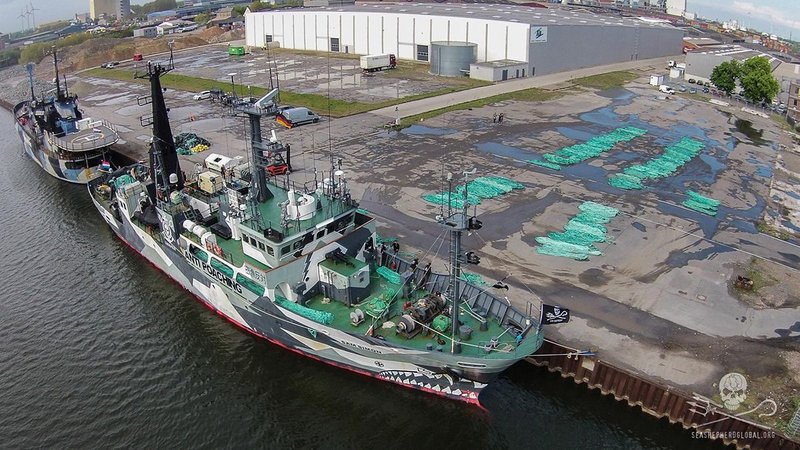 Unloading 75km of illegal gillnets from the Sea Shepherd.
Since I built the Waste House at the University of Brighton in 2014, I have done some deep research into the impact our design decisions have on the consumption of our planet's natural resources. At the moment humankind creates about 4 million tonnes of waste material a day, with the construction industry being involved with about 40% of this problem – or opportunity, as many people are beginning to realise.
Like many architects over the past couple of decades, I have been looking for alternative strategies to the current linear 'take, make and throw away' one. The most high profile positive solution to this over the last 40 years or so has of course been 'sustainable design'. However for many this concept is all things to all people, and just about being 'less bad' and feeling guilty about our very existence on planet Earth. In 2002 Michael Braungart and Bill McDonough published Cradle to Cradle. This seminal text proffered a different, positive, approach where the design of methods, processes and things set up 'closed loop systems' and eventually the holy grail of a circular economy – a world where things are designed for perpetual reuse where they are part of a huge organic 'biosphere' or synthetic 'tech-sphere' – just like the natural world.
Over the past 15 years or so many books have been written speculating on the huge potentials associated with this alternative approach. However there are fewer publications featuring actual projects, architectural or otherwise. For example, if Apple Inc. designed products for a circular economy, it would only have to mine for resources for a single year to provide 100 years worth of product for sale or lease, or 're-manufacture' as it is known. Humankind is nowhere near functioning as a circular economy, and in the meantime we have covered our planet with the detritus of our existence – cities, intensive farming, air-borne radioactive pollution, landfill sites and oceans of plastic.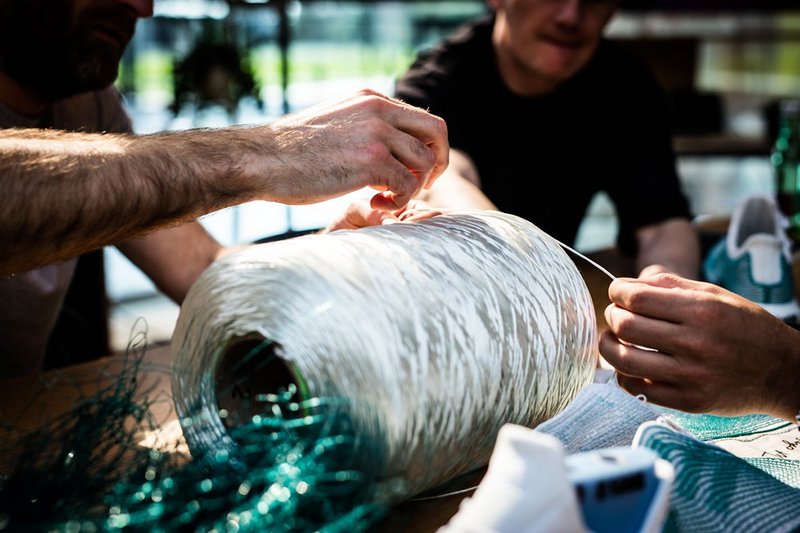 Yarn made from ocean waste plastic.
In my book I argue that while we wait for a truly circular economy to materialise, humankind needs to clean up the mess we have made over the last century or so while mining, making and consuming stuff without a thought of the end of life consequences on our environment. Humankind now needs to try alternative approaches, and quickly. I believe that designers could come to the fore here. Over the last year, I have interviewed over 50 designers, architects, manufacturers, and suppliers from around the world. All are coming up with inventive strategies that encourage everyone to 'mine the Anthropocene' (the current geological epoch created by human activity): to work with stuff/buildings/places etc, that already exist, that have already been mined and processed. Of course architects will play a major role unpacking 'traditional' design and procurement strategies that will ensure our future buildings and cities are 'material banks for the future' and that they are 'designed for re-manufacture'. In my opinion this new approach of re-working/working with/adapting, will legitimise the recycling and reuse of stuff, often dismissed by Braungart as 'merely slowing down the inevitable route to our oceans'.
But does if make financial sense today? How do you sell the idea to a hard-nosed developer focused on short-term gain? These were a couple of the challenging questions I asked myself when I was thinking of how to make the content of The Re-use Atlas interesting to practitioners in today's post-liberal 'linear' economy. Four key chapters in the middle of my book feature design case studies that take the reader on four steps (recycling, reuse, reduce, closed looped systems) towards closed loop systems. Case studies were chosen that addressed the difficult challenges presenting all of us considering sustainable solutions to design problems.
Over four articles on ribaj.com I will discuss is some detail a couple of case studies from each of the four steps, starting with recycling, in this case with training shoes and football kit made from ocean plastic and illegal fishing nets.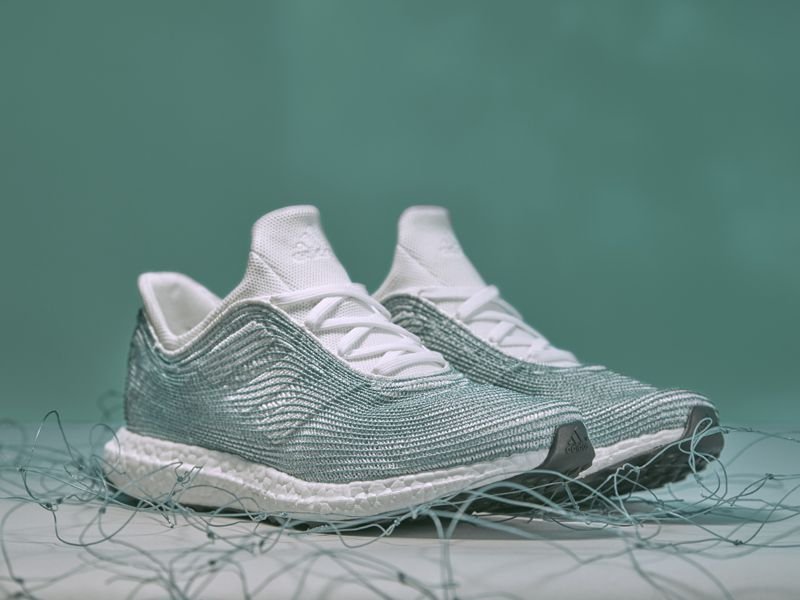 Adidas x Parley mixing up ocean waste plastic and illegal nets.
Best foot forward: Adidas training shoe & football kit, developed in partnership with Parley
'When I started Parley in 2012, the forecast was that by the year 2048 the oceans will die, leading to irreversible damage to our planet. Turns out, this was too optimistic: we actually have 10 years to spin things around,' says Cyrill Gutsch, designer and creative entrepreneur, founder of Parley for the Oceans.
German-born Gutsch set up New York-based Parley for the Oceans in 2012. By April 2015 it announced its first commercial partnership – with sportswear giant Adidas, making training shoes out of ocean plastic waste. Why was this significant? Gutsch says that the fashion, sports and tech industries can create trends, and 'trends have the power to shift thinking and behaviour – sometimes even overnight. Technology and fashion are perhaps the fastest change agents there are'.
If we only have a decade to clean up our oceans, then we have to effect behaviour change, and quickly, Gutsch believes. Marrying major brands, their huge marketing budgets and customer demographics, with environmental challenges is his way of doing this. He will focus on consumables and brands that help o create environmental problems in oceans in the first place. He hopes that people buying products made of ocean plastic waste will be fascinated by the stories associated with them and behave differently as a consequence.
Parley has attempted to 'take ownership of the supply chain' with Adidas. In June 2015 Parley held an 'Oceans. Climate. Life' launch event at the United Nations in New York. Gutsch and his Adidas partners could have shown images of the destruction that 100 years of plastic production has caused. However, instead they presented the first training shoe made entirely from ocean waste. The shoe upper was made with nylon, salvaged by Parley partner organisation The Sea Shepherd, which for 110 days chased a deep sea fishing trawler that had been poaching rare fish off the coast of West Africa. The Sea Shepherd then salvaged the trawler's 75km of illegal gillnets and took them back to port. The story caught the attention of the press and social media to such an extent that 18 months later Adidas and Parley had 500,000 of the 'Ultraboost Uncaged Parley' in production. This shoe is made from ocean plastic collected from the Maldives. The first commercial shoe was produced in November 2016, and the firm expects to produce one million of them by the end of 2017. Football kit and swimwear has also followed.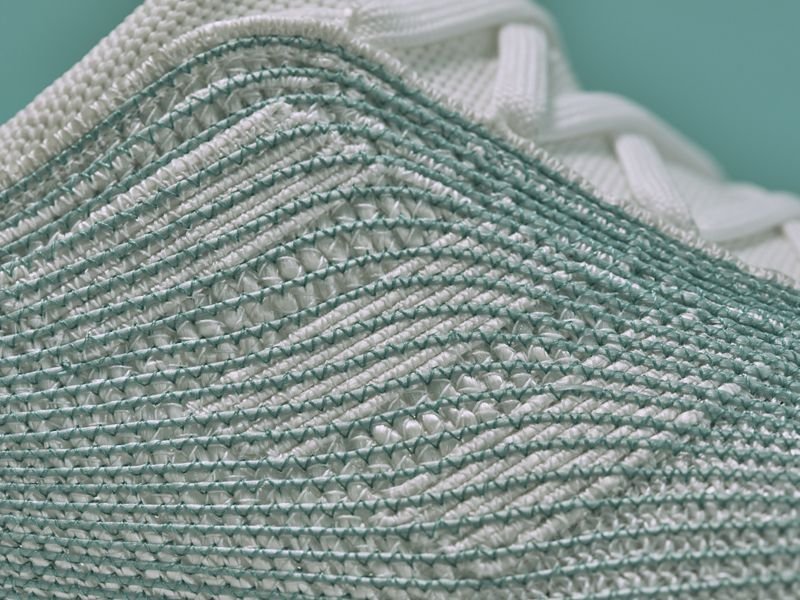 Detail of Adidas x Parley, the green net is clearly visible.
The idea is actually pretty straightforward. By marketing popular products made from materials that have interesting narratives, companies will encourage consumers to learn about the problems associated with the materials used (for example, ocean plastic waste) and, crucially, to feel part of a positive response. It's hoped consumers will then return their shoes to Adidas for reprocessing, and avoid them becoming waste.
This is only the first step. Parley for the Oceans is also investing in the teaching and research required to replace 'dumb' 20th-century plastics with bio-plastics and other materials that will eventually compost, making the nutrients that feed ecosystems rather than polluting and destroying them.
Parley creates products with a clear narrative; a story to tell that is enticing and intriguing. This idea must strike a chord with architects. For the most part we specify the materials that contractors source to deliver our ideas. If we can reconsider what we value, identify new material flows and not rely totally on the manufacture of band new materials and products, our practice of architecture will contribute to reducing the huge amount of so-called waste created every day.
My next article will consider architectural projects re-using stuff discarded by others while navigating the onerous obligations of a standard NEC contract.
Architect Duncan Baker-Brown is author of The Re-Use Atlas: A Designer's Guide Towards a Circular Economy
---