The environment took a a battering last week as the RIBA president lamented counter-climate budget moves and the City of London approved BIG's grand Fleet Street scheme to replace a 20-year-old building. Meanwhile, China banned 'wasteful' tower vanity projects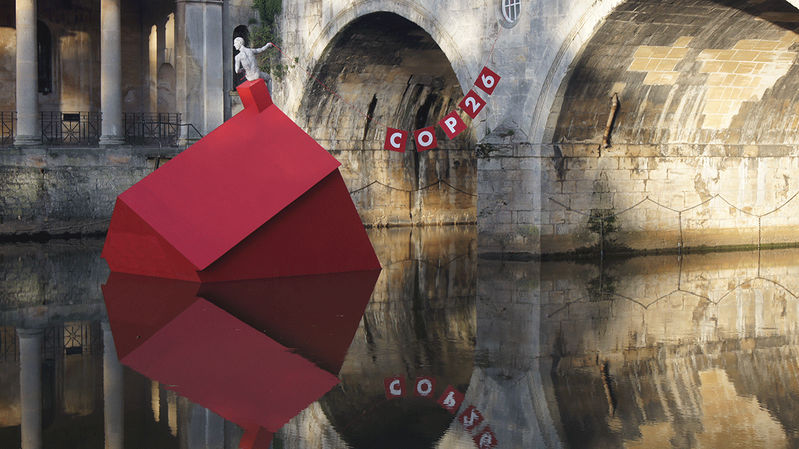 Hoping for a lifeline from COP26? Stride Treglown and Format Engineers' Sinking House in Bath's River Avon highlights the impact of climate change on flooding as the tipping point draws closer.

Credit: Tom Bright
Rishi Sunak's tax and spend budget may be a far cry from the austerity policies of the previous decade, but it has failed to impress much of the architecture profession.
As the COP 26 climate summit began, prime minister Boris Johnson was ramping up the rhetoric, speaking of the dangers of letting the opportunity to end climate change 'slip away'.
Yet days earlier, the budget cut duty on air travel while failing to address the high carbon emissions of the construction industry.
RIBA president Simon Allford said the chancellor's message felt 'out of sync with the long-term challenges our country faces'.
He added: 'Rather than investing in the transition to a low-carbon future, we see significant amounts of money directed towards freezing fuel duty and cutting air passenger duties.'
And he lamented the lack of 'a coherent plan' to reduce carbon emissions generated by the built environment.
His views were backed by Julie Hirigoyen, chief executive of the UK Green Building Council, who said the budget policies felt 'like they were from a different planet and a different time'.
Putting aside the fate of the planet, architects may have been cheered by the government setting out the 105 projects that will benefit from its £1.7 billion Levelling Up Fund. Most of them will require the help of the profession, involving as they do either renovating existing buildings or constructing new ones.
The broad range of building type includes leisure facilities, town halls, railway stations, cinemas and further education.
By region, the biggest beneficiary is the North West, whose schemes will receive £232 million, but the scope is nationwide, even including six projects in London.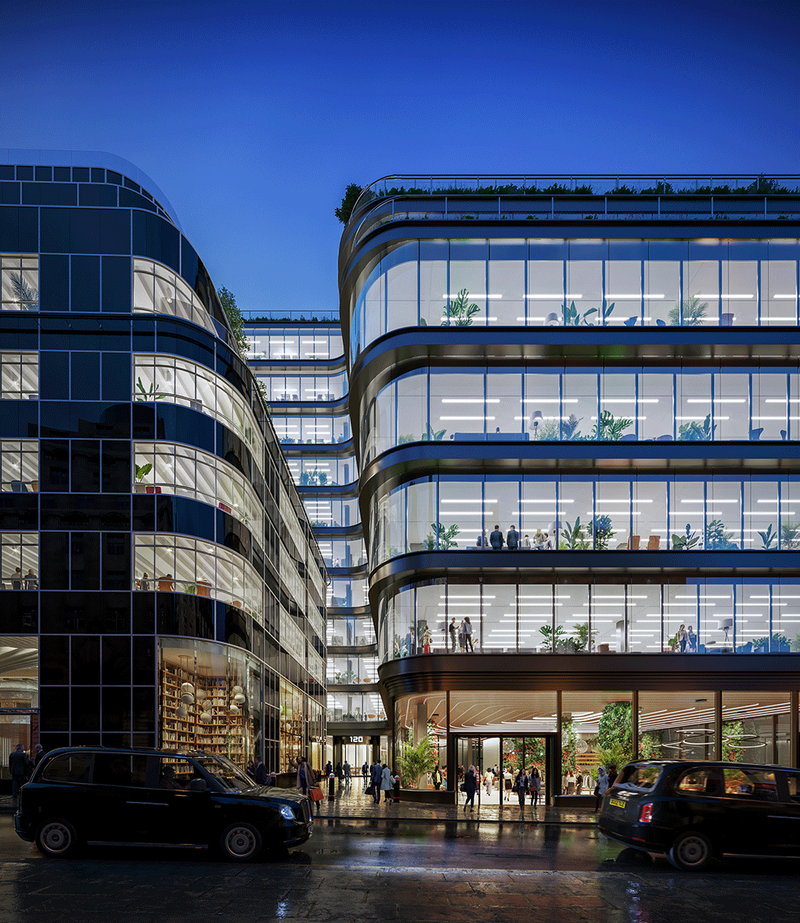 Plans for 21 storey building next to grade II* listed Daily Express in London's Fleet Street by Bjarke Ingels Group
BIG goes art deco in Fleet Street
Bjarke Ingels Group's built presence in London looks set to increase after it won planning approval for a 21-storey office block in Fleet Street.
But the project, approved by the City of London Corporation, has ruffled feathers on sustainability grounds, especially since it will replace a building that's only 20 years old.
It also raises some questions about how best to build around an architecturally distinguished building.
The 52,000m2 block features stepped roof terraces with a curved form that references the art deco style of the grade II listed Daily Express building which it surrounds.
The 1920s Daily Express Building is being refurbished as part of the scheme, but heritage organisations have expressed concerns that it will be undermined by the considerably larger BIG building.
The City of London Conservation Area Advisory Committee said BIG's building would 'denigrate the importance of the listed Daily Express Building in the streetscape'. And the Twentieth Century Society argued that its art deco-inspired design would 'lessen the impact of the Express, which stands out in terms of both style and materials as a striking streamlined curtain-walled building within an otherwise quite architecturally conservative area'.
There are strong parallels here with HTA Design's proposed 22-storey tower intended to sit behind the much-lauded Hoover Building in west London. As with BIG at Fleet Street, HTA's design echoed the 1933 building's art deco style while being far larger. Ealing Council initially rejected the scheme in September 2019 before approving it seven months later once its height had been cut to 16 storeys.
On the sustainability front, City planners praised the BIG scheme's operational and embodied carbon emission reduction. But this won't impress adherents of the maxim that 'the greenest building is the one that already exists'.
BIG's project will replace a John Robertson Architects-designed building. Speaking to the Architects' Journal, practice founder John Robertson said: 'City of London office buildings have a very short lifespan and it feels incredibly wasteful to keep replacing them after only 20 years, when many could be sensitively retrofitted.'
Both the John Robertson Building and the Daily Express Building had been occupied by Goldman Sachs until 2019. London developer CO-RE is behind the new project, working for client River Court Properties.
China cracks down on 'vanity project' architecture
China has launched a crackdown on architectural 'vanity projects' with a particular focus on tall buildings.
The Guardian reports that skyscrapers taller than 150m will be strictly limited, while those above 250m will be banned for cities with a population below 3 million.
It follows a ban in July on any new buildings taller than 500m.
China has more skyscrapers than any other country with 2,395 buildings over 150m and 95 buildings over 300m, according to the Council on Tall Buildings and Urban Habitat. These include the 632m-tall Shanghai Tower, the second tallest building in the world.
But, the report says, Chinese authorities have been finding it increasingly difficult to manage these buildings with many facing health and safety concerns.
And there have also been worries over the more adventurous designs of some of them, leading to the 'vanity project' charge and saying such buildings were 'a waste of resources'.
In a move that would surely have made the late Roger Scruton proud, earlier this year the country implemented a ban on 'ugly buildings'.
Beauty is of course highly subjective, but in this case, the country's president Xi Jinping has provided some helpful guidance, saying he takes exception to buildings that resemble male and female genitals. Newsweek also reports that Western 'ideals and icons' are out.
Populous and CZWG celebrate Southend stadium approval
Tragically, it took the murder of Southend's MP, David Amess, to see his wish fulfilled that his constituency be given city status.
But amid news of this forthcoming elevation, the council has finally approved plans for a new stadium for Southend United FC. This is good news for several architects: Populous, which has designed the stadium; and CZWG and LDA Design which are designing housing as part of both the new project and the redevelopment of the current Roots Hall ground once it has been vacated.
The football club has been looking to build its new home for more than two decades, submitting its initial planning application for the Fossetts Farm site in 2000.
Recent years have not been golden for the club, which narrowly avoided being wound up last year, and has been relegated in successive seasons, now finding itself near the foot of the fifth-tier National League.
So it might seem a strange time to be building a new stadium that, seating 21,000, will nearly double the capacity of its current home.
The club's precarious finances seem to have been steadied, however, by selling the current ground to a developer. CZWG has designed 500 homes to be built on the site, telling Building Design that the development would comprise 'buildings from three to eight storeys ranged around a garden square echoing the former pitch'.
Meanwhile, the club will receive funding from Homes England for the new stadium development which will include 1,300 new homes, designed by both CZWG and LDA Design. According to social housing provider Citizen Housing, 400 of these will be 'truly affordable'.
Meanwhile the local council will gain long-term income from managing 500 homes on the current Roots Hall site and 800 surrounding the new stadium.
How Southend's performance on the field can be improved is, however, another matter.