Women architecture students close gender gap, says UCAS, as Arb announces a fundamental rethink of architectural education. Meanwhile Gove calls for less concrete and steel and backtracks on planning free-for-all, City councillors reject tower that would overshadow synagogue, and Owen Luder dies aged 93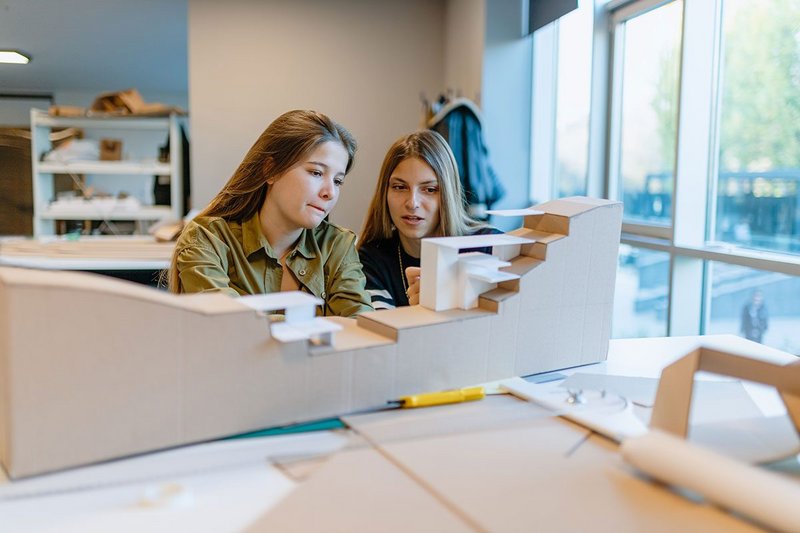 Students working on a model.

Credit: iStock/Phynart Studio
There has been another sign of progress in the slow path to women being equally represented in the architectural profession. Figures from university admissions organisation UCAS reveal that the percentage of female students starting architectural undergraduate courses this week was the highest ever – at 51.5 per cent. This compares with a near-even split a year ago, and more tellingly a 57:43 division a decade ago.
It remains to be seen whether this trend will eventually erode the gender split within the profession. The most recent Arb figures, from its 2020 report, showed that women made up only 29.6 per cent of registered architects, a percentage that continues to creep up year on year, though with the emphasis on creep. Arb's 2019 report showed that the gender split among architects under 30 was 50/50.
RIBA president Simon Allford, while calling the UCAS figures encouraging, expressed concern over the drop-off of women mid-career. This has been attributed to the long hours expected at many practices combined with women continuing to bear the main burden of childcare, meaning that for many having a family and working as an architect prove incompatible.
The UCAS figures also reveal that the overall number of students starting architecture courses is significantly up – by 9 per cent to a total of 5,630, an all-time record. And they show the number of overseas architecture students is rising once more – both from the EU and elsewhere.
Arb plans sweeping changes to architectural education
Meanwhile the Arb has announced what it describes as 'the most significant changes to architectural education and training in 50 years', possibly scrapping the Part 1, 2 and 3 system.
It says that while the current system produces 'thousands of excellent architects' it has also proved a barrier to some people joining the profession – particularly those from less affluent backgrounds or 'without existing networks in the profession'.
Exactly what might replace the current system is a little vague at present. The Arb says that rather than setting the topics architecture students must be taught, it proposes setting 'competencies' they will have to demonstrate.
It also says it is seeking feedback about different routes to registration, particularly those that will increase diversity, which the RIBA has also been pushing. But it suggests one way to do that could be to expand the scale and nature of apprenticeships. It also says the requirement to complete an Arb-recognised undergraduate course is viewed by some as a barrier to those who have transferable skills from related disciplines.
What it does make clear is that it has three distinct goals: to make the profession more representative of society as a whole; to establish a post-Grenfell-inspired emphasis on building safety; and to ensure that architects address the climate emergency.
It is now inviting interested parties to share their views through a survey which will run till 10 January next year.
Ditch the concrete and steel, urges Gove
Those wondering what new housing secretary Michael Gove's vision might be received some clues last week with remarks he made at a Conservative Party Conference fringe event.
The Times reported that he urged housebuilders to think about the materials they used, describing 'steel and concrete' as not only unpopular with householders but also as having the worst environmental impact, having 'the highest level of embedded carbon'.
He also urged developers to take inspiration from the architects of 19th-century housing.
'Beauty doesn't mean that every house has to be built in a Georgian style, but there are various human principles about how streets have developed which have been neglected, and alienating,' he told the event.
Such sentiments very much echo those of Roger Scruton's Building Better Building Beautiful Commission, though the emphasis on the environmental arguments will be encouraging for those who argue the construction sector needs to cut its carbon emissions.
There was also an early insight into how Gove intends to address the tricky matter of planning reform – the issue that led to the sacking of his predecessor Robert Jenrick, who failed to win backbench support for his proposed sweeping changes.
The Times reported government sources suggesting Gove's version of the planning bill would amount to little more than a 'tidying up exercise' to make the current system 'work better'.
In the past certain developers have been quick to blame the planning system for the housing shortage, describing it as red tape that slowed the building process. Apparently this is now being increasingly questioned, particularly because 2019-20 saw the highest number of homes built in more than 30 years.
In Gove's official speech to the party conference, he talked about 'allowing communities to take back control of their futures' – which contrasts with Jenrick's aim to impose mandatory local housing target on particular areas.
Instead, he said, the government would invest in putting new homes on 'neglected brownfield sites'.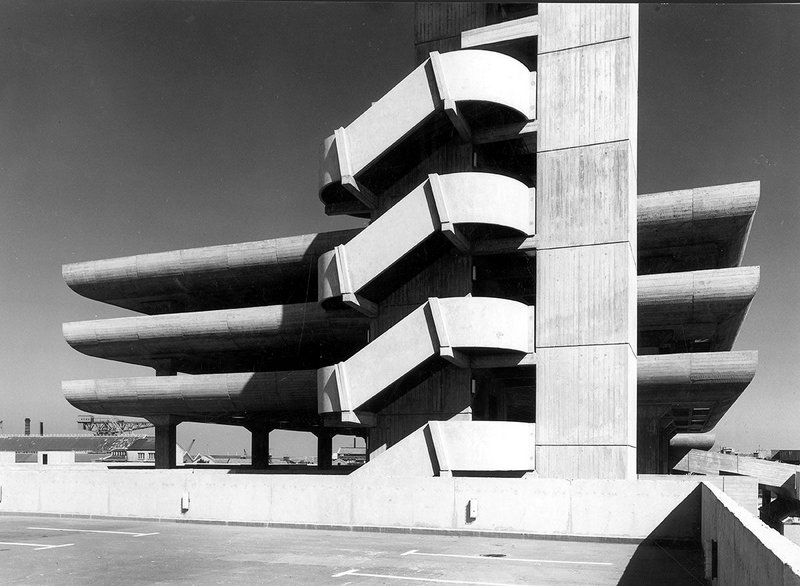 The car park of Owen Luder's Tricorn Shopping Centre, Portsmouth.

Credit: RIBA Collections
Owen Luder, brutalist architect and two-time RIBA president, dies
Architect Owen Luder has died, aged 93. The architect was known for a number of brutalist concrete structures, many of which were demolished during his lifetime.
These included the Tricorn Centre in Portsmouth and Trinity Square car park and shopping centre in Gateshead. The latter became known as the 'Get Carter' car park after being used as a key location in the Michael Caine film of that name – in a climactic scene, Caine's character Carter pushes a local businessman to his death from the top of the car park.
Luder also served two separate terms as RIBA president – from 1981 to 1983 and then from 1995 to 1997. More recently he lent his support to a 2017 campaign that helped secure the election of nine BAME candidates to RIBA Council.
City of London votes against Stiff + Trevillion tower
A proposed tower in the City of London, designed by Stiff + Trevillion, has been rejected by the City of London Corporation because of its feared impact on a grade I-listed synagogue that has stood on the site since 1701.
The refusal is a rare occurrence from a local authority that, according to the Architects' Journal, has the highest planning approval rate in the country – in 2020 it granted 99 per cent of all applications.
The 48-storey tower would have stood next to Foster + Partners' Gherkin and contained 25,500m2 of office space.
City planners had approved the scheme but were overruled by councillors who voted by 14 to 7 against it.
The rejection came after the Bevis Marks Synagogue ran a strident campaign against the development, which helped garner 1,700 objections. The synagogue's chief rabbi, Shalom Morris, argued that the tower would restrict sunlight and restrict worshippers' ability to read prayers.
Among those opposing the tower were historian Simon Schama who described the synagogue as 'breathtakingly beautiful', arguing: 'Its preservation should be as critical a matter as if, for instance, a Hawksmoor or Wren church were similarly threatened and darkened by commercial high-rise development.'
Councillors also raised concerns over the building's impact on the Tower of London, referring to objections made by Historic England and Historic Royal Palaces.
Strangely, when the two organisations made similar objections to Foster + Partners' proposed Tulip tower, the councillors seemed less swayed, choosing to back the scheme, though it was subsequently rejected by London mayor Sadiq Khan. Michael Gove will make a final decision on the Tulip's future with a decision now expected early next month.