While Architects' Co-Partnership's Dunelm House is finally grade II listed, the Twentieth Century Society continues to battle Haworth Tompkins' proposals for Theatr Clwyd. Also this week, John Lewis announces its residential plans, Croydon Council decides not to sell Brick By Brick and the number of UK registered architects is falling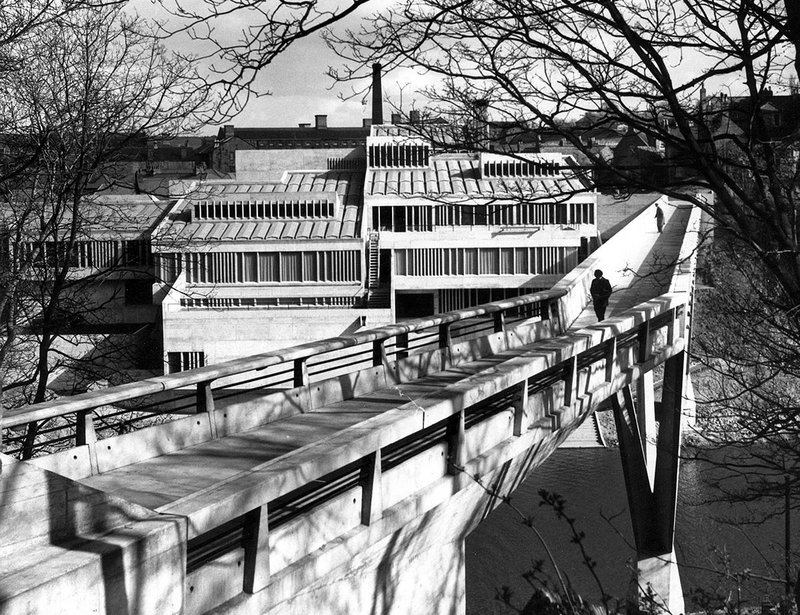 Dunelm House in Durham has been grade II listed.

Credit: John Donat Architectural Press Archive / RIBA Collections
The Department for Digital, Culture, Media and Sport has grade II listed Dunelm House, Durham University's brutalist student union building, in a reversal of an earlier ruling less than five years ago.
In December 2016, the then culture secretary Karen Bradley rejected Historic England's recommendation to list the building, claiming the structure was technically flawed and its design had caused problems with water ingress. She concluded it did 'not possess the special architectural or historic interest to merit listing'.
Dunelm House, a five-storey concrete structure, was designed by Richard Raines of the Architects' Co-Partnership and completed in 1966. Ove Arup, founder of the engineering giant, acted as structural engineer and architectural adviser. He also designed the grade I listed Kingsgate Bridge which links to the building. A bust of Arup features on one of Dunelm House's outside walls.
The change of heart is unlikely to please the university, which had successfully applied for a certificate of immunity from listing so that it could at least partially demolish the building. It had argued that Dunelm House was in poor condition and its design was inflexible.
But it is a major victory for heritage campaign group the Twentieth Century Society, which had led the long battle to have the building listed, and which described it as 'a striking building in a stunning location'.
So what has changed in the intervening years? The government's stoking of so-called 'culture wars' might have suggested, if anything, less sympathy for the brutalist style. Indeed, housing secretary Robert Jenrick has publicly criticised it, suggesting that his planning reforms might be an opportunity to get rid of certain post-war architecture.
But Jenrick's department doesn't handle listing. That's a responsibility that currently falls to culture secretary Oliver Dowden, a man whose own culture-wars radar seems more attuned to clamping down on any attempts to question Britain's colonial past.
On the matter of brutalism, his statement merely notes: 'The secretary of state recognises that brutalist buildings can divide opinion but that it is important to preserve examples of this type of architecture for future generations.'
And in what sounds rather like a repudiation of Bradley's earlier argument, it notes that the future use of a building or the costs of repairs are not relevant factors to listing decisions.
The university now says it will 'carefully work through options for the building'. It may wish to consider the results of a charette held at Dunelm House in 2019 which looked at alternative visions for the building's future. Led by teams from Hawkins\Brown and Levitt Bernstein among others, its proposals included a boutique hotel and artisanal training college as well as modifications that retained its use as a student union building.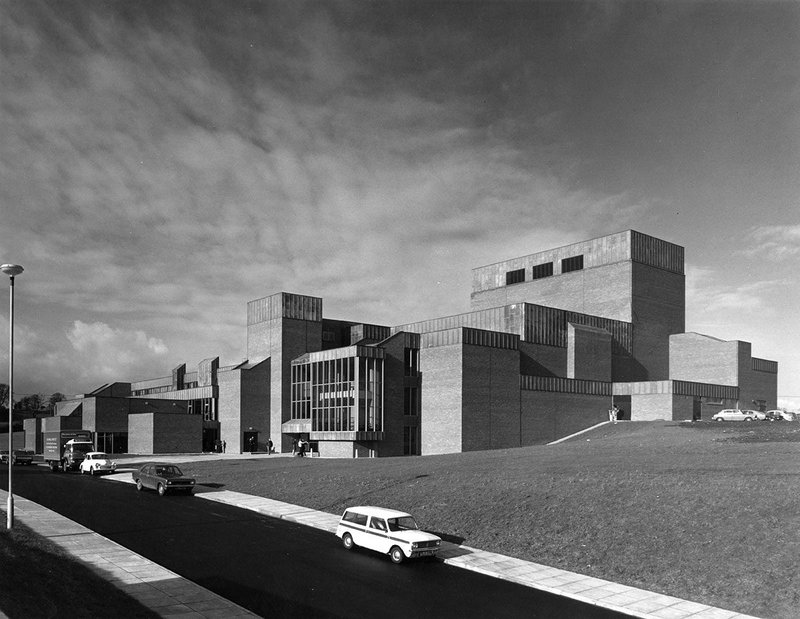 Haworth Tompkins' plans for Theatr Clwyd in Mold, north Wales, are opposed by the Twentieth Century Society.

Credit: Reg Cox Architectural Press Archive / RIBA Collections
Twentieth Century Society rejects Haworth Tompkins' Welsh theatre revamp
While it may be celebrating victory over Dunelm House, the Twentieth Century Society's latest battle may prove more problematic, pitting it against the highly regarded Haworth Tompkins.
The society is digging in its heels over the Stirling Prize-winning practice's plans to revise the grade II listed Theatr Clwyd in Mold, north Wales, arguing that its changes will cause 'substantial harm'.
The theatre was designed by Flintshire county architect RW Harvey and constructed between 1969 and 1976. Haworth Tompkins has revised its 2019 scheme to extend and refurbish the theatre, but the society remains unhappy – particularly by proposals to redesign the theatre's entrance and foyer, remove its original windows and demolish the building's water tower, which the society argues will upset the balance of the building's overall composition.
Clashing against Haworth Tompkins is, however, clearly a little awkward. The practice is a leading proponent of sustainable architecture, helping spearhead the Architects Declare movement, while its reputation for theatre design – and particularly for adapting existing theatre buildings – led to co-founder Steve Tompkins being named the most influential person in British Theatre by The Stage. Indeed the society stresses that it has 'high regard' for the practice's expertise in designing performance venues.
While Haworth Tompkins is so far keeping its counsel, Theatr Clwyd robustly defended the proposals, broadly suggesting that they were essential for the theatre's survival while also improving the building's sustainability.
Croydon changes mind over Brick By Brick sale to Urban Splash
Croydon Council has decided not to sell its beleaguered housebuilding arm, Brick By Brick, to developer Urban Splash.
Last autumn, the council declared itself bankrupt, with much of the blame being attributed to Brick By Brick owing it nearly £200 million. Selling the arm's length company – for a sum believed to be around £100 million – was seen as a way of quickly generating revenue while ensuring that its pipeline of some 900 homes was not disrupted.
But now it has concluded that it will instead wind down the company while developing 23 of its 29 sites – providing 774 homes – while putting the remaining sites on the market.
It means that schemes on these latter sites, designed by Denizen Works, Gort Scott, Mary Duggan Architects and Mae, among others, face being scrapped.
The council's back-track follows a council scrutiny report that concluded that while this option was riskier, it was likely to result in a lower level of loan write-offs.
The AJ reports that Brick By Brick's staff were 'firmly supportive' of the sale to Urban Splash, which would have included its architecture arm Common Ground.
But a report on news website Inside Croydon, a longstanding critic of the council, welcomed the deal's rejection. It described the sale to Urban Splash as a 'sweetheart deal' that would have meant 'Croydon tax-payers looking to shoulder a further £100 million loss'.
John Lewis to turn housebuilder
The John Lewis Partnership has announced plans to build 10,000 homes for rent over the next few years.
The department store chain, which reported a £517 million loss for 2020, has said that it expects 40 per cent of its profit to be generated by non-retail activity within the next 10 years.
Giving details of its housebuilding plans, it says it believed it could build 7,000 homes on its own sites, such as store car parks and above Waitrose supermarkets, while acquiring new plots for the remainder.
Unlike other retail chains, John Lewis is run as an employee-owned partnership. Its chief executive director, Nina Bhatia, said that 'as a business driven by social purpose' it hoped to help 'address the national housing shortage and support local communities'.
The partnership has yet to announce its plans for recruiting designers, but in the past it has worked with high-profile architects to design its shops, including Glenn Howells Architects, ACME and Foreign Office Architects.
Architect numbers down as EU applicants plummet
The number of UK registered architects has fallen for the first time in a decade with a drop in EU applications given as the main reason.
The Architects Registration Board (ARB) reported that at the start of the year, there were 42,340 registered architects. And while this is only a fall of 207, it marks the end of a steady rise in numbers, which have soared from 34,074 in 2012.
The ARB reported that 477 architects joined the register under the 'EU route of registration' compared with 961 in 2019. Five years ago this number was 1,232.
Moreover, the modest overall fall hides the fact that the number of architects joining the register was markedly down on the previous year – 1,830 new names compared with 2,360 in 2019. This drop was masked by fewer people than usual leaving the register.
It may be that this is partially the result of pandemic-led inertia, with fewer people ready to progress with their careers and at the other end people delaying their retirement until the world becomes a more appealing place in which to enjoy their free time.