Critics say timber has a major part to play in reducing emissions from new buildings since it locks in carbon. Plus a new competition at Barbican, an architectural Abba extravaganza in east London and cement delivery drivers go on strike
Two things that would seem pretty uncontentious for the world of architecture is that we don't want to construct buildings that pose a fire-safety risk, and that we do want to minimise carbon emissions from construction so as not to exacerbate the climate emergency.
But what if these two aims are in direct contradiction with one another?
This, on the face of it, seems to be the conclusion of the Mayor of London's announcement that it is banning combustibles from the external walls of homes built through its £3.46 billion Affordable Housing Programme – since the ban includes the use of timber.
Timber has a major part to play in reducing emissions from new building since it locks in CO2 rather than emitting it. In particular, cross-laminated timber (CLT) has been seen as a possible substitute for steel or concrete structures.
Following the Grenfell Tower fire, the government placed a national ban on combustible materials for housing taller than 18m, and the housing secretary, Robert Jenrick, has suggested this threshold could soon be lowered to 11m
But some architects have questioned how appropriate it is to group timber in with the flammable panels that caused the Grenfell fire to spread so rapidly.
Among them is Andrew Waugh, whose practice Waugh Thistleton has championed the use of CLT. Its 10-storey Dalston Works housing development in Hackney, east London, is believed to be the world's largest CLT building with the practice claiming 'a significantly reduced' carbon footprint.
Speaking to the Architects' Journal, Waugh called the GLA's rules 'irrational and unnecessary'.
He said the mayor should focus on fire performance rather than combustibility, adding that many non-combustible materials – such as metal and plastic – fail in fire, while 'correctly detailed and installed, materials such as engineered timber can retain their structural integrity and resist the spread of fire'.
The UK's bans on timber contrast with other countries' approaches. In France, President Macron had mandated that from next year, all public buildings must be built with a minimum of 50 per cent timber used in their construction.
And in Bordeaux, architect Jean-Paul Viguier has designed the country's first mass timber residential tower. The 16-storey, 100-flat Hyperion completed earlier this year.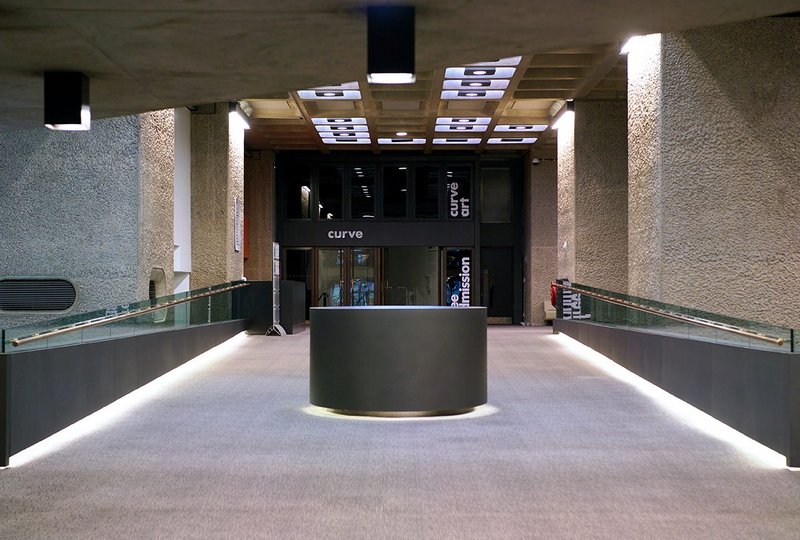 The Barbican Centre following its revamp by AHMM in 2007.

Credit: Raf Makda/VIEW
World-class venue take 2: Barbican Centre upgrade competition
The City of London Corporation has launched a competition to find a design team for its major renewal of the Barbican Centre.
With a budget of between £50 million and £150 million, it is the corporation's biggest arts project since Diller Scofidio + Renfro's £288 million Centre for Music.
That project had been set to provide a world-class concert hall for London, but was scrapped back in February, with the refurbishment of the existing venue offered as a lower-cost alternative.
The Barbican Centre was designed by Chamberlin Powell and Bon in the Brutalist style and opened nearly 40 years ago in 1982. In addition to a 1,943-capacity concert hall, it includes two theatres, three cinemas and an art gallery as well a library, conference halls and restaurants.
Acclaimed conductor Simon Rattle, who had led the call for a new concert venue, had previously described the Barbican's concert hall as merely 'serviceable'. The latest competition brief, however, has no specific mention of improving it.
Over its 40 years it has hardly remained untouched. AHMM carried out a decade-long overhaul of the centre's public spaces, gallery, shop and cinema, which completed less than five years ago. But even at the lower end of the budget, this seems more substantial, and certainly in a different league from the £10.1 million upgrade that was announced at the start of 2020 when the Centre for Music was still in play.
The initial brief for the latest work mentions upgrading venues, transforming underused areas and embedding digital technology across the building.
In addition, the project will seek to make major improvements to the centre's environmental performance.
With a £100 million range in what the construction budget might be, applicants are asked to propose a number of different design options according to how much funding eventually materialises.
The corporation will select five bidders for the work through a standard selection questionnaire, who will then each receive £20,000 to work up proposals. It plans to announce a winning team in February.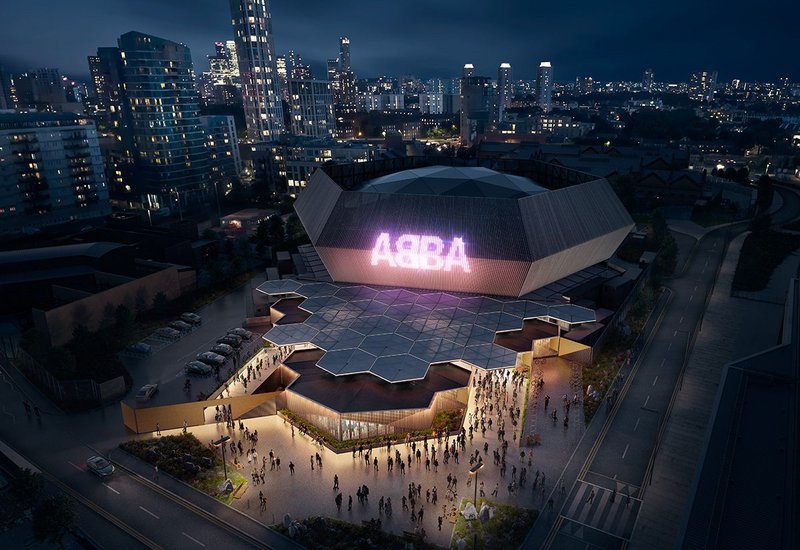 ABBA Voyage. Artist impression by Stufish Entertainment Architects
Gimme gimme gimme an architect after midnight
If there is one thing more exciting than Abba reforming it is surely the involvement of an architect in their upcoming 'live shows'.
London-based 'entertainment architect' Stufish has designed a 3,000-capacity temporary venue in east London to host the Swedish supergroup's virtual concerts.
The six-sided arena will be of mostly timber construction and will be demountable and transportable. It will be built on a seldom-used coach park on the Olympic Park, next to the Pudding Mill Lane DLR station, and has permission to stay there for up to five years.
The concerts will feature a live 10-piece band accompanying a prerecorded performance by the four Abba members, who will appear as 'digital avatars'. Despite the absence of the flesh-and-blood versions, tickets start at £75.95.
The shows will follow the release of an album of new material Voyage, with the group's Björn Ulvaeus commenting: 'There is an old saying in the music industry, you should not leave more than 40 years between albums.'
Stufish was set up by the late Mark Fisher, an AA graduate who died in 2013, and made his name with a giant pig bursting through a wall of 2,500 polystyrene bricks for Roger Waters' 1990 performance of Pink Floyd's The Wall.
Over the years, the practice has become the byword in extravagant concert set design, creating sets for U2, Madonna, Beyoncé and Elton John among many others.
It has also designed other performance venues, including one on Hengqin Island, China, in the style of a traditional circus tent.
The Abba arena is set to open next May. We look forward to Simon Rattle offering his opinion of its acoustic qualities.
Cement delivery drivers strike could worsen materials shortage
The shortage of construction materials could be about to get even more serious if lorry drivers working for cement company Hanson carry out a threatened strike.
More than 200 drivers have rejected a 2.5 per cent pay increase. The Unite union, which represents them, makes the point that, with inflation running at 3.9 per cent, the offer amounts to a 'hefty' pay cut in real terms.
The union said the drivers were also 'deeply unhappy about the high-handed management style and a marked lack of dignity at work'.
And now the union is conducting a ballot to decide whether the drivers will strike over their grievances.
The drivers deliver cement for major construction projects such as HS2, Hinkley Point nuclear power station in Somerset and Thames Tideway.
The threatened action comes a month after the Construction Leadership Council warned that a shortage of lorry drivers was a major concern for many materials suppliers. The shortage is largely attributed to a shortage of non-British drivers following the end of freedom of movement between the UK and the EU. The council has called for changes in work visa rules.
Government set to ditch planning reforms
The government is set to abandon its proposed reforms of the planning system in an effort to head off a threatened rebellion by Tory MPs.
According to a report in The Times, the changes, set to be the biggest shake-up in planning laws for 70 years, are to be ditched.
The reforms had been designed to help meet the government's target of building 300,000 new homes every year to tackle the housing shortage. A new zonal system would have imposed mandatory housebuilding targets on local councils and removed residents' right to object to new projects.
But many Conservative MPs baulked at the idea of their constituents having vast new housing developments imposed on them in this fashion. Their fears seemed realised in June when the party lost the safe seat of Chesham & Amersham in a byelection. Many saw the proposed reforms as a major factor in the collapse of the Tory vote.
They also questioned the necessity of the changes, since in 2019-2020 nearly 244,000 homes were built under the current rules.
The Ministry of Housing, Communities and Local Government is being tight-lipped over the Times report saying it will 'not comment on speculation'.