Plans for a Barbican 'upgrade' following the axing of Diller Scofidio + Renfro's Centre for Music remain worryingly vague. Meanwhile, MVRDV builds a hill – complete with trees – to woo visitors back to Oxford Street, while Haworth Tompkins' housing scheme triggers 'poor doors' row. Plus Twitter has fun with Thomas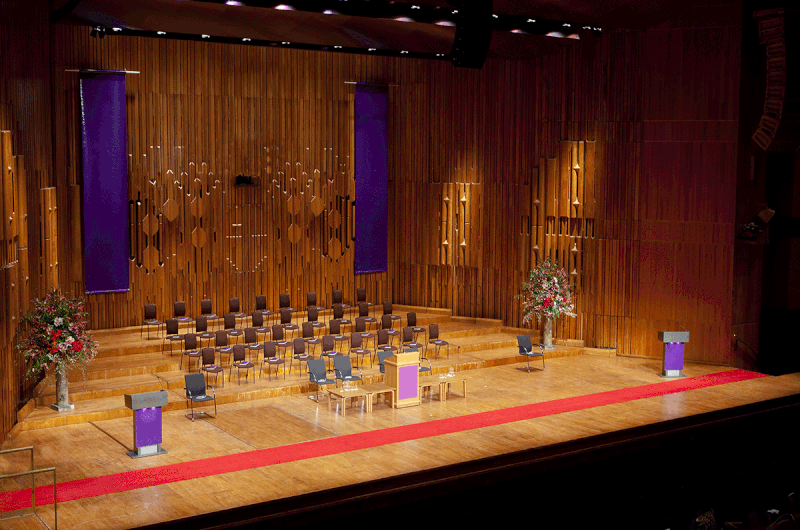 The 'serviceable' Barbican concert hall.

Credit: iStock dt03mbb
The City of London's Centre for Music – set to be the new home of the London Symphony Orchestra – has been scrapped, harshly demonstrating to its architect, Diller Scofidio + Renfro, that winning the commission for a high-profile cultural building doesn't necessarily mean the project is in the bag.
The game appeared to be up last month when the orchestra's director, Simon Rattle, announced he was quitting his post early so he could be nearer his Berlin-based family – though not that near as he was taking a job in Munich 623km away.
More likely is that Rattle's heart was no longer in the LSO job once he realised the prospect of a world-class concert hall, for which he had been the prime cheerleader, had been whipped away from under his feet. With only the prospect of what he had described as the merely 'serviceable' Barbican concert hall, there was little to keep him.
Why did the scheme collapse? The Guardian's Martin Kettle suggests it is part of an anti-liberal elite backlash which caused Theresa May's government to withdraw a £5 million grant.
But that was a tiny part of its £288 million cost. Surely the truth of it was that the financial elite, the wealthy donors expected to do the bulk of the financial heavy lifting, decided they didn't fancy putting their money into the scheme.
The City of London Corporation, which was running the project, has done its best to put a positive spin on the scheme's cancellation, seeking to portray it as a minor footnote in the exciting announcement that it plans to upgrade the existing Barbican Centre.
So far, though, it is has been strangely coy about what exactly this will entail. A paint job and some new carpets or something more radical?
Will it be more substantial than AHMM's decade-long overhaul of the centre's public spaces, gallery, shop and cinema, which completed less than five years ago? Or is it merely a repackaged version of the £10.1 million upgrade package announced early last year?
Might it be possible to make changes to the actual concert hall so that conductors of Rattle's calibre aren't forced to grimace with each unflattering reverberation?
There will be some who argue that the only thing wrong with the Barbican is its location – reached via labyrinthine walkways above traffic-heavy roads in stark contrast to today's preference for 'shared space'.
Which may suggest that the Museum of London, which is moving half a mile up the road to West Smithfield, had the right idea. But also leaves the question of what will become of the museum's current home now it's not going to be torn down and replaced by a concert hall.
The corporation has enigmatically said it will 'bring forward alternative proposals for the 1976 Powell & Moya building over the coming months.
MVRDV's hill is alive
Should Diller Scofidio + Renfro be lamenting the fact its twisting 14-storey tower design will never see the light of day, it should take comfort from MVRDV, which has resurrected a 17-year-old concept that most would have assumed was long dead and buried.
Back in 2004, the Serpentine Gallery commissioned the Dutch practice to create its annual pavilion. It proposed constructing a 23m-high artificial mountain over the gallery, which visitors could walk up and down. Alas, the project proved too expensive and potentially hazardous and was never realised.
But now, slightly modified, it is set to be reincarnated as 'Marble Arch Hill'.
Westminster City Council has commissioned MVRDV to build the temporary 25m-tall hill, which will provide views over Marble Arch and Hyde Park.
It will be constructed from scaffolding, with layers of plywood and soil over it, so the hill can be fully landscaped. The council hopes the visitor attraction will encourage people back to Oxford Street once lockdown restrictions are lifted.
Haworth Tompkins rejects 'poor doors' accusations
Haworth Tompkins has found itself at the centre of a row over its housing development in Walthamstow, east London, after local MP Stella Creasy accused the project of having 'poor doors'.
'Poor doors' is the phenomenon found in buildings that combine market-rate homes with cheaper social housing – usually in order to win planning permission – but then segregate the two by creating separate entrances.
Last year, a similar phenomenon at a housing development in Kennington, south London, made headlines when the Guardian revealed that a communal playground was reserved for residents of the privately owned housing, with children from the social housing barred from playing there. Within days of the outcry, the developer had reversed its policy.
While the Haworth Tompkins scheme has a common entrance for all residents, the affordable and market homes will be in separate parts of the building, accessed by separate stairwells.
Creasy's allegation followed what seems like a moment of ill-judged candour by a project director at Waltham Forest Council, which is behind the 67-home scheme.
At a pre-application meeting, she suggested that without the split, the market homes would be worth less than if they were fully integrated, saying: 'There is that risk that it does impact values.'
But the Stirling Prize-winning practice has hotly denied the 'poor doors' accusation, describing the building as 'fully inclusive' with a shared lobby and communal garden.
In a joint statement with the council, it said separate cores were found in most mixed-tenure developments for day-to-day management reasons and to ensure that higher service charges were not passed on to residents of the affordable housing.
Creasy seemed unimpressed, getting into a Twitter spat with RCKa director Russell Curtis who endeavoured to 'archi-splain' to the MP that separate entrance were often a technical requirement because the housing provider for the affordable homes 'will demand control over the homes it owns and common parts'.
While poor doors are deemed distasteful, being a very visible reminder of society's inequalities, it does sometimes seem strange that they attract such opprobrium while building swathes of entirely separated social housing is unlikely to raise an eyebrow.
Thomas needs some help
Let us pause for a moment to appreciate designer Thomas Heatherwick. Not only has he delighted us with imaginative structures such as the Vessel in New York and Zeitz MOCAA gallery in Cape Town, but last week he provided some much-appreciated entertainment after Dezeen ran a job ad for the post of his personal assistant.
Its lengthy list of duties ranged from remembering birthdays, preparing a daily 'travel pack' and making a fancy dress costume, to rather more specialist ones of vehicle maintenance and 'managing the completion of Thomas's house' – as well as the catch-all 'ad-hoc tasks that Thomas may require'.
According to the ad, the candidate also had to enjoy the company of children and have an interest in architecture and design.
'Seems they forgot "pack and check Thomas has his lunchbox" and "ensure Thomas has been to the toilet" read one of the many Twitter reactions.
Sadly, I can't provide a link to the ad for you to enjoy its full glory as it was withdrawn within hours of its appearance. Though not before it had been ridiculed not only on social media but in the Sun, Times, Telegraph and Mail, which had the foresight to take a screengrab of the ad.
The salary payable to such a multi-talented individual was not given, though the Telegraph suggested it was likely to be £60,000-plus. Both the Telegraph and Times also sought to calm down the chuckles, quoting various people describing the electric range of responsibilities as nothing unusual.
Presumably, Thomas will now have to adopt a more discreet approach to filling the post. In the meantime, any of his friends with imminent birthdays should prepare for disappointment.