In a week of winners, Selldorf Architects is chosen to work on Venturi Scott Brown's National Gallery Sainsbury Wing and Alison Killing becomes the first architect to take home a Pulitzer Prize for reporting. Meanwhile in Nottingham, Heatherwick Studio has been brought in to turn around the half-demolished Broadmarsh shopping centre project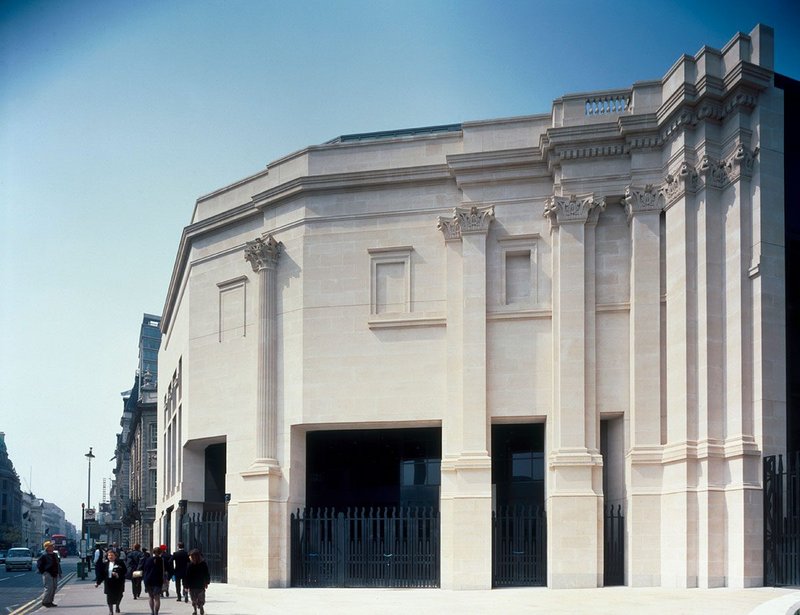 The Sainsbury Wing.

Credit: The National Gallery, London
US practice Selldorf Architects has won the fiercely contested competition to upgrade the National Gallery's Sainsbury Wing, topping a six-strong shortlist of otherwise all British practices, among them three Stirling laureates in Caruso St John, David Chipperfield Architects and Witherford Watson Mann.
The building, which opened 30 years ago, was originally designed by another US firm Venturi Scott Brown, led by famed postmodernists Denise Scott Brown and the late Robert Venturi.
The £25-30 million project centres round remodelling the front gates and ground-floor entrance sequence of the wing.
Selldorf, a 65-strong practice based in New York, was founded by German-born architect Annabelle Selldorf and has designed gallery and exhibition spaces for clients such as the Smithsonian American Art Museum, Hauser & Wirth and New York's Frick Collection. Pandemic restrictions meant Selldorf was unable to visit the site during the competition process, which launched in February.
Its team includes Vogt Landscape – the scheme includes an upgrade of the public realm outside the gallery – and conservation specialist Purcell, which is also working with Jamie Fobert to redevelop the neighbouring National Portrait Gallery.
Speaking to the Architects' Journal, Annabelle Selldorf said she intended to talk to Scott Brown about her planned changes to the wing and to emphasise that she had 'fundamental respect for her original vision'.
She said she was 'fundamentally… a modern architect' but described her work as 'quietly resonant' and not architecture of 'a loud bang', adding 'I'd rather do less than more'.
Architect wins Pulitzer Prize for exposé of Chinese prison camps
British architect Alison Killing has won a Pulitzer Prize for her part in a series of articles that revealed a network of secretly built prison camps in China as part of its targeting of Muslim minorities.
While five architects have previously won Pulitzers for architectural criticism, Killing is believed to be the first architect to receive the accolade for reporting work.
The US-based Pulitzer Prize gives out 22 awards annually, split between journalism, books, drama and music. Killing won the prize for international reporting along with collaborators Megha Rajagopalan and Christo Buschek.
Now based in Rotterdam, she studied architecture at Cambridge University and Oxford Brookes and previously worked for, among others, engineer Buro Happold.
She used her expertise in forensic analysis of satellite images to identify and expose the camps in a series of articles published by Buzzfeed News.
Speaking to the Architectural Record, she said she identified the sites by looking at areas on Chinese search engine Baidu's equivalent of Google Earth, and seeing which areas had been blanked out. She compared these with other satellite imagery to see which areas of the blanked-out areas contained compounds that could be camps. She then cross-referenced these with eyewitness accounts, media reports and government tender documents.
Her practice, Killing Architects, has also investigated migration trails into Europe and how social media can be used as a form of surveillance in cities.
Her work will remind many of the better-known Forensic Architecture, which uses similar methods to examine social issues, including investigations into last August's Beirut Port warehouse explosion and into the Grenfell Tower fire. In 2018, it was shortlisted for the Turner Prize, losing out to an iPhone video by artist Charlotte Prodger.
Last year its founder Eyal Weizman was prevented from entering the US to attend the opening of Forensic's Miami exhibition on the 'arbitrary logic of border', apparently after being identified as a security threat.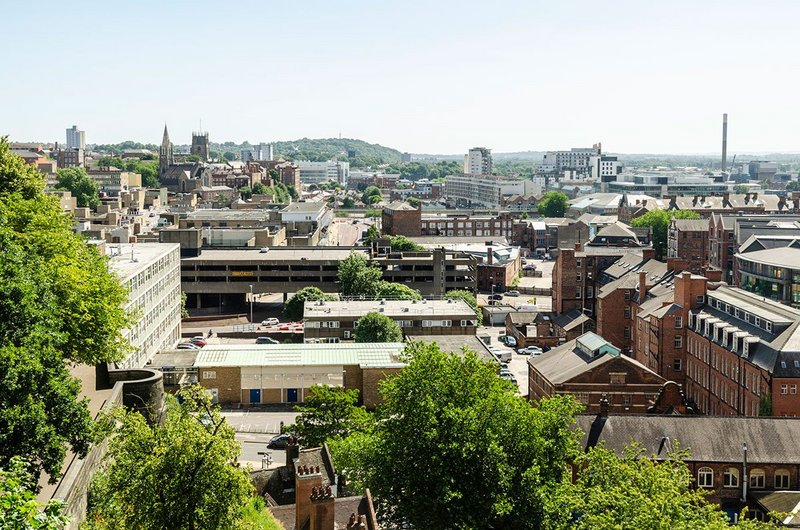 Nottingham city centre, awaiting the Heatherwick treatment.

Credit: Peter James Sampson istock
Heatherwick brought in to sort out Nottingham shopping centre mess
Nottingham City Council has hired Thomas Heatherwick to help transform its beleaguered and half-demolished Broadmarsh shopping centre.
Writing in the RIBA Journal earlier this year, Harry Tindale described the centre as 'Nottingham's most-loathed building' and related how the pandemic had caused developer Intu to go into administration midway through tearing Broadmarsh down so as to replace it with a new shopping centre, drawn up by Leonard Design Architects.
Intu's collapse, said Tindale, left 'a half-demolished 70s beige featureless block on the city's most pivotal site'.
It also led to the site's lease being handed back to the council, which then launched a public consultation on how the centre could be redeveloped. It has appointed Heatherwick Studio to work with Stories, a 'socially responsible' development company.
In his article, Tindale lamented that 'for too long, cities like Nottingham have been viewed as products to be sold to consumers'. So he may be heartened by Heatherwick's interview with the Nottingham Post, where he said that too often developer-led city-centre developments led to 'bland gentrification and no sense of being in a particular place'.
Known for his visually striking projects, the designer said that for this project he didn't want to create a single vision, but 'a space for multiple initiatives', suggesting this could include 'urban green public spaces'.
Heatherwick's previous foray into retail is the retrofitted Coal Drops Yard in London's King's Cross. At 8ha, Broadmarsh is more than eight times the size of that scheme and surely the biggest site the practice has tackled to date.
The development of concept plans for the site, as well as the demolition of the western section of the shopping centre, is being funded by £12 million from the government's Getting Building Fund, aimed at supporting the UK's post-pandemic economic recovery.
ZHA to move from 'unsuitable' Bowling Green Lane HQ
Zaha Hadid Architects is moving from its Bowling Green Lane headquarters in London's Clerkenwell after 38 years, saying it is not suitable for a post-pandemic world.
It moved into the building, a grade II listed Victorian former school very much at odds with the practice's cutting-edge creations, in 1983, initially leasing a single classroom and then gradually expanding.
But it says that the new ways of working required in a 'post-Covid future' had led it to review its needs for space, layouts and fit-outs. And it has concluded that the classroom layout of its current base will restrict such adaptation.
It will move to nearby Goswell Road where it already has an office, along with a neighbouring former warehouse space, Compton Court. Together, the two buildings will allow the practice's 378 staff to work in one place.
And it says the larger floorplates of these buildings will be suitable for being converted into 'flexible work environments that are healthier and more supportive'.
Building Design reports that the Bowling Green Lane building is owned by parent company Zaha Hadid Holdings, which has been locked in a long-running dispute with the architectural practice over control of the practice and founder Zaha Hadid's will.