Greenest ever Olympics claim is just greenwash say critics. Meanwhile, Liverpool's loss of world heritage status sounds alarm bells for other UK sites, and architects remain unmoved by Jenrick's unexpected praise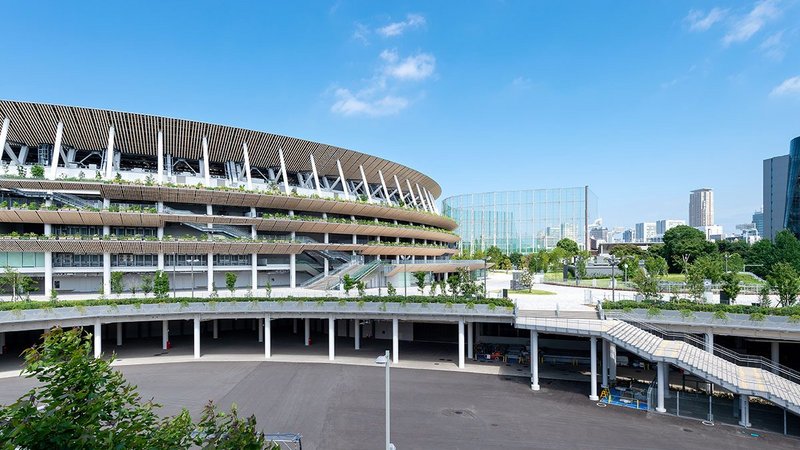 Are the 2020 Olympics as green as Japan claims?

Credit: Ryosei Watanabe/istock
The Tokyo Olympics has opened with its organisers claiming they will be the greenest games ever. But Dezeen reports that this has been countered by arguments that its sustainability initiatives amount to little more than greenwashing.
Broadly speaking, economic activity creates carbon emissions and a major event involving the construction of new buildings as well as international air travel for thousands of athletes is always going to have difficulty qualifying as green.
Indeed, a peer-reviewed study concludes that in the sustainability rankings of the last 16 winter and summer Olympics, the Tokyo games are in fact third from bottom.
The organisers boast that the games are being run entirely on renewable energy and will be the first Olympics to be carbon neutral.
And they highlight initiatives such as torchbearers wearing uniforms made from old Coca-Cola bottles, medals made from disused smartphones and podiums 3D-printed from plastic waste.
But David Gogishvili, a co-author of the peer-reviewed study, says most such measures 'have a more of less superficial effect'.
Tokyo 2020's main claim to greenness is, however, that it is offsetting all its emissions and more through carbon credits to the extent that it will be carbon negative.
To achieve this, it has implemented a decarbonisation strategy that involved retrofitting existing sports venues rather than constructing new ones, and making new ones more energy efficient, with architect Kengo Kuma's Japan National Stadium built from timber.
To offset the remaining emissions, the Japanese Olympics Committee purchased 4.38 million tonnes of carbon credits, generated through local energy-saving projects.
Dezeen points out, however, that unlike carbon offsets, carbon credits do not directly remove carbon from the atmosphere, and the event will result in the net addition of 2.4 million tonnes of CO2.
Gogishvili's study says the best ways to reduce the carbon footprint of future games would be to reduce the size of the event and to rotate the games among a limited number of cities to avoid creating new infrastructure each time.
On a more positive note, Dezeen reports on the Olympic Village plaza, designed by Japanese firm Nikken Sekkei, one of the world's largest architectural practices.
The facility has been built using 40,000 pieces of Japanese wood, borrowed from local governments across the country. Once the games finish, the pavilion will be dismantled and the timber returned, to be 'used as a legacy' in public facilities.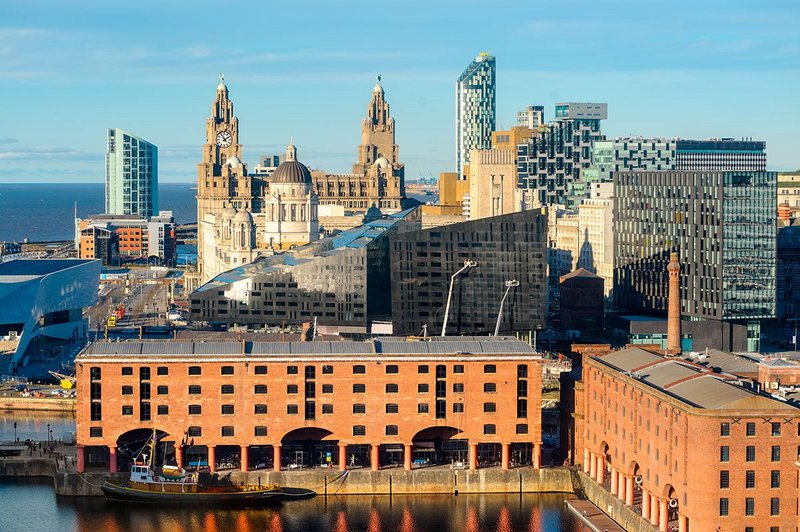 Liverpool's changing waterfront.

Credit: Chris Hepburn/istock
Will Liverpool be just the first of many UK sites to lose World Heritage status?
As anticipated, Unesco has stripped Liverpool waterfront of its World Heritage Site status.
The action had been threatened for some time, with the site placed on Unesco's 'in-danger' register after the city council approved the 60ha Liverpool Waters scheme, which Unesco said would lead to the site's overdevelopment.
And Stonehenge could be next if the government presses ahead with plans for a £1.7 billion, two-mile-long road tunnel to bypass the ancient monument. Archaeologist have argued that the tunnel's construction will damage nearby historic sites as well as thousands of ancient artefacts.
Unesco's world heritage committee has confirmed it will recommend placing the site on the 'in-danger' list if the tunnel proceeds in its present form.
According to The Guardian, Stonehenge is one of a number of sites expected to come under greater scrutiny from the agency, with others including Edinburgh's new and old towns, the Tower of London and Cornwall's historic mining area, all of which have attracted concerns over controversial developments.
Expressing her disappointment over the Liverpool decision, the city's mayor, Joanne Anderson, said the waterfront site 'has never been in better condition, having benefited from hundreds of millions of pounds of investment across dozens of listed buildings and the public realm'.
Two years ago, her predecessor, Joe Anderson (no relation), rejected Unesco's proposal for a two-year moratorium on new development on the site, saying it would stifle growth.
Writing in the Architects' Journal, AHMM director Paul Monaghan argued that the new mayor presented 'an optimistic and ambitious view of the city's future' but that she needed more time to implement her changes.
But The Guardian's Oliver Wainwright took a harsher view, saying 'the real shock is that it took the international watchdog quite so long to act'. He argued that over the past decade, the council had 'trampled its historic buildings with glee, pursuing needless demolition and rubber-stamping numerous atrocious developments'.
And Save Britain's Heritage director Henrietta Billings said: 'Britain used to have a reputation for outstanding planning and conservation and the real concern is that we're sleepwalking into a situation where we're losing that.'
Jenrick's praise for architects fails to be reciprocated
Housing secretary Robert Jenrick appears to be setting himself up as a one-man good cop/bad cop. Having seemed to have little time for architects in the past, last week he described the profession as 'world class', saying the UK had produced 'some of the best architects in the world'.
He was speaking at an event to launch the Office of Place, the government agency formed in the aftermath of Roger Scruton's Building Better, Building Beautiful Commission.
The Office of Place will develop the new National Model Design Code to drive up design standards.
Jenrick specifically applauded Mole Architects' Marmalade Lane housing near Cambridge and Matthew Lloyd Architects' Bourne Estate in Clerkenwell, London, where he said the homes were 'really beautifully designed'.
He also sought to allay fears that the government had a fixed idea of what beauty was, stressing that communities would decide what was 'provably popular' in their neighbourhoods and this would then feed into the creation of binding local design codes.
But he had less time for volume housebuilders – despite many of them being Tory party donors. He said his reforms would take power from them and provide 'more opportunities for small and medium-sized developers' and create 'a more competitive and diverse industry'.
The recipients of Jenrick's praise declined, however, to engage in a mutual love-in.
Writing in the AJ, Mole Architects' Meredith Bowles questioned the emphasis on beauty, saying the idea that it would rescue a 'flawed masterplan' was 'misguided' and that in any case 'cash-starved local authorities won't be able to devote resources to making long-term ambitious development plans'.
And Matthew Lloyd warned over an 'over-reliance on local people somehow having the time and skills and organisation to actively create good outcomes'. He also criticised the launch for skipping over the issue of using permitted development to convert offices into homes, bypassing most planning controls, 'which at its worst creates appallingly poor housing for vulnerable people'.
That view was backed on Friday by MPs on the housing communities and local government select committee, which called for the government to halt new permitted development rights and to conduct a full review into the system.
If there is a lack of consensus on what 'beauty' is, some of the housing to result from permitted development has at least unified people as to what constitutes 'ugly'.