Novelty towers are go as Gove prepares to overturn Khan's rejection of Foster's Tulip tower and Adjaye designs New York an 'upside-down' box stacked skyscraper. Meanwhile in business, Arb's record fee hike 'concerns' the RIBA, which has found that nearly a fifth of practices are struggling to fill staff vacancies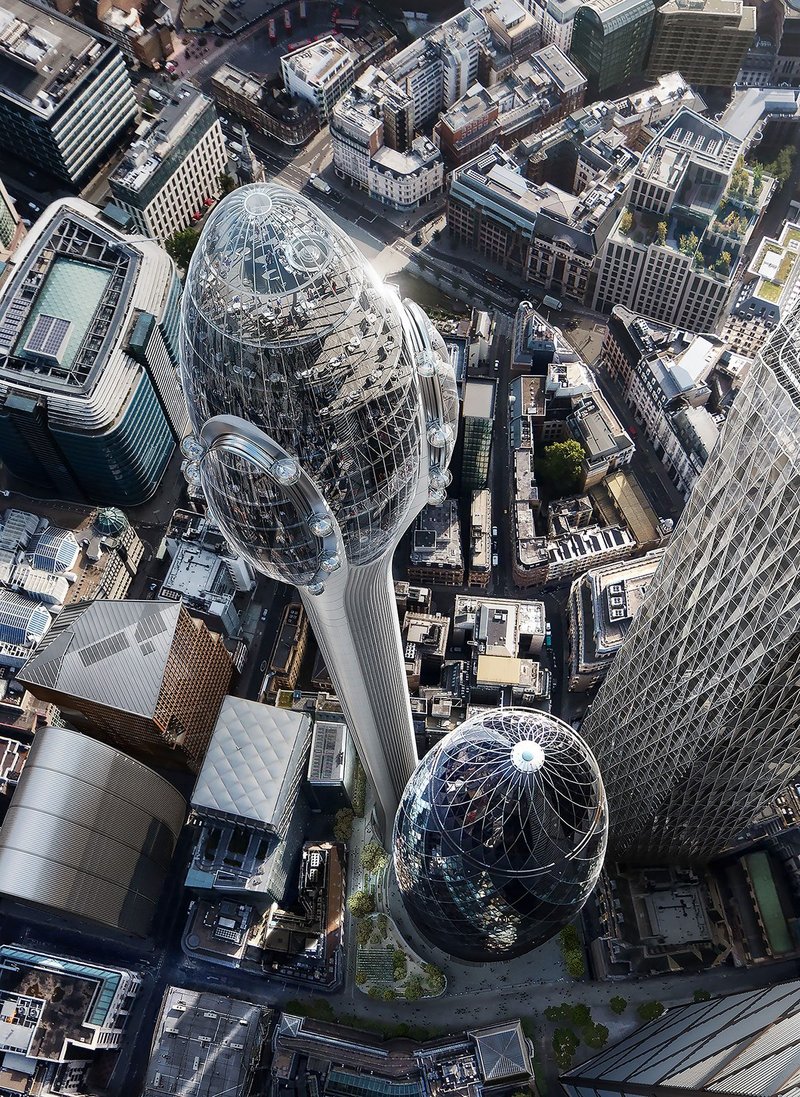 The Tulip from above.

Credit: DBOX for Foster + Partners
The Tulip, Foster + Partners' 305m-tall tower planned to be built in the City of London looks set to become reality despite being rejected by London's mayor.
Or possibly because of the mayor's objections. A report in the Telegraph suggests Boris Johnson might be happy to get one over his successor as mayor, still sore that Sadiq Khan killed off his Garden Bridge project.
In 2019, Khan took his metaphorical secateurs to the Tulip, overturning the City of London Corporation's approval. The mayor said the scheme was of 'insufficient quality' and would harm London's skyline and would not bring any 'economic or positive social contribution' to the city.
But in February 2020, Tulip developer J Safra Group lodged an appeal with then housing secretary Robert Jenrick. With Jenrick sacked last month, the final decision has now passed to his successor Michael Gove, who according to reports in the Daily Telegraph, will overturn Khan and allow the tower to be built.
The Tulip's construction cost is estimated at around £500 million comprising a viewing platform and a restaurant with quite a good view.
Yet, according to the Telegraph report, the City of London 'sees the building as crucial to showing London's financial district is open for business and keen to attract foreign capital'.
Historic England chief executive Duncan Wilson would beg to differ, having described it as 'a lift shaft with a bulge on top' which 'would damage the very thing its developers claim they will deliver: tourism and views of London's extraordinary heritage'.
And what of local democracy? Gove largely owes his current job to Jenrick alienating many Tory backbenchers by proposing planning reforms that would have allowed central government to override local authorities.
Gove has suggested his reforms will retain local autonomy, yet by allowing the Tulip, he would be overruling a mayor who was comfortably re-elected last May, and deciding the skyline of a city whose voters substantially favoured Labour over the Tories at the last general election.
Confirmation of Gove's decision is expected early November.
Earlier this month, Foster + Partners announced it had sold a majority stake to Canadian investment firm Hennick & Company.
Adjaye designs upside-down tower for New York
London isn't the only city set to gain an unusual tower. David Adjaye is planning his own dramatic addition to New York's skyline.
His practice has designed a 498m-tall skyscraper that gives the impression of being upside down.
The tower comprises a series of cantilevered blocks of different sizes, which rather than tapering towards the top, increase in size, creating what appears to be a precarious balancing act.
Its stacked box form bears a resemblance to Sanaa's 2007 New Museum of Contemporary Art, also in Manhattan, though that building only rises to 54m.
The mixed-use building would include two hotels and office space as well as an ice-skating rink. It would be the second tallest building in Manhattan after One World Trade Center.
Developer the Peebles Corporation has applied to build the tower in the Hudson Yards district, home to Heatherwick Studio's Vessel structure.
It would not be Adjaye's first New York tower. The 243m-high 130 William luxury residential skyscraper opened earlier this year in lower Manhattan.
According to the practice, the latest project would be the first skyscraper built by a team of black architects, developers, investors and builders.
Arb imposes record fee hike
The Architects Registration Board (Arb) has announced a 25 per cent rise in its retention fee – the sum architects must pay to be on its register – in the single biggest jump in its 24-year history.
To appear on the register – and so be allowed to call oneself an architect – will now cost £149, a leap of £30 from last year's £119, which was, in turn, an 8 per cent rise on the previous year.
Arb chief executive Hugh Simpson has defended the rise saying it is needed to fund its new 'bold and ambitious' approach to regulation. He also said that the fee was low compared with other professional regulators in the UK.
Which may well be the case. But, one wonders, how many of those other professional regulators are operating in parallel with another far better-known organisation?
While Arb registration is compulsory for practising architects, membership of the RIBA carries far more prestige. And many would argue that the Arb fee rises are a symptom of mission creep as it seeks to expand its remit into areas the RIBA is already covering.
Speaking to the Architects' Journal, RIBA president Simon Allford said the two organisations needed to 'avoid duplication in the work we are doing', adding, 'We are concerned about this Arb fee increase'.
Practices are struggling to recruit, says RIBA survey
Architectural practices are struggling to recruit staff, the latest RIBA Future Trends survey reports.
The report for September says that almost a fifth of practices (18 per cent) report having difficulty recruiting staff with the issue particularly acute among large and medium-sized practices.
As with other sectors such as hospitality and road haulage, the shortage is partly blamed on Brexit and the end of freedom of movement between the UK and EU countries. This has led to a drop in applicants from EU countries.
It comes as the Future Trends survey also reports a general confidence in work levels.
RIBA head of economic research and analysis Adrian Malleson said the positives of the report's findings included 'improving employment opportunities, little chance of widespread redundancies as furlough ends, and a recovery extending beyond private housing into the commercial sector'.
Since the recession of 2008/9, architects' pay has fallen in real terms with modest pay rises failing to keep up with inflation.
If employers now have to fight to recruit staff, or indeed to retain those they have, one might expect salaries to start heading in a northerly direction.
It will also be good news for recent architecture graduates who will surely find it that much easier to secure their first job.