The new research body will tackle urbanism from an interdisciplinary perspective says Thomas Aquilina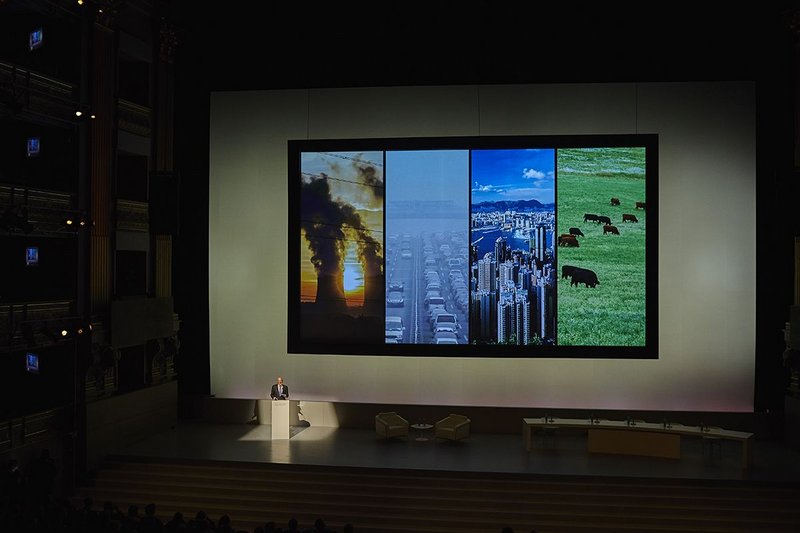 It's not often you go to the opera to see architects, artists, designers, economists, engineers and politicians perform together. However, the stage was theirs for one day inside Madrid's Teatro Real. This was the official launch of the Norman Foster Foundation and its president, Norman Foster, assumed the role of conductor.
This was not simply a launch but a high level discussion, a statement of intent. Styled as a forum under the title Future is Now, the event brought together 24 influential personalities from across the globe, including Jonathan Ive, Michael Bloomberg, Matthias Kohler, Marc Newson, Neri Oxman, Henk Ovink, Olafur Eliasson and Cornelia Parker. With a full house of international guests and local students, the presentations were structured into three main sessions that matched the broad interests of the non-profit foundation: cities; technology and design; and infrastructure.
In his opening address, Foster remarked: 'The future is far too important to be left to any one discipline.' From then on, interdisciplinary thinking was the theme of the day. However, this attempt at blurring differences further highlighted some binaries that lend themselves to debate: whether that was the role of technology against tradition, the location of the event in Madrid instead of elsewhere, the lessons learnt from European and North American cities against more current research into southern hemisphere metropolises, or the nature of the forum itself.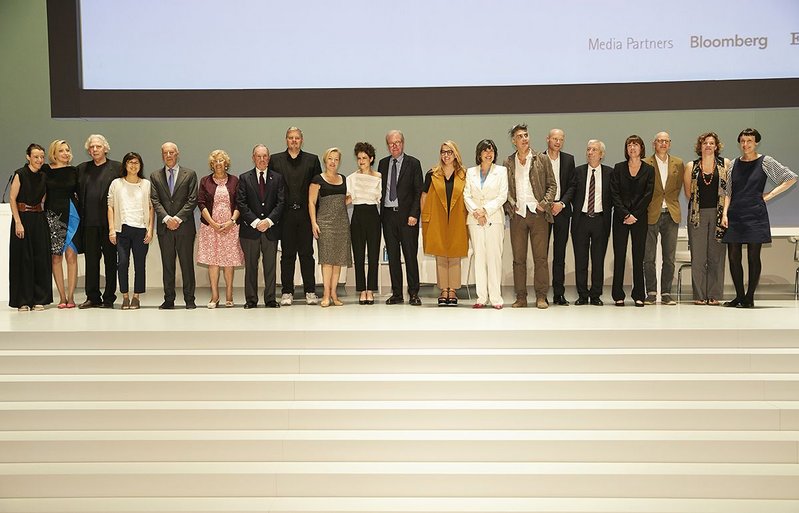 An irresistible sense of futurity prevailed across all three sessions, where ideas on automation, computational design, drones, digital imagery, prefabrication and robots were presented and contested. Two camps emerged: the technophiles spearheaded by futurist Nicholas Negroponte and technophobes led by historian Niall Ferguson. Nevertheless, the consensus was that design and cities must be centred on the human, a notion that might have been obvious to the presenters, but that secured a collective sigh of relief from the audience.
A more humanist approach, argued by architect Maya Lin, seemed appropriate in the city of Madrid, home to the foundation's new HQ, where a combination of compact streets and open plazas shows that cities can be imbued with an intimate, personal scale. However, it soon became clear that cities like London or New York, where most speakers hailed from, were the benchmarks for discussion.
It wasn't until Pritzker Prize laureate Alejandro Aravena described urban projects and lessons learnt from Medellín and Durban that the forum acknowledged a southern context. Urbanist Ricky Burdett echoed this need for embracing difference within cities and overturning global hierarchies between them. Indeed, author Jonathan Ledgard described a demographic tipping-point and a future impacted by the runaway urban change of Africa. Ledgard presented the foundation's Droneport project, on which he collaborated, as the meshing together of high and low technologies: the design of hub centres for drones to deliver medical supplies and mechanical parts in parts of Africa with little infrastructure. It appears that this pursuit of design-led research at the intersection of technology and social purpose is a viable way forward for the foundation.
While the forum grappled with advanced design and technology as possible ways to address the future, at the core of the foundation is an archive: a record of 74,028 items (and counting) from over six decades of practice by Norman Foster. In an increasingly disposable and digitally mediated world, an archive of analogue as well as digital forms feels decisive. And in a sense, the content of the forum's tote bag – a sketchbook and drawing pencils – felt more symbolic than a mere giveaway.
In this debut event, free and open to the public, the foundation clearly appealed to its principal target audience: the 1,100 attending students. It was undeniably impressive to listen to this ensemble of the elite, yet the debate was conducted entirely in English and without simultaneous interpretation, something that visibly precluded many local attendees from following the nuances of the talks and discussions.
With the guarantee of Norman Foster's optimism and the intellectual guidance of director Maria Nicanor, the new Norman Foster Foundation can be a space where art and politics interconnect. As one of the RIBA Norman Foster Travelling Scholars, I feel as if this award, and the subsequent research, might now have something of a home. I have no doubt that the foundation will itself become a forum by using its physical location in Madrid to attract more diverse participants and bring together diverse ways of doing things, and begin to reflect the hybridity of our cities.