Workplaces designed for wellness help employers attract skilled staff and allow developer-operators to appeal to their entrepreneurial young market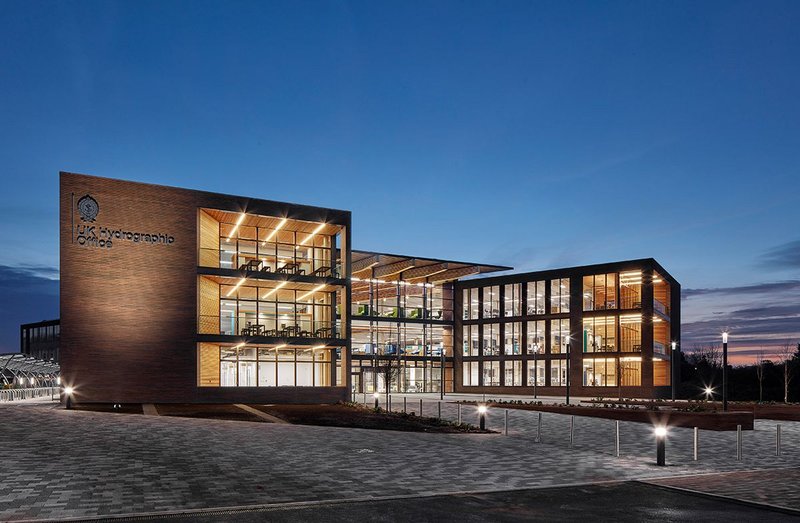 The multi-award-winning UKHO headquarters building, designed by AHR.

Credit: Daniel Hopkinson
Service-sector workplaces measure success by attracting and retaining the best people, so the question for architects designing them is how to match corporate strategy to worker wellbeing. AHR's new headquarters for the UK Hydrographic Office (UKHO) in Taunton offers some crisp answers.
Where demand for white-collar skills outstrips supply, employers, especially public ones like the UKHO, need to explore marginal gains to compete for the best talent. Beyond the usual wooing tactics – salaries, staff benefits, working culture, flexible management policies, fundamental purpose, and geographical location – they are increasingly seeing the value in workplace design.
In the time it has taken for the term 'digital native' to embed in the zeitgeist, corporate strategists' planning and architects' wishful thinking have gradually aligned under the gravitational pull of research exemplified by the WELL standard. Dilbertesque work spaces with poor environmental controls do affect productivity. Generous spaces, daylight and natural colours and finishes can improve staff wellbeing and thus, the theory goes, retention and performance. Together, the net gains begin to look better than marginal.
Six years ago, these were issues facing the UKHO. A self-funding government agency, it has a proud 225-year history producing navigational charts for the Royal Navy and mariners across the globe. It moved its headquarters from London to Taunton during the Second World War, where it remains to this day. Over time, though, its cluster of buildings had become increasingly tired and ill-suited to its constantly evolving work, especially with the advent of the digital era.
UKHO wanted to evolve from a product-centric publisher to a data-centric 'marine geospatial information agency', on the same Taunton site. This required it to recruit and retain new teams with up-to-date skills. Aware of the government's smarter working guidelines, it had an opportunity to completely transform not just what it produced, but how it did so too.
Workplace design was at the heart of this. If UKHO was to thrive in its new digital groove, the building itself would have to help to attract and retain staff, allow them to work in a beautiful and creative space, and nudge them into previously untapped creative collaboration. Jo Funnell, UKHO's new build project manager, recalls benchmarking business as usual as part of their preparatory research. 'We wanted to analyse the split of time between meetings, scribbling on wallboards, on the phone, and sitting at desks.'
With a clear idea about the needs of existing staff, UKHO went out to tender with a brief that called for a single building capable of adapting to long-term future change and that allowed staff to operate flexibly as one team. It required lots of break-out and mingle spaces, and a restaurant and wellness centre. Despite a workforce of 850, the brief only required 750 desks. This was not to restrict future growth, however. As Funnell clarifies, 'It was specifically 750 desks, not people. Any extra capacity would be easily supplied by the meeting rooms and informal work spaces.'
AHR's Bristol team won the job. The practice's Keynsham Civic Centre, a similar-sized publicly funded project, had just been crowned BCO's Best of the Best, and so it was well qualified. Funnell recalls the interview clearly. 'They walked in with a little concept model and it was exactly how the building ended up. They had fully understood our brief and how our organisation was going to work.'
The BREEAM Excellent building, which opened in January 2019, addresses the brief serenely without resorting to gimmicks. A flared H in plan, it features identical naturally ventilated two-storey wings open to a full-height, fully glazed, snaking atrium. Wide bridges with seating and computer screens span the void to link floorplates and receive the sweeping centrepiece staircase. With lift and rest rooms at the junctions of the H, the wing-ends house balconied tea points that look out onto, on one side, the generous staff carpark and, on the other, the subsidised staff kindergarten, all set in nicely maturing landscaped approaches.
Inside it is bright, calm and comfortable, the effect of sophisticated M&E strategy integrating well with the architecture. Five large fig trees complement the branded colour scheme, which, from bottom to top, symbolizes the journey from seabed to surface. The acoustics are impressive, especially in the atrium where the dominant larch cladding and ceiling baffles nullify the noisy reverberation typical of such spaces. In the work zones, members of staff have considerable control over their workstations, able to open manual vents to the exterior if too hot, turn on a task light, and adjust their desks, even to standing height.
A quadrant on the ground floor furthest from the reception area is a great area for socialising and taking time out. There is a subsidised 100-seat restaurant that spills out into a sheltered patio, and the wellness centre, which includes a gym, sprung-floor fitness studio, changing rooms and showers.
AHR's tactics for addressing the UKHO's smarter working ideas are elegantly resolved too. For example, the clear-desk policy is handled with centrally located lockers. Adam Spall, AHR's regional director who worked on the project, explains: 'There are still departments organised in certain fixed locations, but the building now affords staff the flexibility to work in different teams.'
In the spirit of collaborative working, no one has a separate office. Open-plan, stand-up meeting 'scrum areas' – a concept imported from the IT sector for quick team updates – screen work zones from the atrium void. The bookable and first-come-first-served meeting rooms have been named by the staff according to the seas, oceans, straits and passages of the world, with graphics carefully harvested from the UKHO's own marine geospatial data sources.
Connections between floor plates are legible, attractive and free-flowing, perfect for encouraging one-team super-collaboration. The circulation spaces are wide and well equipped enough to generate ad hoc interaction.
Although the building did not target the WELL building standard, it feels as though it did. The abundant daylight, natural ventilation, wellness centre, views to nature, incorporation of plants, finishes and colour schemes all rock a biophilic vibe, setting it up for a long life. The layout and M&E strategy are designed to adapt according to need as UKHO reinvents itself for the digital age, all comfortably within BCIS cost benchmarks. With a Soft Landings process still going on behind the scenes and a POE pending, it's too soon to tell whether it's ticked all the boxes. One thing is for sure though: the staff were chomping at the bit to move in. The design fits the corporate strategy like a glove.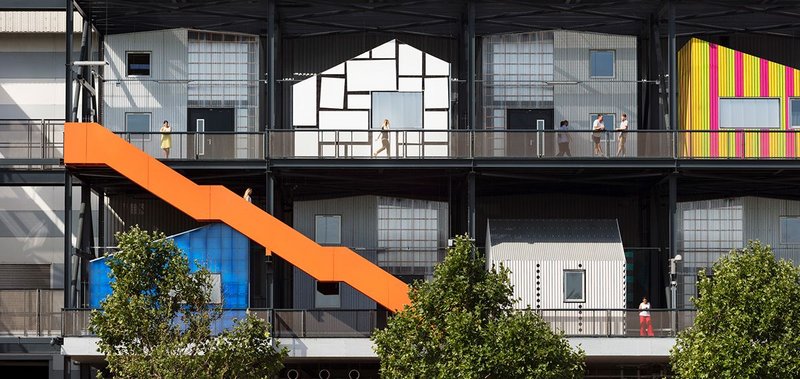 The Gantry: a cabinet of workplace curiosities at Here East, London.

Credit: Rory Gardiner
Workplace as a service
Designing for owner-occupier clients like the UKHO is one thing. Achieving success at the other end of the scale takes a different approach. Three just-completed projects (shown here and overleaf) illustrate the range.
Setting up in business in the information age is easy: an idea, a laptop, an internet connection, and away you go. It frees you from a fixed location and excessive liabilities, letting you take freelance, gig-economy risks that a decade or so ago would simply not have been possible. Bye-bye 9-to-5 rat race; hello work-life balance. For a short while, the downsides that came with this agility and flexibility – no capital muscle, exclusion from the CBD heart of the commercial action, and isolation from professional networks – delayed its uptake.
However, an army of developer-operators like the Workspace Group, Second Home and The Trampery have stepped into the breach. Mainly London-based, they are the leading edge of a worldwide co-working and flexible workplace-as-a-service wave revolutionising the offices sector.
They typically remodel buildings in well-connected urban locations, selling cheap, flexible co-working memberships or office leases to self-employed freelancers, start-ups and microbusinesses. Much more than just landlords, they offer turbo-charged 'business centre' facilities that include cafés, showers, bike storage, bookable meeting rooms, break-out spaces and services such as super-fast digital infrastructure, 24-hour access, as well as opportunities to socialise, network, get business support and learn with fellow tenants.
In all of them, the needs of the target market, often young and niche, is central. As well as fun and affordable office space, this market is looking for wellness, a distinct identity, and a mutually supportive community.
Getting the building design right is an important ingredient in that quest, which is why these projects are an increasing source of work for millennially attuned architectural practices. The jury is still out on the extent to which resultant design strategies actually improve productivity and worker wellbeing, but their commercial appeal is unquestioned, reflected in the strong continuing growth of this sub-sector.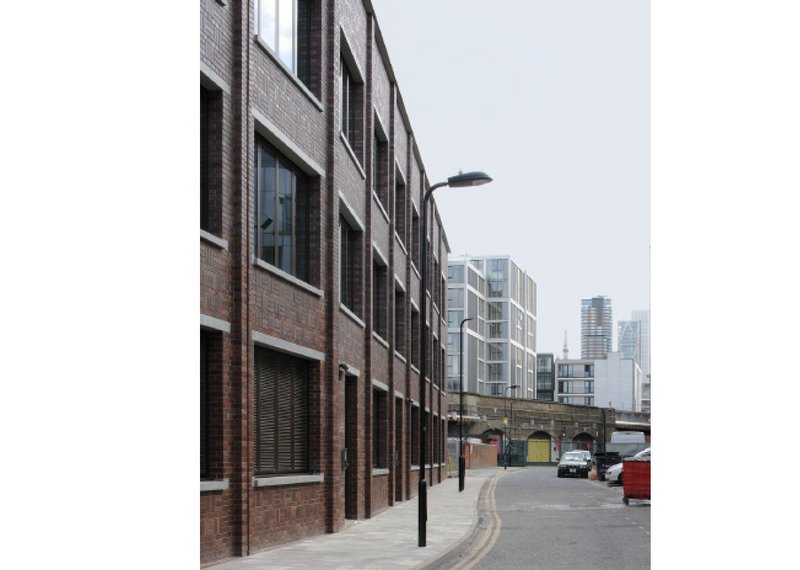 A stripped back design at Brickfields by Witherford Watson Mann.

Credit: David Grandorge
Brickfields
Brickfields is owned and operated by the Workspace Group, a 30-year old FTSE-250 real estate investment trust (REIT), and was designed by architect Witherford Watson Mann, winner of the 2013 Stirling Prize and recently nominated for the 2019 prize.
Built on the foundations of a former factory in Hoxton, the subtle, sympathetic, durable design makes good use of the lozenge-shaped plan to flood five floors of generous workspaces with daylight.
Eschewing the bright colours and gadgety quirkiness of some the competition, which might have been overwhelming in such a large building, the business centre provides offices that are well-appointed blank canvases for users to stamp their own mark on. Tenants and, indeed, users of the co-working spaces, will enjoy bookable meeting rooms and a robust, high-speed business communications infrastructure.
The aesthetic in the reception, café, mingle spaces, and full-height, day-lit galleried atrium is restrained industrial elegance revealed in natural colours and raw finishes. Stripping back the design in this way widens its market appeal, affording the user community a suitable stage on which to meet, bond, and be greater than the sum of its parts.
The Gantry
The Gantry is an ingenious workspace development built on an abandoned steel structure attached to the former 2012 Olympics Broadcast Centre, which itself was recently reinvented as Here East, a campus of innovative companies, educational institutions, and cultural organisations.
Operated by London-based social enterprise The Trampery, profits will go to supporting the local community, no doubt an important factor for would-be tenants. Architect Hawkins\Brown had the idea of building a series of self-contained, lightweight, deck-access modular studios on the structure as a way of reusing it without breaching the gantry's structural capacity.
Conceived as a cabinet of curiosities, each studio in it has been creatively clad in an individualistic mix of materials to pay homage to local pioneers and industries, fitting in with the project's overall socially responsible commitment to place. A central two-storey 'village hall' provides a shared lounge and co-working desk space, a hub for staging free courses and building a sense of community.
The resulting vertically stacked village, with its pleasant views over the Queen Elizabeth Olympic Park and relationship to Here East, is a potently attractive ensemble, perfectly matched to its target market of local creatives and young entrepreneurs.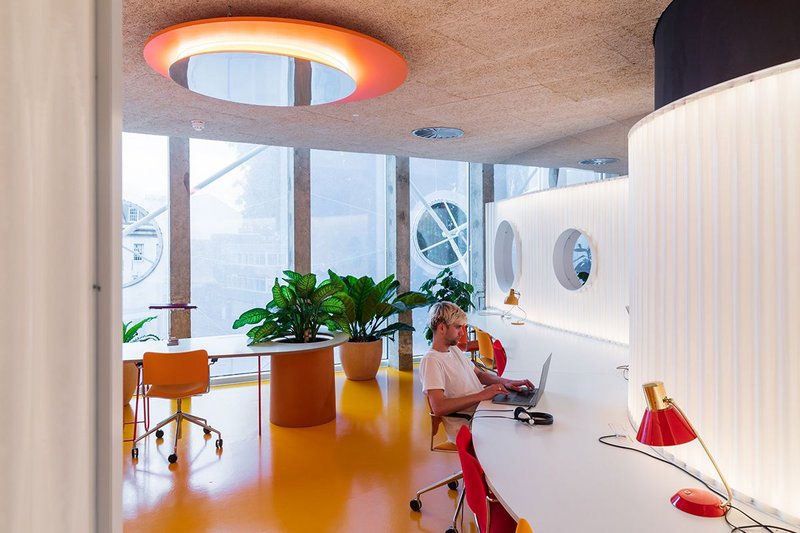 Frei Otto/biophilia mash-up for millennials: the ETFE-protected facade lets plenty of daylight in past the houseplants to the eye-catching interior at London Fields.

Credit: Iwan Baan
London Fields
London Fields in Hackney is owned and operated by Second Home, a social business on a mission to support creativity and entrepreneurship by providing new kinds of workspaces. The building's attention-grabbing, unashamedly fun design converts a largish Victorian temperance hall that most recently had been an education space and cinema.
Madrid-based Cano Lasso Architects was responsible for the common areas, co-working desks and small offices, where the dominant trope is daylight, accented with bright colours and unusual materials. The opaque ETFE facade is certainly striking, as are the Matta-Clark-like light tunnels that pierce floorplates top to bottom. Curvilinear shapes and plentiful houseplants complement the abundant daylight, all nods to the nascent theory of biophilia.
The fun has a serious role. As well as being a magnet for the building's target market, it ties in neatly with the enterprise's USP – an integrated nursery, designed by emerging London practice Kennedy Woods. Running a business while juggling toddler-care is a huge issue for the young tenant cohort, one that London Fields addresses head-on.