This autumn Patrik Schumacher, partner of Zaha Hadid Architects, kicks off 'Future Forward', the RIBA's smart practice conference providing insights into the globally renowned practice and its culture of research.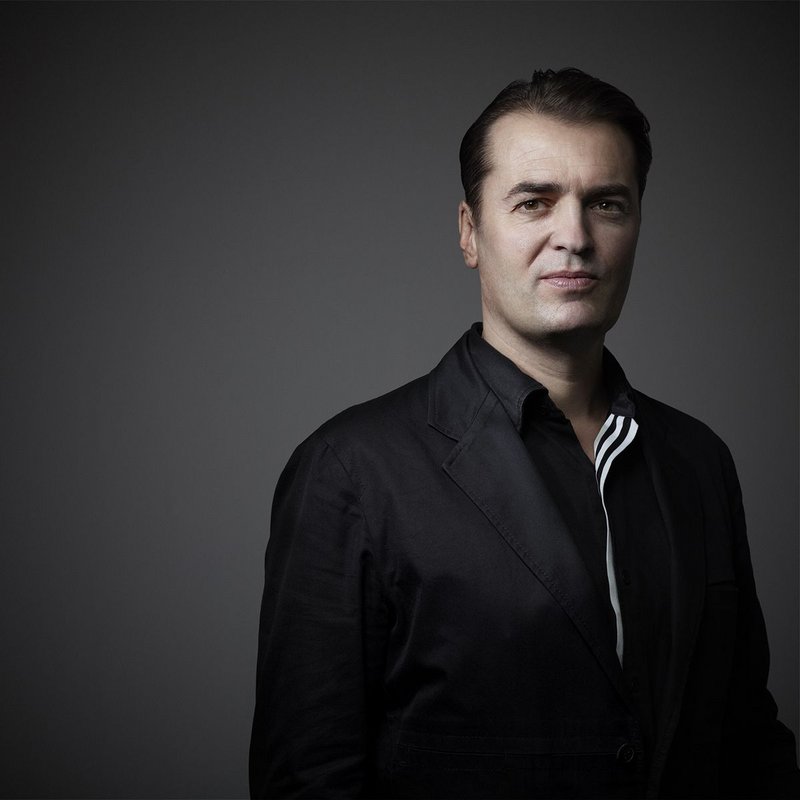 After the sudden and unexpected death of Zaha Hadid in March, focus has inevitably shifted to the future direction of the practice. How was it to continue without its iconic founder at the helm? The interest in ZHA and its remaining partner, Patrik Schumacher, even merited an interview in The New York Times on 20 April. US broadsheets rarely feature architects, let alone any based in the UK.
Schumacher joined ZHA in 1988 and has been the sole partner alongside Zaha since 2002. Over the last decade or so, he has established his own distinct international profile. He has an insatiable appetite for teaching, debate and taking the podium. In 1996, he founded the Design Research Laboratory (DRL) with Brett Steele at the Architectural Association School of Architecture. He still teaches in the programme and lectures at the AA. He has held professorships at the universities of Applied Arts in Vienna, Innsbruck and Harvard and is the author of several significant publications. Schumacher is the leading protagonist of parameticism, which owes its formal qualities to computational design tools and fabrication methods, though Schumacher aspires for it to be more than an aesthetic movement. He sees a social function for it, enabling the development of architectures that adapt to the diverse, complex and dynamic requirements of contemporary society. When I met him in the firm's offices in Clerkenwell he had just returned from a weekend at the vernissage of the Venice Architecture Biennale, having participated in a session dedicated to the memory of Zaha at Charleston Festival in Sussex the day before. While staging a standalone Zaha Hadid retrospective at the Palazzo Franchetti in Venice he was, say associates, omnipresent at the Biennale itself fronting almost every panel.
Business, business
What is perhaps most intriguing about ZHA, as a practice, is how as one of the biggest design and research led firms in the world, it functions as a successful business. In February 2016, Building magazine reported that ZHA's revenue was up 4.4% to £49.6m with pre-tax profit up 6% to just over £6m. Having taken a hit after the Arab Spring in 2011, when many of its Middle East projects were scuppered and it lost 80 heads, it is now back up to pre-2008 numbers with over 400 staff. When I asked Schumacher how the organisation of the practice might have been restructured following the death of Zaha he was direct and candid: 'Nothing has changed. The office was recently reorganised around streamlined profit centres. It was restructured around three rather than five clusters, headed up by directors – Jim Heverin, Gianluca Racana and Charles Walker – giving accountability and hierarchy.' The directors sit on the board with Schumacher and chief executive Mouzhan Majidi. Majidi joined ZHA in spring 2015 and provides the overall steer on business management. In an impressive 27-year career at Foster + Partners, he was chief executive between 2007 and 2014. Majidi's involvement is key not only to the management restructuring but also to realise Schumacher's aspiration to take ZHA to another level – to the Foster + Partners scale in terms of operations. Fosters has around 1,400 staff worldwide and took pre-tax profits for 2015, according to Building, of £229 million; exceptional figures even by the firm's standards.
ZHA is distributing its risk internationally with more late stage work, 25 buildings are under construction worldwide. Though the Middle East remains the practice's largest market, it has a sizeable number of projects in Asia – in China, Malaysia and Singapore – and Australia, with the US also coming up with the opening of an office in New York. ZHA has offices in Beijing and Hong Kong, and aims to add offices in Dubai and Mexico City, as well as New York. The three main clusters are not organised according to region or project type: 'China and Asia are so big that all clusters need to be in there – all need to be profitable.' The clusters have a mix of associates and lead architects and designers, according to their history with the directors. These three core clusters are complemented by a front-end design cluster with younger leaders that have expertise in computational design and modelling. Schumacher works with them directly on the conceptual design phase – as did Zaha – pulling in experience from other areas to help with programming. Staff will move out of the design cluster to see a project through, but overall this discrete system offers an essential resource for winning work. It is key to the practice's speed and agility worldwide – 'super quick' in its response to competitions. This function is supplemented by a small acquisitions team – two members of staff that vet client's financial credentials and projects. Every Monday morning, directors and acquisitions staff meet to discuss which cluster should pursue each project and to support acquisitions in the compiling of bidding documents.
While there is an emphasis on winning architecture work worldwide, ZHA has continued to develop its brand's potential for interiors and products. A separate interiors department offers interior architecture as an independent service, whether it is a distinct job or part of a coherent architectural scheme. This allows ZHA to pitch separately for work, for instance; an ability that is important for winning work in the hotel sector. In 2015, ZHA also enhanced its expertise in product design and merchandising by recruiting Richard Leyens, former commercial director at Tom Dixon, as its head of commercial strategy. Under a separate company, Zaha Hadid Design – with directors Maha Kutay and Woody Yao and Schumacher's global vision – it not only collaborates with established furniture brands, but manufactures and promotes its own products, selling online from its website and to exclusive retailers, such as Harrods and Saks Fifth Avenue.
Upgrading the discipline
If Schumacher has a predisposition towards efficiency in business, it is clearly not commercial success alone that drives his passion for architecture: 'Business is the vehicle to advance our discipline and through this the built environment. It should not become the all-consuming purpose – business, business – a run of the mill enterprise.' The main project for him is 'upgrading the discipline's intelligence'. For this reason ZHA will never be a global practice on a corporate model – an HOK, SOM or Gensler. What sets Schumacher and his ambitions apart is his longstanding engagement with research and academia. ZH_CODE (Zaha Hadid Computation and Design Group), the practice's dedicated research group, has eight members. It is orientated towards structures, often working with external collaborators such as Philip Block's Block Research Group at ETH Zurich, AA's DRL and robotics consultant RoboFold. Four of its members tend to focus on pure research, while four might be tapped into small projects. This enables a scaling up of research activities. Experimentation with shell and tensile structures, for instance, might start with small-scale expressive installations for the Venice or Beijing Biennale, step up to a building the size of the Serpentine Sackler Gallery, and ultimately inform a large-scale project like ZHA's designs for the New National Stadium for Japan in Tokyo or the Presidential Palace in Algiers. As Schumacher points out, this type of development 'needs five years. It can't be done in six weeks during a competition.'
Teaching is part of the DNA : 50 of ZHA's staff teach: 'Continuous teaching is important for thinking through themes,' says Schumacher who, for instance, started developing exo-skeleton structures eight years ago with his DRL students; numerous towers of this type have been further worked through in competition entries. Only now is the first exo-skeleton tower on site in Miami with a second one going up in Macau.
It is not just research into tectonic structures that Schumacher has set his sights on. He is also developing 'agent-based parametric semiology' through a three-year funded research project with Buro Happold's Smart Space Team. This initiative focuses on the means to develop information-rich spatial designs and attendant new crowd modelling capacities beyond mere circulation modelling techniques to advance towards a generalized life process modelling. By evolving techniques that should enable buildings to guide occupants' interactions via a well-structured and legible spatial language, architecture is set to become 'not just a vessel' but 'communication for social interaction'.
No limits
While Zaha Hadid has been celebrated the world over as a one-off design talent, Schumacher marks himself out with his boldness, energy and sheer intellectual ambition. He simply does not acknowledge ceilings or put in place limits for the practice's development: having taken the office from a 20-person studio to a global practice of 400 with Zaha, any­thing still seems possible. He would like to leave behind the avant-garde and enter the mainstream with 1,000+ staff, without losing cutting edge research and innovation. This, he says, should be aided by the shift away from a signature style, which has already happened in the office, and the establishment of a collective, multi-author process of design that is more versatile and diverse than a single person. Acknowledging 'the deep continuity of Zaha's legacy', Schumacher promises that 'project evolution will enable discernible advances and a process of maturing and refreshing'. •
Helen Castle is RIBA head of professional programmes and consultant editor of Architectural Design

Tickets are available for the RIBA Smart Practice Conference in Nottingham on 22 September. For an early bird discount in July click here
---