In the first of this month's two planning round-ups, there's a football stadium for Southend, more towers for Southall and the City and the most delicate of heritage interventions in Perthshire
From a new football stadium incorporating homes in Southend to an artists' residency in rural Scotland, we've got planning permissions from one end of the country to the other. Meanwhile in London, BIG gives Fleet Street a version of a wooded hillside while seven towers with mostly hard surfacing provide 564 homes at Southall's The Green.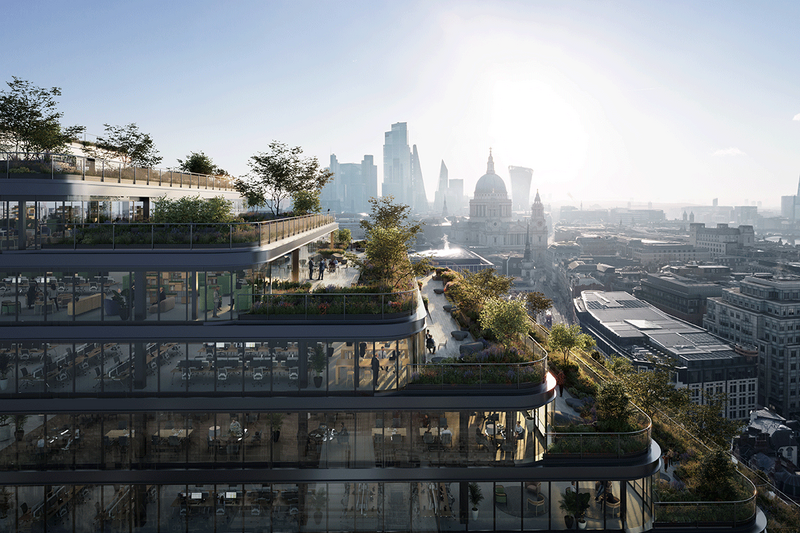 BIG / CO-RE
120 FLEET STREET
Gross internal floor area: 78,456m2
Client: Rivercourt Properties Limited, with CO-RE developers
Architect: Bjarke Ingles Group
Landscape architect: Spacehub
Planning authority: City of London
Planning ref: 21/00538/FULEIA
A hill-like cascade of tree-topped terraces is set to land in London's Fleet Street. Since BIG's Serpentine Pavilion in 2016, Ingels has set up an office in London, and with the Google HQ land-scraper Heatherwick Studio co-production currently under construction, this contentious 21-storey development will further grow his empire of spectacle.
The Hurley Robertson & Associates' designed River Court currently occupies 120 Fleet Street. Home of Goldman Sachs until 2019 and completed in 2000, many are questioning the approach of demolishing a perfectly functional, young building – especially for a project with the stated aspiration of '[Embedding] Circular Economy principles within the overall design approach, including retention of as much existing structure as possible, and reusing materials wherever feasible'.
The 1933 Owen Williams designed Daily Express Building is the inspiration for BIG's sweeping glass facades, which will not only replicate the aesthetic of the Deco neighbour, but also tightly embrace and tower above it. The jury is out over such an architectural approach, with Historic England stating the plans would 'enhance the significance' of the Daily Express Building, while the Twentieth Century Society considers 'the design to be too overbearing with its stepped elevation projecting … towards the listed building'.
The Express Building itself is being opened up to the public. Ground floor windows are set to become Classifieds – 'A rotating exhibition of local partners in the windows of the Lobby area … operating like a marketing haiku for used cars, employment offers and lonely hearts', with creative and artisan businesses at high levels with a roof garden above, as part of a site-wide cultural approach dovetailing with the City of London's shift to a mixed and culture-ingrained economy.
---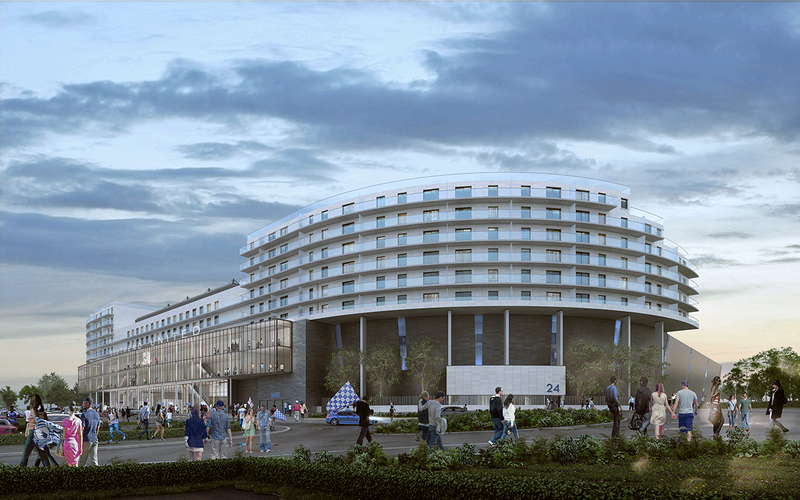 Credit: Populous
FOSSETTS FARM, SOUTHEND
Total area: 18.39ha
Client: Southend United FC
Architect: Populous
Landscape architect: Macgregor Smith Partnership
Planning authority: Southend-on-Sea Borough Council
Planning ref: 17/00733/FULM
At the risk of annoying non-football-interested architects, the planning agreement of Southend United FC to transfer to a new stadium makes this a hattrick for recent Page of Consents soccer mentions following QPR and Gala Fairydean Rovers last month. In a long-awaited move, which includes a previously accepted stadium scheme from 2008, the club is set to finally leave its current Roots Hall ground for a new 21,000 bowl incorporating hotel and conference facilities and two residential sections incorporated into the massing of the stadium as part of a masterplan including 1,114 homes.
Credit: Populous
The inclusion of residential space in a stadium is new, and potential residents are forewarned that while they may be able to see part of the pitch, they will be unable to watch a match fully, though the matchday noise and crowds will be fully experienced. Architect Populous suggests that 'residents who happen to be SUFC season ticket holders will find attending the home matches very convenient'.
As well as two sports domes and training pitches forming a campus for the Southend FC first team and Academy, the masterplan includes housing by CZWG and LDA Design and is designed around a townscape model with pedestrian avenues connecting through to the stadium. The decision for the club to move also frees up Roots Hall to be turned into a development of 502 rental homes by CZWG, after planning was achieved earlier this year.
---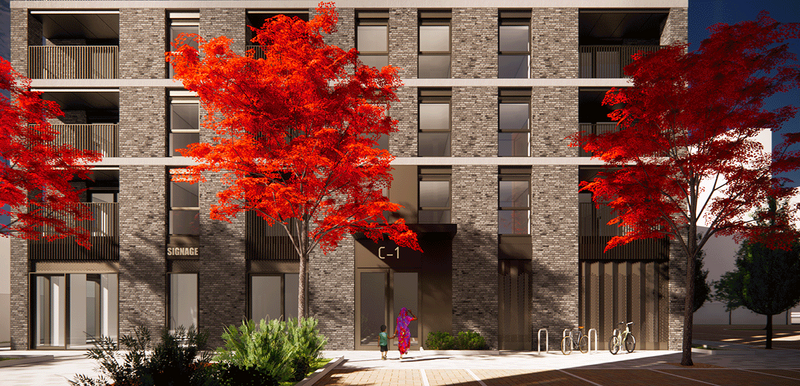 Credit: Hunters
THE GREEN, SOUTHALL
Total area: 1974ha
Client: Peabody and London Borough of Ealing
Architect: Hunters
Landscape architect: Turkington Martin
Planning authority: London Borough of Ealing
Planning ref: 215058FULR3
Seven towers up to 19 storeys tall are to go up in Southall, west London. The scheme of 564 homes is designed to be 50% affordable – by habitable room – through shared ownership and London Affordable Rent, and forms a key part of the local Opportunity Area Planning Framework, designed to respond to the imminent local Crossrail Station, just a few minutes walk from the project site.
The site is part of a large industrial zone with surface car parking abutting the railway, and designed around a new urban grid, offering a framework for future developments over adjoining brownfield sites. Most of the scheme's ground floors are given over to commercial uses, with the intention of drawing the existing local community into and through the new public realm.
Architecturally, the scheme is a continuation of the New London Vernacular aesthetic, with facing red, buff, and grey brickwork. Two large, raised gardens, incorporating amenity lawns, playspaces and sensory planting, sit on podium levels between the taller blocks for residential use, with most of the new pedestrian-focused public realm hard-surface – save for a narrow strip of planting and some green walls – as well as surface car parking 90 vehicles.
---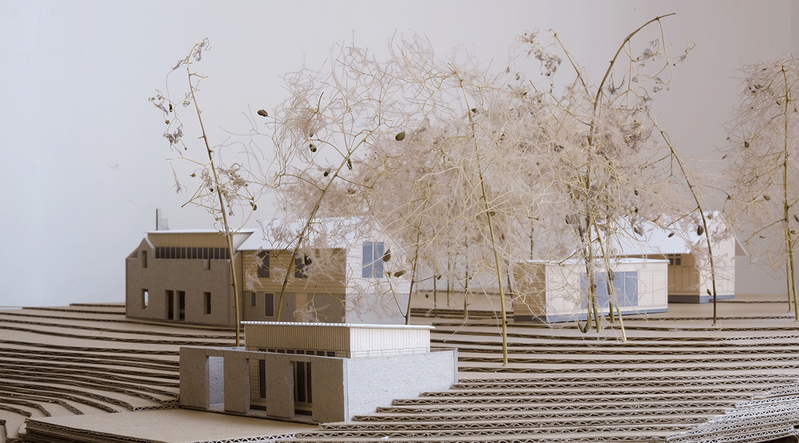 Credit: Maich Swift Architects
BURNIESHED BUILDINGS, BAMFF ESTATE
Total site area: 987,958m2
Client: The Bamff Trust
Architect: Maich Swift Architects
Planning authority: Perth & Kinross Council
Planning ref: 21/00866/FLL
An artist residency space, incorporating studio working spaces and accommodation, is to be formed from two historic stone buildings on the North East Perthshire Bamff Estate of 1300 acres of farmland, woodland, and wetland, which has been owned by the same family since 1232.
Half of an historic gatekeeper's cottage will house accommodation for artists through the completion of an unfinished renovation started two decades ago. The other half will be left as dilapidated stone-wall shell with a timber-frame pergola structure inserted into the plan, offering artist studio and living space.
A second stone building nearby, which formerly acted as the gamekeeper's kennels, is in poor condition, a tree having collapsed onto the roof some time ago. As with the former cottage, a timber structure will be built within the retained and repaired stone walls providing an artist studio. To complete the collection of new buildings, a standalone studio and an outbuilding for a composting toilet, shower and storage will be formed of timber using traditional construction methods.
Raised timber platforms and bog-bridges will connect the suite of buildings, with all the new buildings raised above ground level and sitting on staddle stones to avoid having to dig foundations or disrupt the historic stone walls, using a prefabricated plywood module which can be transported to site with minimal site impact. Profile milled aluminium sheeting will cover the roofs, aging into a dull finish to complement the surrounding nature, in a landscape once shaped by a student of Capability Brown but more recently undergoing a process of rewilding, reintroduction of native tree species, and the return of beavers and wild boar.