The RIBA annual benchmarking report shows reasons to be (cautiously) optimistic, with a resilient and fast-adapting profession emerging from lockdowns relatively intact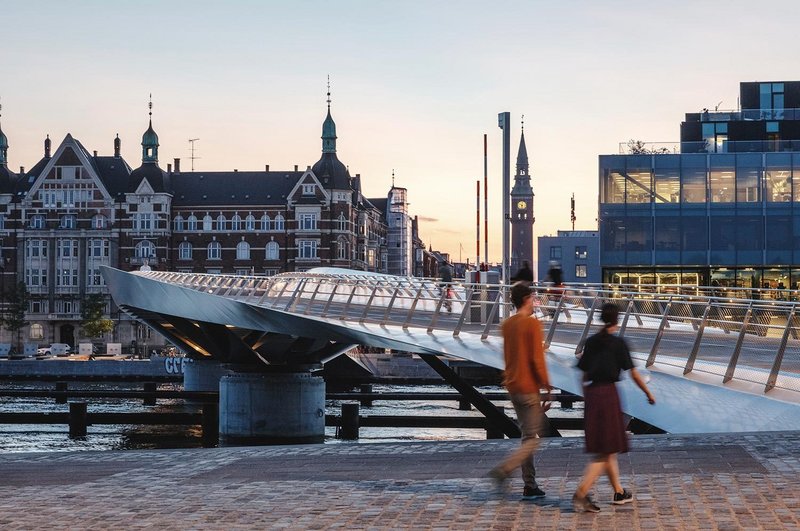 Around one in six pounds of Chartered Practice revenue comes from overseas projects. Some of this work is celebrated in the RIBA International Prize which this year shortlisted the Lille Langebro bridge in Denmark by WilkinsonEyre

Credit: Rasmus Hjortshøj
This year's RIBA Business Benchmarking report is the first definitive overview of the effects of the Covid-19 pandemic on chartered practices. In 2020, the overall UK economy shrank by around 10% and the construction industry by 14%. Ways of living and working changed overnight. Thankfully, 2021 has seen recovery and restrictions ease.
The 2021 report covers the first full year of the pandemic, including the effects of lockdowns and the early part of the 2021 bounce back. In many ways, it is a punishing read about a punishing 12 months. Falls in the architecture market were inevitable. But there is one bright light in the murk; throughout the pandemic, practices have, on average, preserved their profitability.
Since 2018 the benchmarking report has monitored the business of architecture through core benchmarks such as revenue, expenditure, profitability and types of work. This year many of those have turned negative. Practice revenue is down by 15%, practice staff numbers have fallen by 10%, and income from international work declined by 14%.
However, practices have consistently demonstrated an ability to adapt to market changes. The pandemic has required that to be rapidly accelerated, with changes to business strategy needed in weeks or days rather than the more usual months or years. This ability to rapidly and successfully respond to new client requirements and markets, and a need for new ways of working has paid off. Overall, practices have preserved profitability and completed the same number of projects in 2021 as 2020.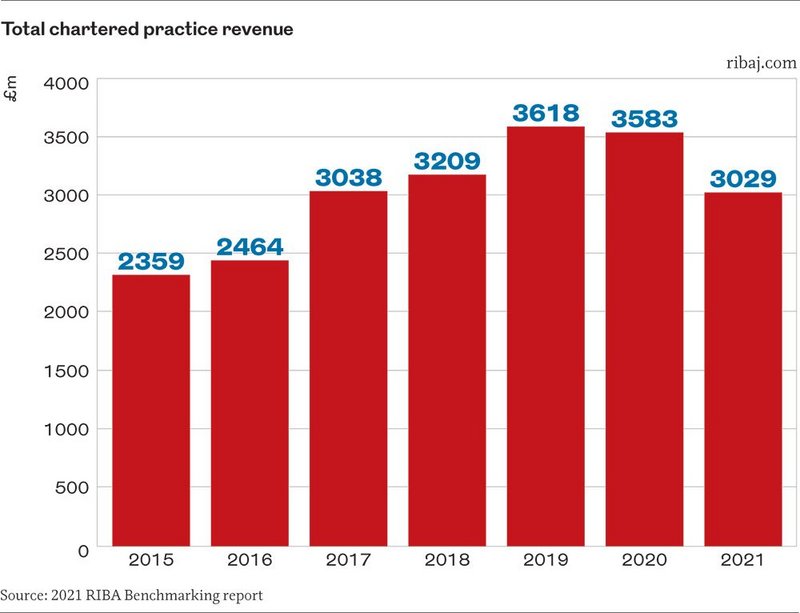 Revenue and profits
The total revenue generated by all RIBA practices has fallen by 15%, from £3.6 billion in 2020 to £3.0 billion in 2021. This follows a dip of 1% in the previous year.
Almost all practice sizes have seen revenue fall – for some, it is for the first time since this survey began. Some of the biggest falls in revenue have been among larger practices. Those with 50-100 employees have seen revenue fall by 20%, with an 8% decline for those with 100+ staff. Practices with 50 or more staff account for more than half of all practice revenue, so these falls are significant.
But against falling revenues, chartered practices have impressively maintained profits at last year's level, largely through cost reduction, continuing a trend we first saw in 2020's survey. In part, expenditure fell as a result of altered ways of working; travel, for example, is down by half. But at 62%, payroll is by far the largest element of practice expenditure, and is the most significant area in which firms have cut spending, partly because of the furlough scheme. Falling payroll costs accounted for most of the reduction in average practice expenditure.
Not all costs are down, however. Practices are spending 15% more on 'software associated exclusively with architectural practice' and an unprecedented 55% more on professional indemnity insurance than last year.
Work types
Overall practice revenue was down as the general economy, construction industry and architects' market all contracted in response to the pandemic. But revenue by sector varied in line with the buildings people needed, as they made their way through the pandemic. Demand fell in sectors that support people gathering, with reductions of over 30% in revenue from work on offices, culture and entertainment, sports and leisure. However, as working at home became the norm for many, clients looked at adapting their houses. Revenue from house extensions, conversions and alterations increased this year. Architects performed a critical service as the public reacted to the limitations of their homes during the months of lockdown.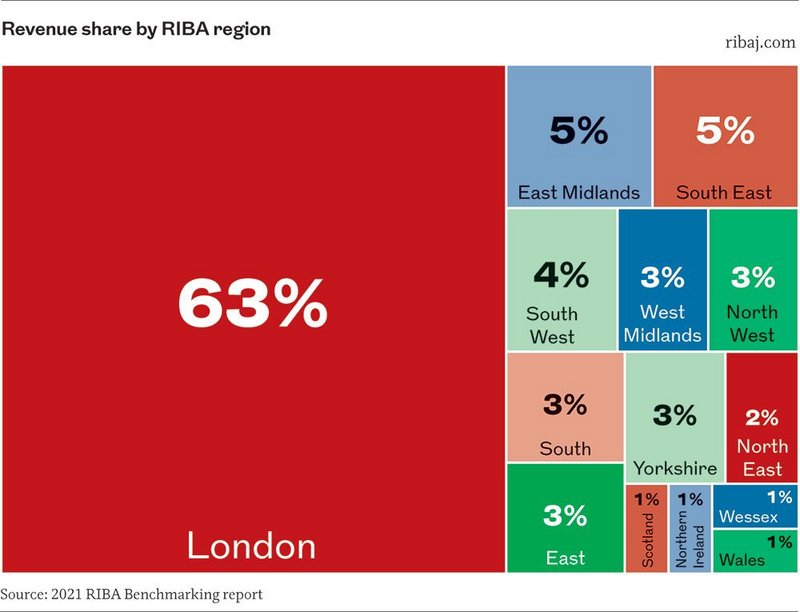 Regions and international
The UK architectural market is concentrated in London, with the capital having the highest average revenue per practice, and 63% of chartered practice revenue. But this year's report shows that London practices are being particularly hard hit during the pandemic, with a 20% fall in revenue, and a diminished share of the UK market. Not that the rest of the UK has gone unscathed though. Most regions reported a fall in revenue, although for some it increased, partly due to a rise in domestic work. Those who fared better are the South, West Midlands, East, Yorkshire, North East and Northern Ireland.
International work continues to be a vital source of revenue, with practices generating more than £500 million from overseas work last year. Around one in six pounds of their revenue comes from work overseas. Led by the capital, the UK has a positive trade balance in architectural services; +£449 million at the last count. However, after two years of record highs, international revenue has declined by 14% compared to last year – similar to overall practice revenue. Practices with 100+ staff have seen the largest falls, with their share of overseas work down from 85% to 71% this year.
The Middle East remains the largest source of international work and along with the EU, Asia and North America accounts for around 90% of all overseas revenue. While practices with 100+ staff generate nearly all the international revenue from the Middle East, Asia and America, smaller practices do work overseas, mainly in the EU and other parts of Europe.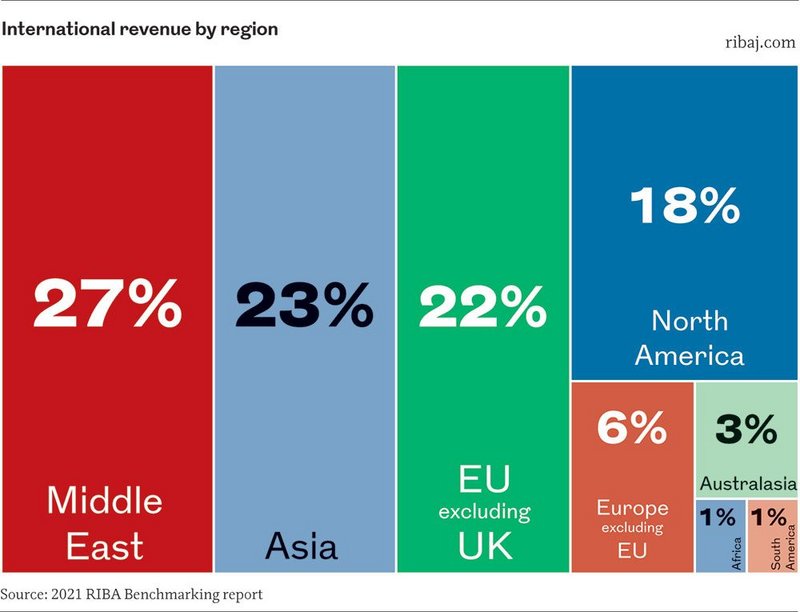 The future
As we look forward, the RIBA Future Trends survey suggests there are reasons for guarded optimism. Although the twin pressures of Covid and Brexit continue to weigh down on the supply side of construction, demand is holding up. Private housing led the recovery in architects' work and that is now broadening with the commercial sector picking up in the second half of 2021. The fear of widespread redundancies has faded. At the peak of the pandemic effects, 20% of practice staff were on furlough. Now 18% of practices are reporting difficulty recruiting staff.
We hope the worst of the Covid storm is over, and practices can look forward to greater stability in 2022.
---
The full 2021 report and interactive 'Benchmarking Tool' is exclusively available to RIBA chartered practices, for detailed commentary, granular data and the facility to compare your practice with similar ones. Our sincere thanks to those who completed the survey on behalf of their practice.
Read more about fees and latest survey on architects' salaries here