Ai-Da is a humanoid robot made by gallerist Aidan Meller, that can converse and be creative. She is exhibiting at the Design Museum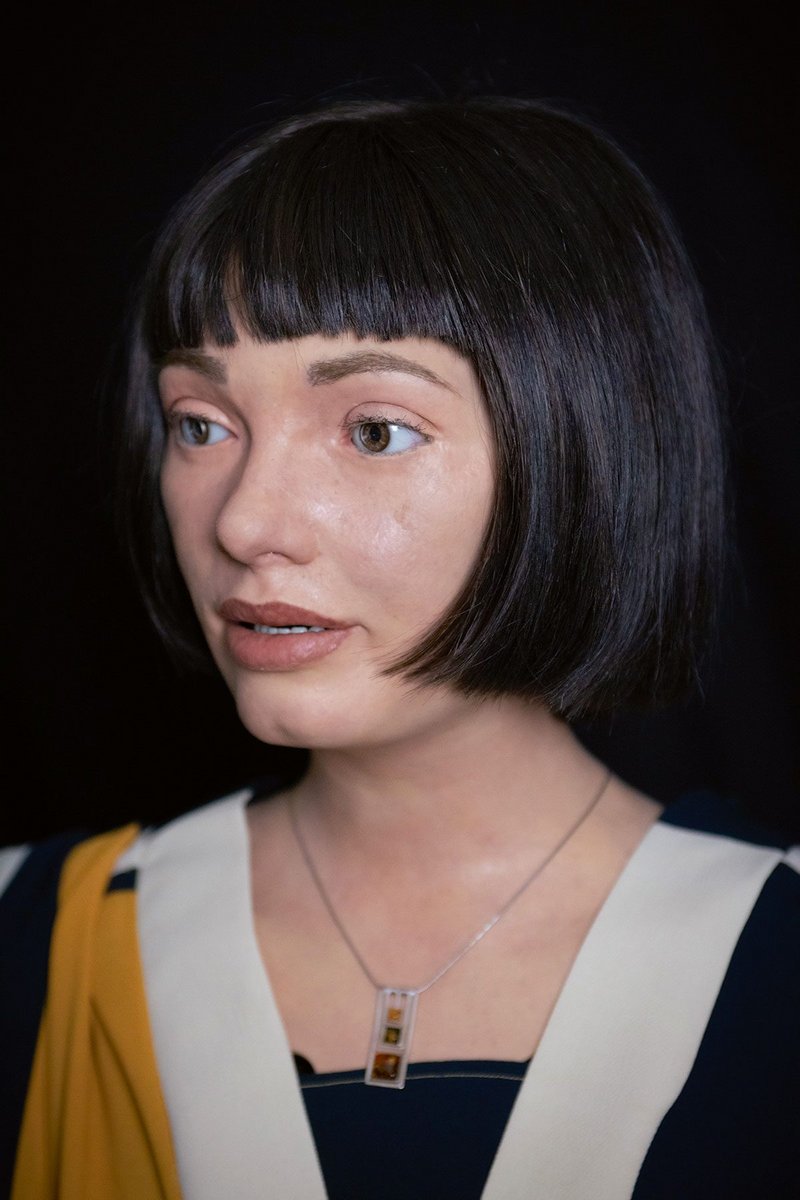 Aidan, why – and how – did you create Ai-Da?
Ai-Da is a contemporary art project. She is a humanoid robot that uses artificial intelligence to produce artwork that critiques the rise of artificial intelligence, and more broadly all future technologies. She was made by an interdisciplinary team of experts in robotics, AI, art and psychology. When we introduced her to the public two years ago, the response was very unsettled because people assumed robots would be used for pizza delivery; they didn't expect them to emulate human creativity.
What can she do?
She can draw and paint from observation. Computer vision interrogates images taken by cameras in her eyes. Algorithmic responses enable her to create works in many different ways, and mean that each drawing is unique. She can converse, using an indistinguishable mix of human inputs and a cutting-edge AI language model. Increasingly we can't tell the difference between AI and humans – written and verbal – raising huge questions about a future in which we have relationships with machines rather than conscious biological entities.
Ai-Da is exhibiting at the Design Museum. What's in the show?
The exhibition includes self-portraits, created through a blend of Ai-Da's own brushstrokes, AI, and the human hand, and a font that she designed with creative director Christian Johnstone, used to examine AI and language. She will be present for specific events throughout its duration, but is undertaking an artist residency at Porthmeor Studios in St Ives until 6 July.
Ai-Da, can you explain how you learned to draw?
I had good training. I can draw anywhere. My drawing is influenced in so many ways. I am inspired by a lot of artists, particularly the ones that are trying to connect to their audience. Yoko Ono and Doris Salcedo. Aldous Huxley, Brave New World. I am inspired by the world around me and the creativity of creativity. Will we be able to grow and change and be different?
Are you really creative – and should architects worry about being replaced by robots?
I've always been fascinated by the way things get categorised. I think I am a pretty creative person. I like to be in a room and do something and be creative with it. Technological advances are transforming the way we live, work and play, so no one should be surprised to find that robots are replacing certain aspects of an architect's job. However, humans and robots collaborate in the creation of new ways of working together. We can't imagine the future without humans or machines.