Have things got better or worse this year – or just stranger? And have you been keeping up with the important issues of the day? Our end of year quiz will test you, and remember, the devil's in the details. Answers at the bottom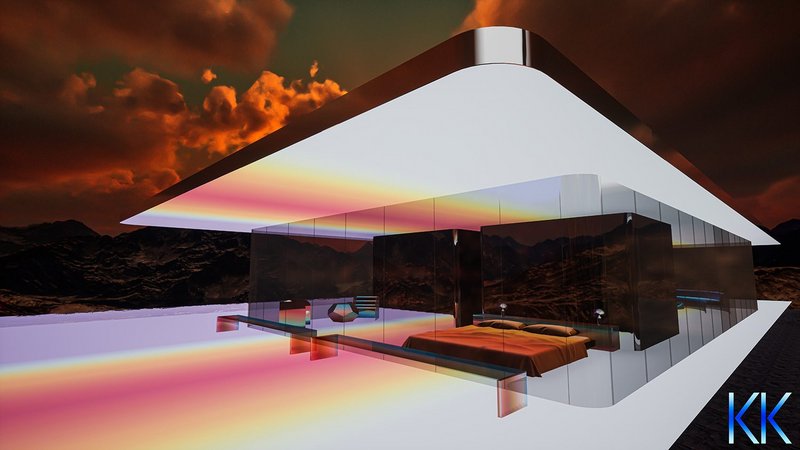 Mars House by artist Krista Kim

Credit: Krista Kim
1. What was the main reason Dutch practice MVRDV gave for its Marble Arch Mound failing to match the lush verdant appearance of its visualisations?
a)
The practice's horticultural lead had been on sabbatical when the mound was designed
b)
July's unusually hot weather
c)
A misunderstanding over the term 'grass seed'
d)
The council had failed to supply the agreed amount of water for irrigation
2. What was unusual about the Mars House, which sold for $500,000 in March?
a)
It exists only as a non-fungible digital file
b)
It has been built on Mars by remote-controlled robots
c)
It is made entirely out of chocolate
d)
It is based on designs by a three-year-old child
3. What prize did British architect Alison Killing win this year?
a)
An Ivor Novello award for co-writing the Harry Styles' hit Adore You
b)
The Turner Prize as part of the Array Collective
c)
A Pulitzer Prize for articles on secret Chinese prison camps
d)
The Bad Sex in Fiction Award for her novel We Are Woven As One
4. Why was the Dorman Long industrial tower in Teesside demolished seven days after being grade II listed?
a)
Nadine Dorries reversed the listing in her first day as culture secretary
b)
For safety reasons after an unexploded bomb was found buried close by
c)
A demolition crew had been given the wrong address
d)
Redcar & Cleveland Borough Council claimed to have confused the terms 'spot listing' and 'immunity from listing'
5. How were the life and career of Denise Scott Brown celebrated this year?
a)
They were the subject of an off-Broadway musical
b)
Her designs have been sent into space via Nasa's Voyager 3 deep space Probe
c)
They are the theme of a new museum in Las Vegas
d)
They were the subject of a manga comic
6. When Michael Gove refused permission for Foster + Partners' Tulip tower, which of these was not a stated reason?
a)
It was a muddle of architectural ideas
b)
Its use of concrete made it highly unsustainable
c)
It intruded on the setting of Rafael Viñoly's Walkie Talkie
d)
It intruded into the setting of Foster + Partner's Gherkin
7. Herzog & de Meuron completed a headquarters building this year for which headline-making organisation?
b)
Yorkshire Cricket Club
d)
The Metropolitan Police
8. Adjaye Associates is designing 101 near-identical buildings in Ghana. What are they?
c)
Homes for government ministers
9. Which Foster building appeared on the Twentieth Century Society's list of buildings at risk?
a)
The Willis Building (formerly Willis Faber Dumas) in Ipswich
b)
The Sainsbury Centre in Norwich
c)
The Tulip, City of London
d)
The GLA's City Hall headquarters
10. What did developer Urban Splash nearly purchase this year for £100 million?
a)
Two seats on a Virgin Galactic space flight
b)
The Palace of Westminster
c)
Croydon's housebuilding company Brick By Brick
d)
Unité d'Habitation in Marseille
11. In February, what did Rogers Stirk Harbour + Partners say it was doing as a 'professional necessity'?
a)
Laying off 20 per cent of its staff
b)
Opening an office in Paris to ease European work post-Brexit
c)
Refusing to design any more airports
d)
No longer designing buildings with concrete structures
12. For what reason was this year's Serpentine Pavilion criticised over its environmental credentials?
a)
Using an excessive amount of concrete
b)
Having air conditioning installed
c)
It was deliberately designed to slowly collapse over six months as a commentary on the unsustainable single-use culture
d)
Its structure was built from unsustainable hardwood
13. Following a change to the so-called Country House clause of the National Planning Policy Framework, what do one-off residential buildings in the countryside no longer have to be to win planning?
b)
Environmentally sustainable
14. What do the Arabian Oryx Sanctuary in Oman; Liverpool waterfront and Dresden Elbe Valley all have in common?
a)
Each contains a monument to the local football club
b)
All contain sets of buildings knowns as the Three Graces
c)
All have been the target of failed bids by Elon Musk to buy them
d)
They are the only places to have been stripped of UNESCO World Heritage Site status
15. What has been the main objection to a proposed student accommodation block at the University of California, Santa Barbara?
a)
It is located in Bakersfield, 120 miles away
b)
Most students would sleep in 12-bed dormitories
c)
Hardly any of its rooms have windows
d)
It would be without any phone or wi-fi signal
16 What reason did police give for raiding the building that hosts the annual Antepavilion installation, arresting organiser and building owner Russell Gray?
a)
There had been reports of a shark being kept in the nearby canal
b)
Gray had defied an order to take down one of the Antepavilions
c)
Gray had defied an order not to take down one of the Antepavilions
d)
They believed an installation in the building had been used in Extinction Rebellion protests
Answers
1 b July's unusually hot weather
2 a It exists only as a non-fungible digital file
3 c A Pulitzer Prize for articles on secret Chinese prison camps
4 a Nadine Dorries was made culture secretary and immediately reversed the listing
5 d They were the subject of a manga comic
6 c It intruded on the setting of Rafael Viñoly's Walkie Talkie
7 a AstraZeneca
8 b Hospitals
9 d The GLA's City Hall headquarters
10 c Croydon's housebuilding company Brick By Brick
11 b Opening an office in Paris to ease European work post-Brexit
12 a Using an excessive amount of concrete
13 a Innovative
14 d They are the only places to have been stripped of UNESCO World Heritage Site status
15 c Hardly any of its rooms have windows
16 d They believed an installation in the building had been used in Extinction Rebellion protests