The first decade of your career sets the foundation for future progress. But decisions then and throughout your working life are often only understood with hindsight. As we put out a last call for entries to this year's RIBA Journal Rising Stars award, in association with Origin, we asked some of the judges about pivot points in their careers. We also asked them to touch on some of the issues that 2018's Rising Stars told us concerned them: routes into the profession, diversity, collaboration, social awareness and mental health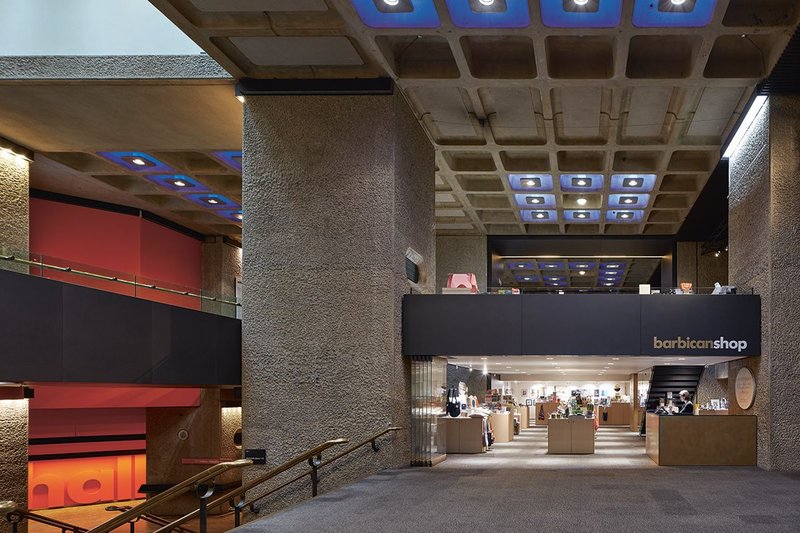 The Barbican shop which AHMM's Peter Morris worked on with his long term clients at the Barbican arts centre in London, alongside his role as managing director.

Credit: Rob Parrish
Peter Morris, founding partner and managing director, AHMM
The milestones in Morris' career are intimately connected to those of the practice he founded with three friends from architecture school. The way AHMM works as a practice – individual responsibilities in a collective endeavour – was set up in their fifth year of study.
Morris' first major project as a business owner was an unglamorous extension and refurb for some barristers. It taught him a huge amount about contract administration and working with contractors. 'The stakes felt incredibly high,' he says. But he came out unscathed. 'It was a job well done,' he is happy to say, but it was also messy – not one to publish.
Walsall Bus Station at £4 million felt like a step change, a punt by the Midlands client on a young firm, technically complex, a tight budget for a tricky client on a new building type for the practice. He found himself 'dealing with really difficult people – basically bullies'. It was a new thing learning how to recognise this as a problem and deal with it.
'It was very stressful,' Morris admits. 'I felt very very under pressure.' His main strategy for dealing with that was to turn to his three partners. 'We are very supportive of each other. Sometimes you need to vent, share, get advice.' He sees the complex nature of architecture making stress almost inevitable: 'Waking up in the middle of the night with a cold sweat is difficult to avoid.' But he has been lucky with his partners and wants others in the business to feel that too.
Putting support structures in place has become one of his responsibilities as managing director of this firm, which is now 500-strong. Like the size of the practice this job crept up on him to some extent. It is all about doing things you are good at and might enjoy, he explains. 'At the start when we did a business plan I was the only one who knew how to use Excel… it is about recognising what your strengths are.' In the mid 2000s he took a course at Cranfield on growing your business and that formalised his role. 'It is important for us to be in control of the business.' And this too is a design job in his eyes. Running projects is a small part of his role now, though he has continued to work with some clients such as the Barbican. Here the major projects might be over but little ones – such as the shop – continue.
Morris might like to do more projects, but his role allows him to address other things with his team – like education and access to a career in architecture not just for those with connections. Also flexible working, the gender pay gap and gender representation at all levels of practice, and environmental and community initiatives. And his hand on the finance and the strategic direction of AHMM seems to have paid off for the practice.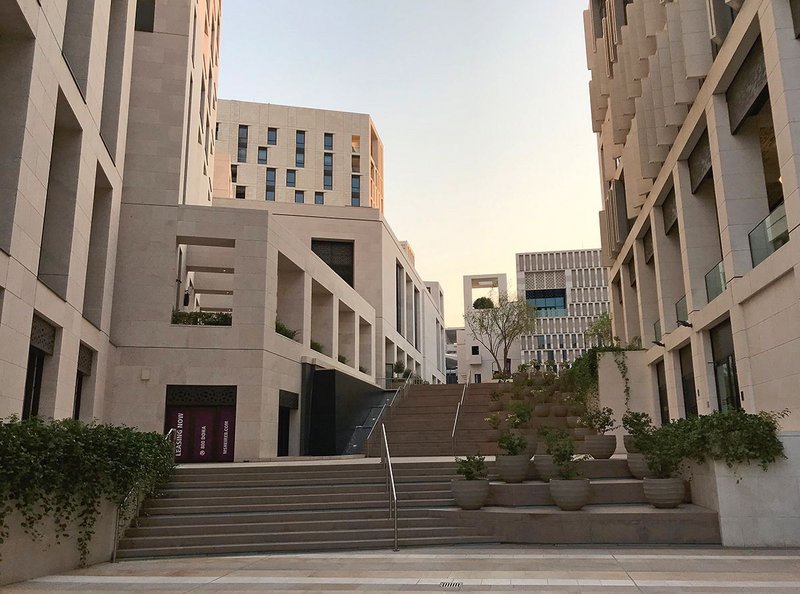 Mshereib Downtown Doha Project in Qatar was all about co-ordination and people, says Buro Happold's Sarah Prichard.

Credit: Buro Happold
Sarah Prichard, UK managing director, Buro Happold
Sarah Prichard intended to be a historian. At school in Ireland she did maths, physics, applied mechanics and history. But she plumped for engineering – for its creativity and ability to make an impact. 'I can always read history in the evening,' she consoles herself.
She went straight into Buro Happold from university. As a woman in a company of engineers in the 1990s she admits she was unusual. But it didn't seem to matter. 'I didn't notice it affecting my career moves or working on exciting projects,' she says. That might be down to some encouraging leaders.
But she also got to work on exciting projects because of the field she specialised in – vibrations and dynamics. 'I specialised because someone left and I had a PhD in material science,' she says, 'though I never felt I got an easy project'. She was always having to challenge architectural layouts and tell clients they couldn't have things – that the microscope couldn't cope with the shake of footfall for example. 'It was hard talking about things that people couldn't perceive.' But she liked really complex projects and getting people to understand technical implications.
She points to a couple of projects that taught her a huge amount. One was taking over a small school in Dorset where she had to sort out a buildability issue; working out what had gone wrong and the decisions that led to it taught her about rectifying mistakes. Battle scars make you a better person and manager she says. A strong collaboration with architect Bblur on Slough Bus Station involved working out what was possible when holding up the wavy form of a diagrid.
She did a three year stint in Qatar, leading on significant site works for 25 of the buildings on the Mshereib Downtown Doha Project. And her promotion within the practice accelerated. She came back to the UK to lead the firm's largest engineering group in 2015. A company restructure consolidated all those engineering departments into a single group and shot her in to head it, with 625 staff from 75. That expanded to engineering and operations and in 2018 she became managing director. 'It was all quite fast,' she comments.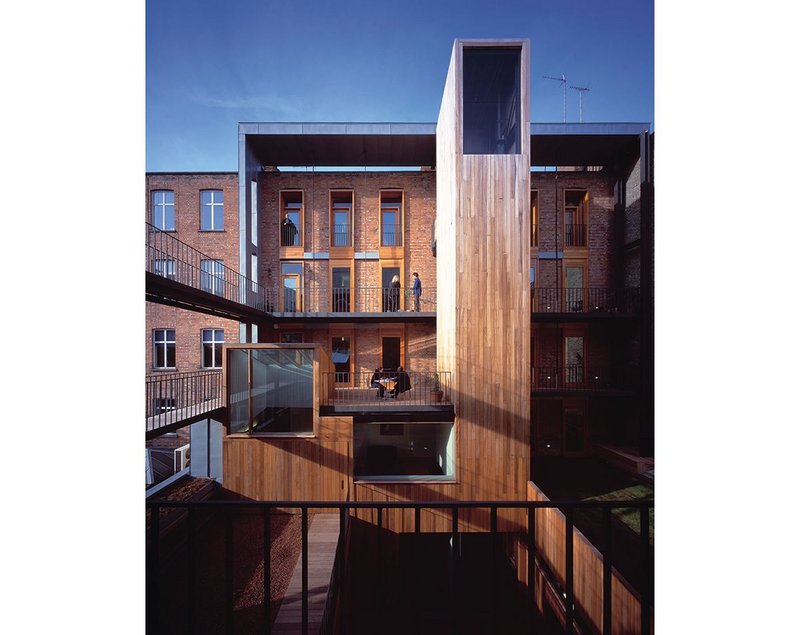 First 'real' project for Simon Henley, offices for Talkback in central London.

Credit: Nick Kane
Simon Henley, principal, Henley Halebrown
Finishing architecture school in the 90s recession left Simon Henley with little choice in his mind. He sent off CVs but no decent jobs were forthcoming. 'It felt like good jobs with good architects were just not there,' he says. And clients at the practice where he was working were offering some small jobs on the side, so there was an opportunity.
There were many interior jobs in the first few years but it was on offices for TV production company Talkback that he felt he and the practice were getting into the real stuff of architecture: history, climate, materials. 'It felt it did justice to what it might be like working in the future, while learning from the past.' And this was recognised with an RIBA Award and the cover of Architectural Review.
As one of four partners originally (now he is one of two), there were lots of hands to take on work. He taught and later wrote. He found writing on other people's work easier than his own. He pitched a book on car parks to a major publisher and found himself writing on how the typology had been a testing ground for avant garde architectural ideas. Invited to write on brutalism, he concluded that it emerged from a time of compassion. 'Now we legislate for diversity but are less generous and democratic than in the past.' He asserts that the social value buildings deliver is as objects that are 'empathetic' and work for people – not the employment or engagement that is more typically measured.
His career, and the firm's progress, has been in incremental stages. 'We don't do many competitions. We don't really hold our breath and stop and see, it is through dialogue with people.' Chadwick Hall, last year shortlisted for the RIBA Stirling Prize, showed how such discussions could make for significantly better design, there on the unloved typology of student housing.
Henley sees success in the small things. 'We are often talking about the efficiency of buildings, the net to gross, and I like arguing for very little internal, and plenty of external, circulation.' He is doing so on a primary school project, arranged around a courtyard with covered walkways: 'More teaching space and lovely spaces and connections for the children every day.'
---
Peter Morris, Sarah Prichard and Simon Henley will be joined as judges for RIBA Journal Rising Stars 2019 by Louise Wyman, director of design development for the West Midlands Combined Authority, last year's Rising Star Kieren Majhail of BDP and RIBAJ executive editor Eleanor Young
---
RIBAJ Rising Stars, in association with Origin, recognises outstanding members of the up and coming generation of architects. Enter now by clicking here