With building and buildings producing 39% of global carbon emissions, construction must take the next step and design for environmental restoration and regeneration, says RIBAJ Rising Star Scott McAulay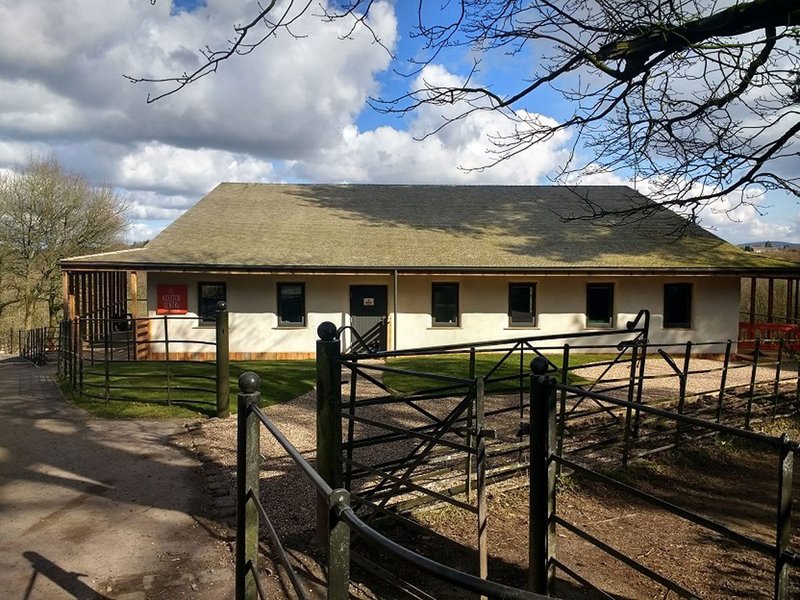 Cuerden Valley Visitor Centre, by Straw Works, is the first UK Living Building.

Credit: Straw Works
We live at a time of overlapping crises, rooted in systemic injustice. The Climate Emergency has been the lived experience of millions of people for decades: disproportionately affecting the most vulnerable, and those the least responsible for climate breakdown. Every year lost to inaction reduces our timeframe to remain below the 1.5°C global heating threshold by 2 years (IPCC, 2018), so at this moment, every fraction of a degree counts and the need for climate justice-led action cannot be overstated. We must not shy away from these realities.
Naomi Klein sets the scene in powerful and unforgettable phrasing in her book On Fire – The Burning Case for a Green New Deal: 'It just so happens that we are all alive at the last possible moment when changing course can mean saving lives – on a truly, unimaginable scale… we need every action possible to bring down emissions and we need them now.'
Buildings and the construction industry are behind a great deal of environmental harm, contributing 39% of global greenhouse gas emissions (UKGBC, 2019), and exacerbating the climate impacts and injustices of extractive activities like sand mining. Business as usual cannot continue. Those shaping these interventions in the Earth's landscapes have both the opportunity and responsibility to reset what is normal in construction, and to do much more than simply reduce ecological harm.
If actions speak louder than words, then – aside from exemplar pockets of inspiration, labours of love, perseverance and struggle dotted across the architectural landscape – the inertia since 2018's IPCC Report, has been deafening. The 'unprecedented societal transformation' that the report called for is simply not taking place fast enough.
In the UK, 81% of people agree climate change to be a global emergency (United Nations, 2021), but the Committee on Climate Change's most recent report identified a widening gap here between what is needed from the government in terms of climate adaptation and what is happening. The committee says the UK is less prepared now than it was when assessed five years ago. In such circumstances, it is no longer provocative to note either architecture's complicity in the climate crisis or the economic system of infinite-growth-on-a-finite-planet-addiction that exacerbates climate breakdown. Due to its scale and the necessity of its creation and upkeep, the built environment possesses vast potential to be a force for environmental good: should it be designed regeneratively, especially if built from low carbon or carbon sequestering materials.
From 'sustainable' to regenerative design
The scale of damage to the Earth is already so vast that it is no longer enough simply to design 'sustainable' buildings; we need to go far beyond this and create conditions conducive for the design and delivery of buildings that heal our landscapes. We must do more than continue to apply sustainability as an afterthought or damage control, more than keep to a damaging legal minimum or aim for – even sometimes offset towards – 'zero'. What is necessary is to reimagine and redesign buildings in ways that each becomes an opportunity for environmental restoration and complementary co-existence with nature.
Today, should we design 'to code' as building regulations stand, we are not designing buildings fit for a future of worsening climate breakdown – homes especially. We must urgently reimagine the application of sustainability in architecture and take actions of an appropriate magnitude: to create conditions – societally, professionally, and politically, for going above and beyond zero for the sake of current and future generations, whether that be in the capacity of an architect, an activist, or as another catalyst altogether.
A story from beyond zero
If we are to begin designing regeneratively we need a redesign and rethink of our design processes. We must create space for exploration, reflection, and to nourish feedback loops of learning – even the most experienced architect should upskill. To design in such a way as to not exacerbate the climate crisis we need to first cultivate our climate literacy: a pragmatic understanding of how climate change affects buildings, the ecological and social impact of buildings, and the opportunities they present to generate positive impacts. Thankfully, we are not beginning from scratch – frameworks to catalyse the design and development of such processes already exist, as do embodiments of these principles.
One such standard for catalysing regenerative buildings is the Living Building Challenge, itself based on the extended metaphor of a flower. It comprises seven areas of ambitious performance, or 'petals': place, water, energy, health and happiness, materials, equity and beauty. Each petal is composed of non-negotiable 'imperatives', that must be measured and verified for a full year before certification. The LBC envisions each project as a pioneer species in its locality, demonstrating the positivity buildings are capable of – each is a learning resource and a story of the regeneratively possible.
The Cuerden Valley Visitor Centre is one such story. Built of natural materials around a hybrid-strawbale construction system, it is the UK's first certified Living Building: designed and built by Straw Works to be net positive in both energy and water use, and involving courses run by the School of Natural Building in its construction. Now that it exists, Living Buildings in the UK can no longer be called impossible.
This is but one example and story of regenerative design, and there are many others around the world. It is time we began to use them as platforms from which we can learn, making sure to pass the mic to those bringing such buildings into reality; we must end the cognitive apartheid around building technologies, climate, and sustainability solutions which, as Decolonise Architecture has identified, begins in education. The architecture of the anthropocene must become one of complementary co-existence with nature and healing: transforming past narratives of separation and architectural complicity. Continuing with business as usual – as if our momentary insulation from the climate emergency insulates us from responsibility for action – is incompatible with climate and intergenerational justice.
---
Scott McAulay is a RIBAJ Rising Star 2020 and founder of the Anthropocene Architecture School. Do you have what it takes to be a Rising Star or would like to nominate someone you know? This year's Rising Stars competition is now open. Deadline 2pm 6 September