Today's eyesore could become tomorrow's architectural classic. Sadly the Marble Arch Mound never got the chance to redeem itself, writes RIBAJ Rising Star Hiba Alobaydi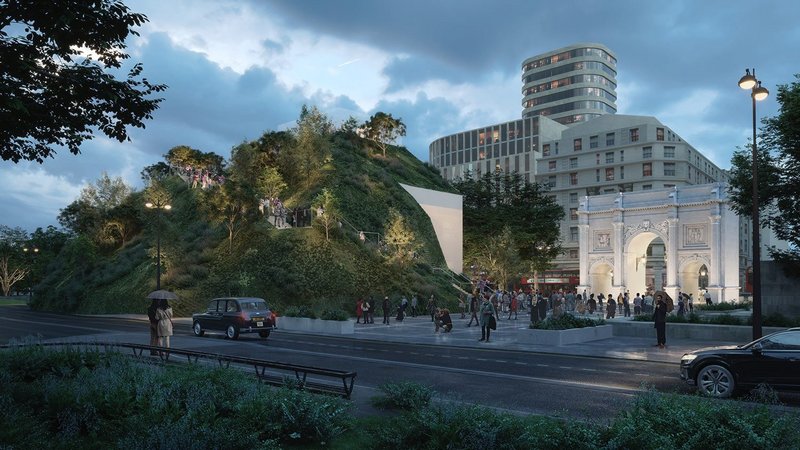 MVRDV's Marble Arch Mound render as it was supposed to look.

Credit: MVRDV
Throughout history, humanity's innate bloodlust has manifested itself in countless forms, often under the palatable guise of entertainment – from the gladiatorial contests of Ancient Rome to the guillotine spectacles during the French Revolution. While its latest incarnation, 'cancel culture', marks a noticeably less gory rebrand, make no mistake, the public are still out for blood.
For those unfamiliar with the phenomenon, cancel culture is a phrase that refers to the practice of ostracising a person, place, object … or even a mound. Last summer's debacle with MVRDV's now-infamous urban landscape project, the Marble Arch Mound, saw the Dutch architecture and urban design practice face the full wrath of the internet.
The ensuing fallout, symptomatic of architecture and design's ongoing flirtation with cancel culture, was a stark reminder that architects and designers find themselves at the mercy of public opinion more than ever before. Fuelled by social media, a kind of warped architectural Darwinism has emerged; a survival of the fad-est, if you will.
But if the Marble Arch Mound fiasco taught us anything it's that public opinion is a somewhat fickle beast. Seemingly, it only takes a wayward meme or two to take a year's worth of work, countless working hours and a six-million-pound budget and turn it into a joke.
Time heals all wounds; even those dealt by a capricious jibe. But cancel culture deals the most fatal of blows, one that even time cannot remedy, through the outright erasure, or cancellation, of so-called 'bad' architecture and urbanism. Unanimous animosity to the nth degree at the behest of a virulent groupthink mentality.
On 1 April 2022, an article was circulated online, in jest, stating that the Marble Arch Mound was to be given a new lease of life at Buckingham Palace, in time for the Queen's Platinum Jubilee celebrations. The power of redemption reduced to no more than an April Fool's farce.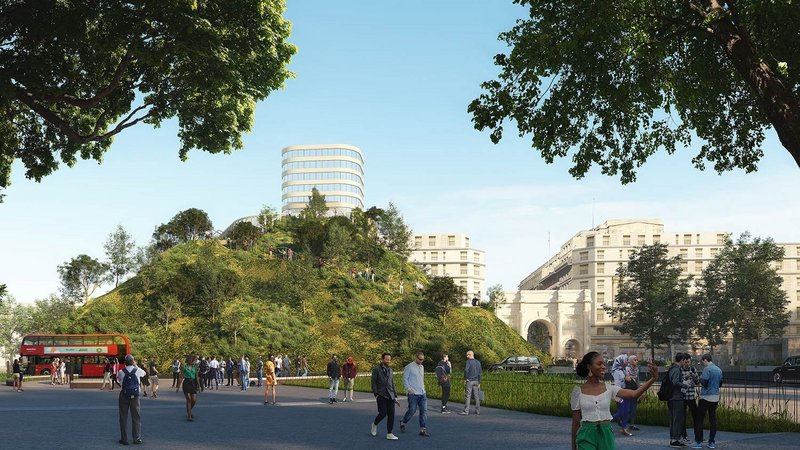 Luscious and green in the renders - MVRDV's Marble Arch Mound.

Credit: MVRDV
There are, indeed, a great number of examples of architecture and urban design projects that were initially not well received but for which an appreciation grew over time or following alterations. So, why is it beyond the realms of possibility that the same could occur with the Marble Arch Mound? Many Parisians, for example, considered the Eiffel Tower an eyesore when it first opened before it was later accepted, or reinterpreted, as an architectural icon. We would do well to remember that not all cult classics of architecture and urbanism were necessarily deemed so by their contemporaries.
Comparisons between the Marble Arch Mound and the Eiffel Tower, while far-fetched, are necessitated by the continued Instagramification of the industry. At present, one structure is perceived as a pariah, the other a paragon. Although both began their lives as outcasts, only one survived long enough to witness its redemption. But perhaps a more comparable case in point is called for.
Over the course of his extensive career, prominent 18th century landscape architect Lancelot Brown, more commonly known as Capability Brown, faced his fair share of criticisms. In the 1841 book A Treatise on the Theory and Practice of Landscape Gardening, critic Uvedale Price likened Brown's clump of trees to 'so many puddings turned out of one common mould'. You can almost picture the meme now can't you? Yet, today he is revered as Britain's most famous landscape designer and his projects, including Wrest Park, Blenheim Palace and Hampton Court, are considered national treasures.
Is the Marble Arch Mound a marvel of urban landscape design? No. However, I object to the circumstances of its unceremonious dismantlement. Brown and his projects were given something MVDRV's Marble Arch Mound was not: the benefit of the doubt. As a victim of the times, the mound should be heeded for the cautionary tale it is as opposed to the architectural anecdote it has been designated.
It is difficult to say how much damage the mound did to MVRDV's reputation. Yet, it did enough to warrant a direct response from the firm via a blog-like apologia published on 28 January, which makes the project's closure earlier that same month, that much more cutting.
Aptly titled Learning from Marble Arch Mound: A Premature Opening and an Execution Lacking in Love (Our Side of the Story), the account sheds some light on the unfortunate circumstances that led to the project's doomed opening. Here are a couple of standout lines:
'Throughout this media storm, we adhered to WCC's [Westminster City Council's] request to remain silent because they assured us the hill would be restored, replanted, and improved.'
'Though we never expected the mound to fully overcome its poor first impressions, we hoped the project could find a modicum of redemption …'
Now, thanks to the current unforgiving nature of the industry, those hopes have been dashed indefinitely. Perhaps the time has come to temper our unrelenting pursuit of perfection with patience as opposed to the perpetual indulgence of our most sanguinary of tendencies. If we don't, who knows which project will be next on the cancelling block.
Hiba Alobaydi is assistant editor at Fosters + Partners and a RIBAJ Rising Star 2021. RIBAJ Rising Stars 2022's edition is now open for entries and nominations.