Dedicated to development of communities through the elevation of young people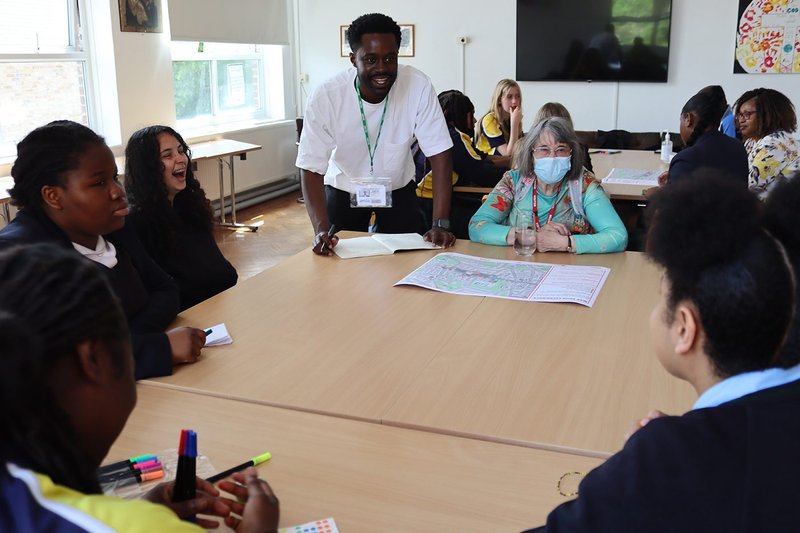 Co-founder of POoR (Power Out of Restriction) Collective Part 1: 2015 Part 2: 2019
Larry Botchway's own experiences of discomfort during his architectural career have fuelled his mission to platform and champion young people, most notably through POoR Collective, which recently won the Emerging Design Medal at the London Design Festival 2023.
'My experience was very different to most of my peers,' he says. 'I grew up on a council estate to migrant parents and I hadn't met an architect until we started the course. However I grew to learn that my perspective and many others like mine were just as valuable but weren't being heard in the industry.'
He co-founded POoR Collective in 2019, combining his work there with his role as an architect at We Made That, where he leads on social engagement.
POoR seeks to help young people recognise their agency to shape their built environment and give them the opportunity to do so, whether through co-design projects or meaningful internships.
A recent initiative in Bexleyheath addressed tensions between schoolchildren in the town centre and elderly residents. POor organised intergenerational workshops and co-designed a number of wayfinding and public realm initiatives. Another project, Bringing Home to the Unknown, created a pavilion in Regent's Park with teenagers from Mayesbrook Park School in Becontree.
Students were first taught how to draw plans and perspectives. 'It's important to be able to represent your ideas,' Botchway says.
He also makes school visits to promote architecture as a career. 'I want people to meet an architect and see it's an option,' he says.
POoR aspires to design a building. A dream project would be to co-design a youth building with young people, says Botchway, who benefited from youth clubs when he was young, and regrets the closure of so many due to austerity funding cuts.
Judges were inspired by his dedication to both promoting inclusivity in the profession and meaningful co-design engagement.
'He is so passionate about community engagement and is a fantastic role model for those who don't always see themselves represented in architecture,' said Betty Owoo.
Judge Nick Hayhurst added: 'He seems to have his finger on the pulse. He is interested in co-design, engagement, empowerment and entrepreneurialism, and setting up initiatives to make these things happen. Brilliant.
What piece of architecture or placemaking do you most admire?
I believe architecture is most successful when it clearly benefits the general public. One of my favourite examples is the Mitcham McDonald's. It has now been closed for many years, but I enjoyed how the building functioned similarly to a civic square. It was the designated meeting space for people of all ages, and a warm, welcoming space that could be accessed for free. Its presence in the town centre activated the public realm.
See more RIBA Journal Rising Stars