Knowing you don't know everything, learning from others' expertise and building on collective input keeps youthful belief alive, says Alex Scott-Whitby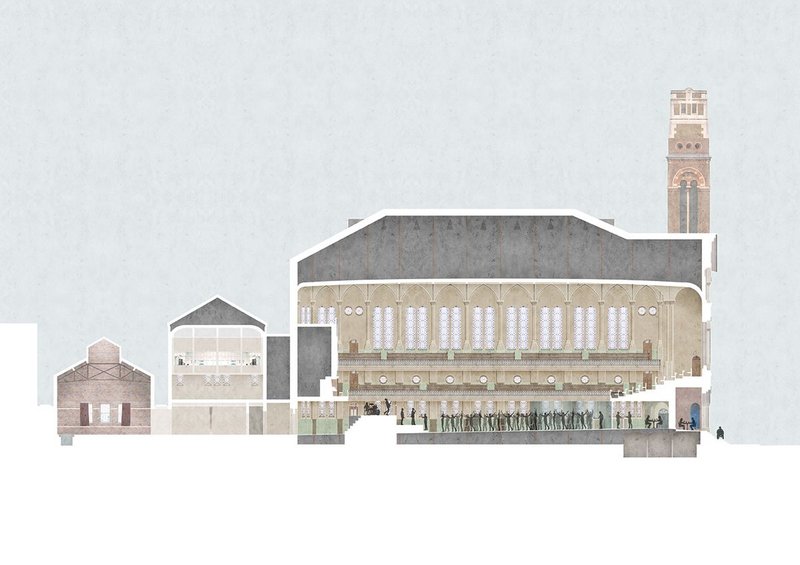 Westminster Chapel - inhabited section.
There is an energy about undergraduate architecture students. They can burn candles at both ends, design audaciously (with any luck) and pick themselves up from volumes of critique to carry the optimism and belief that they conquer all and can use their new skills to change the world for the better. I felt like this and I'm pretty sure I'm describing many of my students as they leave my charge and head out into the world of practice. It was only when I started working and teaching that the realities and limits to my competence became clear. The real world was not quite as easy as we thought it would be in architecture school. Finding that elusive client who would fully fund a cultural centre on the Tyne with unlimited budget and no timescales to construct seemed almost an entitlement. I was unconsciously incompetent when I was at university, or so says my psychologist wife. In short, I had no idea what I didn't know. Following a few anxious bolts through the heart on going into practice, I became consciously incompetent; to put it in plain speak now, I know what I don't know and I work out ways to address this.
My practice is three years old and we remain consciously incompetent, which we embrace. Being consciously incompetent means we look harder for answers and we always ask questions, listening and learning from clients, consultants and those around us with more experience and wisdom. That wisdom is so achingly important for a profession; at its best it transcends time, dealing with the clients of today and societies of tomorrow. It relies on those mistakes and lessons learned the hard way, nuanced and considered through the lens of experience. Wisdom is a thing that in this world, at this time, is woefully under valued, but is also most needed.
We have been lucky to have been graced by a number of older and wiser heads; being consciously incompetent we sought them out. These are the people who have helped us see through design mazes, scour technical precipices and helped me to learn the nuances of practice management as we have grown in size and our projects have become more complex. They have taught us to be unknowing and curious so we have the freedom to learn from clients and communities. Engaging in a creative process of listening fits with this model where expertise comes out of a shared adventure with our clients. Working on the design of a new public space in Winchester, we did not put pen to paper until we had engaged with the city's many different communities to hold in mind multiple perspectives in the design. We are now working on the refurbishment of a 2000-seat chapel in Westminster, where we are immersing ourselves within the congregation to better understand the use of this sacred space by people from all ages and walks of life.
It can be scary remaining consciously incompetent but there are wondrous delights to be found by looking at the world through this lens. We are guided by those who offer safe passage through the turbulent waters of the design process and fill our sails when we are becalmed in the creative and technical doldrums. Our wise guides know what they know and their expertise is effortless. They are consciously and unconsciously competent, they have seen every threshold detail – and have been sued more times than they care to remember! But their wisdom – and importantly their incredible ability – to share it enables us to work on projects that range from a travelling cinema in a shipping container, to a homeless shelter in London; from a palace in Riyadh to a church in Westminster – and still stay true to that time when we all believed in the potential of architecture to make things better.
Thank you for your wisdom Ronnie, Virginia and Roger: without you I would not be writing this.
---
Alex Scott-Whitby is one of the RIBA Journal's Rising Stars 2016. He is director of the ScottWhitbyStudio and senior lecturer at the University of East London.
RIBAJ Rising Stars is a scheme to reward up and coming construction professionals: To nominate someone or put yourself forward for RIBAJ Rising Stars 2017 click here before 12 September 2017