The role of exercise in maintaining mental and physical wellbeing has come to the fore during the lockdown. Architects can foster this enhanced awareness by designing facilities that invite, not intimidate says former Team GB member and RIBAJ Rising Star Felicity Meares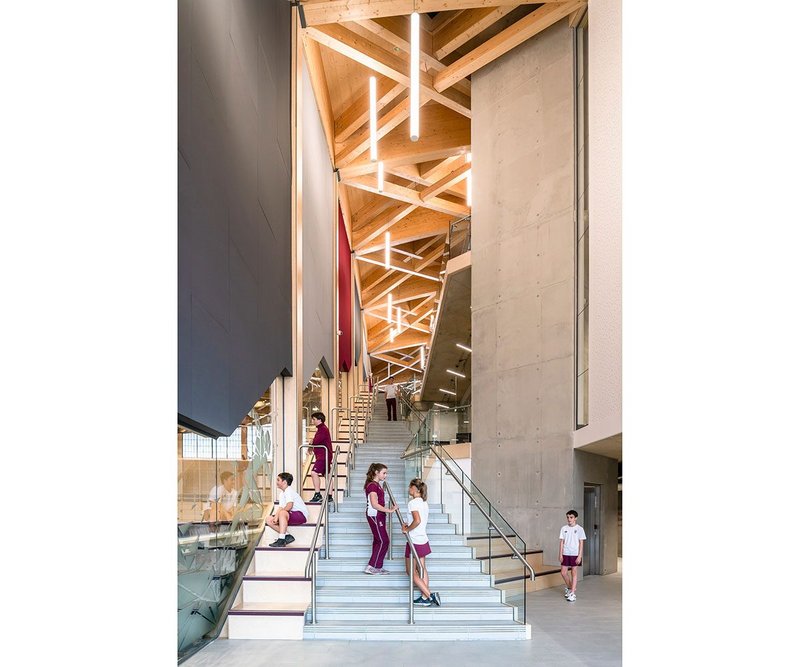 Inside St George's Activity Centre.

Credit: Hundven-Clements Photography
The Covid-19 pandemic has emphasised the need for people to consider their lifestyles and attitudes to health, fitness and wellbeing; government advice to take one form of exercise a day has helped to reinforce this.
Physical inactivity contributes to many illnesses worldwide. Being active not only improves strength and balance, circulation, cardiovascular and self-esteem, but as we are all finding, it can benefit mental health by helping to reduce stress, anxiety and depression, and regulating the sleep cycle, while on a general level it can aid the development of social skills and reduce isolation.
Sport and exercise should not just be for confident, elite team players. When we emerge from this pandemic we need to ensure we are providing sports environments that encourage everyone, including the less able, pregnant, shy or 'not sporty types' who might find competitive sport initially intimidating. So while we sit working from home, we need to ask what role we can play in engaging more of the population in a lifelong happy relationship with physical activity.
Let's talk about the problem. According to the British Heart Foundation's 2017 Physical Inactivity and Sedentary Behaviour Report, more than 20 million people in the UK are 'physically inactive', putting them at risk of premature death. The government has categorised 25% of people aged 16 and over in England as 'physically inactive' – meaning that they do less than 30 minutes of moderate intensity physical activity a week. Women are more likely to be physically inactive than men. These days the young (and old) are glued to technology and screens.
Can design inspire children and adults to get active and improve their mental health and wellbeing? I believe that attitudes to sport and physical activity are often shaped by childhood experiences. At my school PE lessons were dreaded; we had shabby changing rooms, cold sports halls, dark hallways and icy communal showers. For a girl, it wasn't 'cool' to join in with sport. I was lucky; my parents taught me a love of the outdoors – trail running, cycling and open water swimming. As a teenager I trained and competed for the Great British Kayak team where I learnt discipline, camaraderie, respect and hard work, and I gained self-confidence. I believe in the power of sport to change lives.
Attractive, accessible environments will improve engagement in physical activity and elicit positive reactions and memories. It is important that we as designers, clients and construction teams take on the responsibility for creating them. The three essential components to inspiring people are:
Connectivity and flow
This is about accessibility in the traditional form, ie level thresholds, lifts and visual contrast, and stair use should be encouraged. Position the staircase at the heart of the building, in a prominent position, and make it attractive.
Clarity of movement is important. This can derive from a simple orientation and building layout so everyone can see how to get from A to B; there should be no need for dark, winding corridors.
At the recently completed St George's College Activity Centre in Weybridge, Surrey, Scott Brownrigg was able to use the new building to bridge the 8m level change across the campus, reconnecting the school and the underused athletics track. The main staircase, based on the design of Wells Cathedral, winds its way up through the building, providing vistas into all the activity spaces.
Overcoming fear
How do we design to encourage less confident people? It is fundamental that we design out fear. This can be done through openness and transparency.
Openness offers the opportunity to engage; when everything is visible, people become aware of different sporting options available to them. Provision of multi-sport is essential, and it is important to design spaces that offer the viewer layers of engagement from which to observe a range of team and individual sports and activities.
Case study
At St George's College Activity Centre we included the ASB Glass Floor in the sports hall, a new product where LED court lines light up from below a sprung glass surface at the click of a button. Unlike painted floor lines which overlap into an indistinguishable mess, this system offers a clarity which helps with visual impairment. High-level play requires that there be no confusion of play lines, and it is a benefit when teaching new sports too. This is an example of how technology and advancements in materials can help achieve an inspiring, inclusive environment.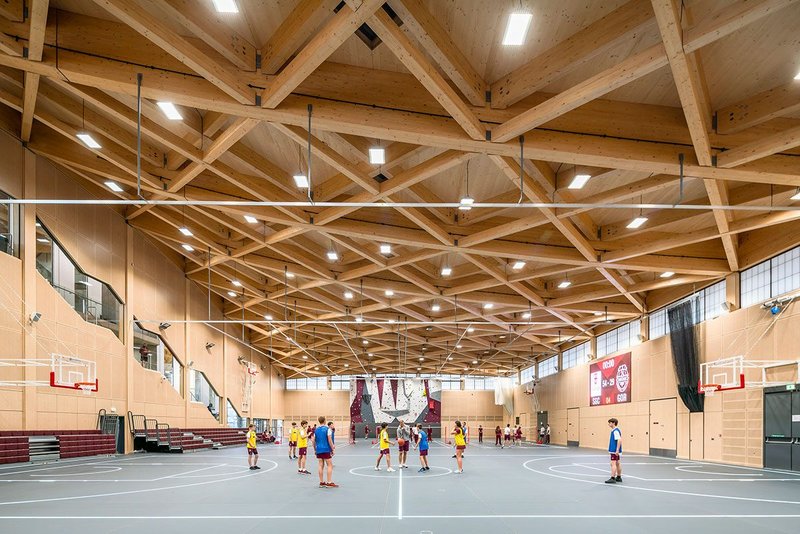 LED-lit glass sprung sports hall floor aids accessibility.

Credit: Hundven-Clements photography
Inspiring environments
If you walk into an aspirational building, it raises your spirits. Sports environments should be uplifting, places you want to go to, that make you feel good. This positive affirmation can transform the way people think and feel about physical activity.
We have a responsibility to create durable, quality structures that communities cherish; if we do this, these buildings will have long lives.
So it is vital that we design with the WELL building standard in mind. Natural daylight helps regulate the body and fresh, clean air is a critical component of our health; it is important to ensure good ventilation and high indoor air quality.
Using natural materials can also have a positive impact on wellbeing. At St George's College, for example, almost all the spaces have exposure to raw timber which provides a calming connection to nature and the surrounding woodland – reducing stress levels and improving concentration, happiness and productivity.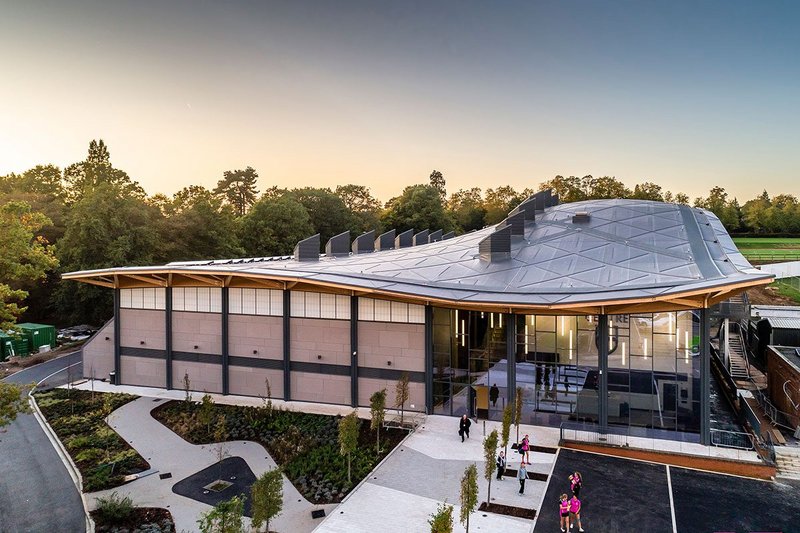 Exterior of Scott Brownrigg's St George's Activity Centre.

Credit: Hundven-Clements Photography
In summary, to create sports environments that inspire participation we should be designing simple, inviting buildings with good flow between activities and transparency between spaces to showcase multisport provision. This is key to engaging a wider audience and creating long-lasting aspirational environments that people will cherish for generations.
Felicity Meares is an associate at Scott Brownrigg and a RIBAJ Rising Star 2019