Having grown up in a compound house in Kenya, RIBAJ rising star Bushra Mohamed has researched the use of such multi-generational shared living throughout Africa, and argues that the building type is very relevant today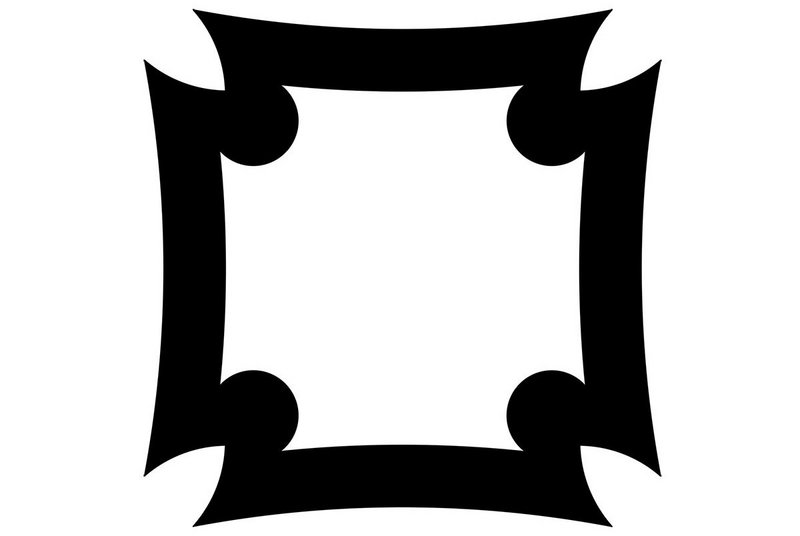 In Adrinka, a language derived from pattern and imagery by the Ghanaian ethnic Akan people, 'finhankra' is the symbol for safety, directly translating as 'compound' or 'house'. It represents a historic model of multigenerational housing found across the African continent, which I have been studying with my research partner Nana Biamah-Ofosu. We want to understand its architectural and cultural significance as well as its potential as a contemporary housing type that could answer many of today's most pressing societal needs.
'If provision of shelter is the passive function of the house, then its positive purpose is the creation of an environment best suited to the way of life of a people,' writes architect Amos Rapoport, who has written extensively on how culture, human behaviour and environment affect the house form.
A compound house comprises a series of rooms opening to a central open space, or a cluster of buildings or rooms, typically forming a defensive enclosure. They are primarily associated with a shared purpose, such as the houses of an extended family. Certain versions create a distinct central courtyard, while others are more amorphous. The compound is often enclosed by verandas, forming covered and sheltered walkways for moving around and through the compound. Both the open compound and veranda are communal spaces, used for access as well as activities such as customary, religious or festive ceremonies, cooking, laundry, playing and the safe keeping of animals at night. Typically, the open compound acts as the specific space in which inter-household relations and collective societal values are developed and nurtured.
Collectively these houses form a settlement's urban fabric, varying in density. Historically, the rooms were used for shelter and sleeping, but often also included granaries to store food, wells for water, and enclosures for cattle and livestock. In some early settlements, compounds would grow as required by the village or town, with four to six compounds per settlement and a total population anywhere between 100 and 300 people. This type has now developed to respond to the even denser needs of modern African cities such as Accra, Lagos and Nairobi.
These kinds of compound houses are ubiquitously found across the African continent. The diverse histories and cultures during the precolonial and colonial periods as well as current urban realities make it ineffective to generalise the African continent. However, the type does form a sort of continent-wide vernacular architecture, and historic examples can be found in parts of Ghana, Nigeria, Niger, Tunisia, Cameroon and Zimbabwe. As a type, the African compound house is also similar to Chinese Siheyuan houses, traditional Mexican pueblo houses and courtyard houses found in India.
Growing up in Kenya, I experienced compound houses viscerally. My home in Nyali – a borough of Mombasa – was my first experience of a compound house. I lived here with my immediate family as well as members of my extended family. The house had a fluid connection to the outdoors, and I constantly oscillated between being indoors and outdoors, whether playing in the compound, helping my grandmother pick jasmine flowers when she visited, watching my aunts make ugali, use a tinaar to make mofa breads, roast meat, fry chapati, steam the biryani, pound spices or wash the dishes.
I always felt connected to the other people in the house through this central space. Even when I wasn't outside, I could see my mother, father, uncles or guests coming in through the gate into this central space. On Fridays (al-juma'ah in Arabic meaning congregation), other members of our extended family, around 30 people in total, would gather there for lunch and afternoon prayers.
Another experience of the compound house was my grandmother's single-storey one in Eastleigh, a denser and poorer area of Nairobi. There was a bricolage mix of permanent and temporary shops around its front perimeter. Even though these shops felt completely separate to the house within the gate, they were part of the plot - the shop owners rented their spaces from my grandmother. My grandmother's house sat about 10m through the compound's front gate, seemingly in the centre of the plot with its plain stoic elevation. This was the main entrance to the house but it was not the one we used. Instead, we used the doorway at the rear, which we accessed via a thoroughfare at the side of the house which led to the open compound.
Surrounding this compound were more residential units with covered and apportioned verandas. My uncles lived in two of these houses, while the rest of the six or so units were let out to other small families or individuals. The central open compound was used all year round for hanging laundry and washing dishes. It was also where the communal toilets and bathrooms were sited. A few of the units had their own toilets and bathrooms but the rest of the tenants used the communal ones.
It was these early experiences that have since led me to research other compound houses and their communities, particularly examples found in Ghana –more than 6,000km from where I lived in Mombasa.
One such compound house is the Ejisu Besease Shrine House in Kumasi, central Ghana, now the country's second most populous city after Accra. The house is the home of an Asante deity and one of 10 shrine houses that make up the Ashanti traditional buildings listed by Unesco as a World Heritage Site in 1980. Formed of four rectangular rooms around a central courtyard, it is a typical example of a compound house found in the pre-colonial Asante kingdom.
These shrine houses were believed to host powerful deities that protected the kingdom and mediated communication between the people and the higher gods. Like many buildings of value, the structures were the result of the Asantes' desire to achieve harmony on earth with their creator. Hence, the compound and veranda in the shrine houses are adorned with Adrinka symbols as well as other ornamentation and are used for religious ceremonies.
The theme of cultural ritual is also present in the compound houses of northern Ghana. Here, the Lobi people – a tribe that spans Ghana, Burkina Faso and Côte d'Ivoire – traditionally build its houses using layers of laterite soil combined with water. The exterior is then decorated with patterns using a mixture of the laterite soil and crushed locust beans. The Lobi people build during the dry season from November to March, with construction works beginning after the Earth's custodian, Tindana, has performed the appropriate rituals on the chosen site by weeding and sweeping the space marked out by the compound owner for the building.
The swept site is then watered thoroughly and, after the men have completed the wall construction and built the roof (a collective effort by the clans), women plaster the inside and outside, lay and beat the floor and apply decorative finishes to the walls. Some tribes such as the Dogombas and Gonjas do not plaster their buildings and only apply decorations to the opening thresholds such as doors and windows.
While there are distinctions across the compound house type, defined by location, cultural and societal norms as well as traditions, there are elements that are common and recurring. These attributes – in particular the central compound space and the veranda – create a layered range of public, semi-public, semi-private and private space. This exposure to both public and private life within the home fosters a sense of civility. It is both a private domain and civic space and shows an example of the house as an institution. It represents the origin of the collective settlement type, yet few attempts have been made to evolve and develop this compound typology for a modern context.
However, I believe its potential as a housing type that encourages community, shared social and cultural values is very relevant today. In order to understand the value of the type, you must also understand the value of communal living. Mounting pressures from land prices in urban centres, a growing need for more supportive structures of care for the elderly and children, the resurgence of self-sufficiency in regard to home-cooking/growing food and now increased working from home as well as isolation during the pandemic, all point to the need for an awareness of housing types that contribute more than just shelter or economic gratification – something social and communal.
Bushra Mohamed is an architect at David Kohn Architects and RIBAJ Rising Star 2020.