Achievement cheered and the future toasted at the Rising Stars winners' party
It was only when the huge windows onto the perforated steel panels were swung open that the party cooled down. Up on the first floor of AHMM's White Collar Factory, amid the planks of boarded concrete, this year's 10 RIBAJ Rising Stars were celebrated for their achievements and their potential. In the room were supporters, bosses, loved ones and future friends. The evening kicked off with presentations to each of the Rising Stars with much waving of certificates.
Partner Ben Brocklesby of Origin Doors and Windows hinted at the sneaking fears that all awards must suffer from in their second year – that the best candidates were put forward in the first year and the second would never match up. Would it be more Grease 2 than Empire Strikes Back? But we need have no such worries, those from this year's cohort are already making their mark on the worlds of culture, housing, digital innovation and community design.
The second part of the evening looked at some different paths through architecture with an interview with Mary Duggan, who was co-director of Duggan Morris before setting up Mary Duggan Architects last year, and John Nordon. Nordon worked with Kathryn Findlay, then in his own and larger practices and took his current role as design director of PegasusLife because he wanted to get back to working on buildings closer to the user. But he also likes change. 'You need to reinvent yourself every five years,' he said.
How do you find what you are good at? This is something of a mystery. But for Nordon what he wasn't good at was clearer. And he also knew he wasn't going to work at it – CAD. An honest approach about this with bosses stood him in good stead, instead he found himself trying to get the best out of those around him. Duggan admitted that for her it took a long time to work out; and involved a lot of trying things nerve-wrackingly out of her comfort zone.
Rising Star 2016 Alex Scott-Whitby sought advice for 17 year olds thinking of becoming architects – he had just spent two days in Manchester speaking to this very group. 'Don't expect to just be designing all the time,' was Duggan's warning – saying how she wanted the balance of practice skills to be better embedded in architectural education. And perhaps it would also allow younger architects to fully take advantage of being in a supportive larger practice environment rather than rushing into setting up on their own.
Our Rising Stars are all changing the world – or at least conversations beyond their projects. So it seemed fitting to ask what impact Nordon and Duggan thought architects could have.
One little revelation: a change to the way someone sees something, thought Nordon, is miraculously possible – although you might never know. And how? Duggan paused – 'You need the right client; we might have to embrace!'. And so they did. A fittingly collaborative counterpoint for this party, as the real partying started to heat up.
So congratulations to the Rising Stars 2017 cohort: Tumpa Fellows (Mannan Foundation and Proctor & Matthews), Anna Howell (JTP), Arthur Mamou-Mani (Mamou-Mani), Ben Ridley (Architecture for London), Paul Ruff (Ruff Architects), Angharad Palmer (Pocket Living), Declan Sharkey (Populous), Matthew Wilkinson (AL_A), Úna Breathnach-Hifearnáin and Nathalie Baxter (FaulknerBrowns).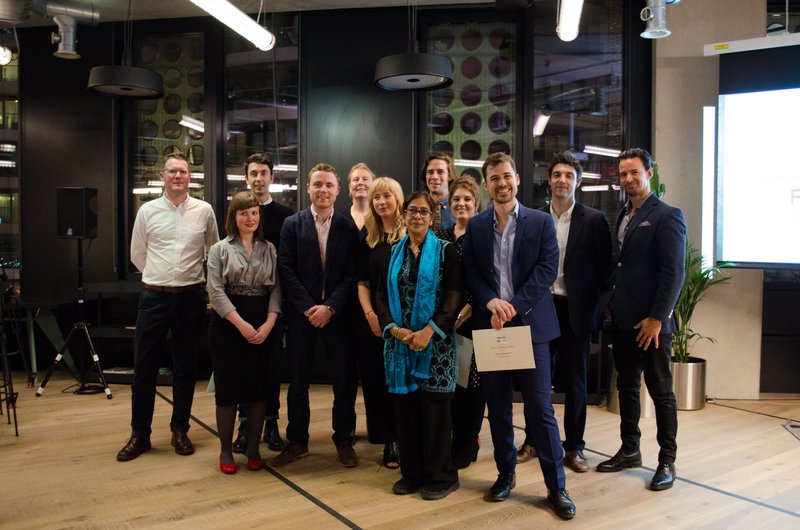 From left, back row: Marcus Adams standing in for Anna Howell, Ben Ridley, Eleanor Young, Matthew Wilkinson, Paul Ruff, Ben Brocklesby, Úna Breathnach-Hifearnáin, Declan Sharkey, Angharad Palmer, Razia Begum Mannan representing her daughter Tumpa Husna Yasmin-Fellows, Nathalie Baxter and Arthur Mamou-Mani.

Credit: Alexandra Kiss