Re-imagining Belfast as a post-troubles, connected city is an uphill task, but new initiatives mean change is in the air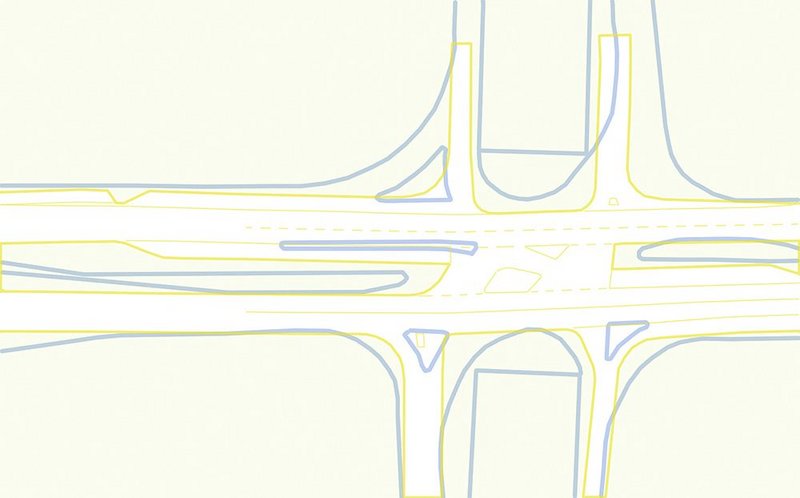 The lines that would have to be redrawn to make it work (blue for existing kerbs, yellow for proposed).
'A seagull flying over the Titanic Quarter,' says Mark Hackett. 'That is the only three-dimensional drawing over 12 volumes of paper.' Hackett is an architect, previously of award-winning Hackett Hall McKnight, who now runs Forum for Alternative Belfast which is at the forefront of re-imagining the city. It is advocate, ginger group and project office in one small community interest company. Hackett is describing the Belfast Metropolitan Area Plan and clearly has very little faith in Northern Ireland's planning system, especially BMAP. 'It's merely a land-use plan, it has very little vision or tie to regeneration. It could be ignored and redone by Belfast City Council as new planning process and spatial plans get going and we hope it will. It is not seen by anyone as a solution that would drive change.'

Planning in Northern Ireland is a system apart. 'There are no city planners,' Hackett explains, and planning control resides not locally but with the Northern Ireland Assembly at Stormont. Efforts in 2006 to reform the system and devolve it to a more local level got caught up in the fraught question of local government organisation as the Assembly was reconstituted in 2007. Under debate was the very number of councils so they could certainly not have taken on planning powers in 2009 as had been planned. At the bigger scale that meant the strategy concentrated on metropolitan area level (and BMAP has existed in draft form since November 2004) but struggled to deal with the city itself, its neighbourhoods or even the continued issues of its core.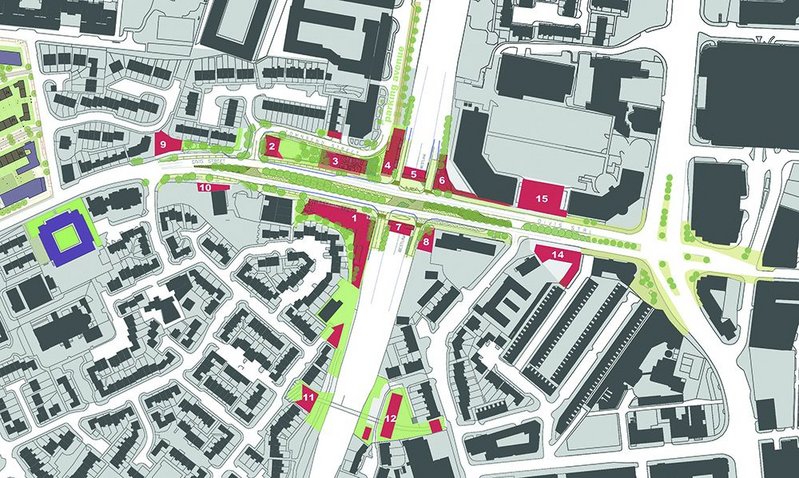 The possible sites of new buildings.
This could be about to change. Planning powers are to be devolved to the city of Belfast in the next two years and the city council is leading the way in Northern Ireland in taking them on. It is already showing leadership with its packaging up of various initiatives in a £233m, three-year investment plan announced earlier this year, most dedicated to capital projects or 'city regeneration'. But it has left a huge deficit in the spatial planning of the city says Hackett. He says its extensive housing renewal programmes of the seventies and eighties have bequeathed hard, inward looking, disconnected, low density housing. It encircles the city and adds to the effect of the numerous interface barriers (also known as peace walls). This has hardened the 'massive social divide' between the affluent classes that have left the centre and the communities left behind. In the last 35 years the population has dropped by 35%. 'There has been a outflux with metropolitan areas – Lisburn and Bangor – competing with Belfast,' says Hackett. 'A sense of entitlement to drive everywhere' means car use has cemented the disconnections of the housing renewals and, of course, the Troubles that have made Belfast a defensive and divided city. Hackett talks eloquently about his high risk, slip road-busting daily walk to work from North Belfast, an 'intimidating' experience even as a 'hardened pedestrian'.
'The map covered an area inhabited by 32,000 people. But just half of those patches of land could potentially house 50,000 people; more than doubling the population of central Belfast and restitching the city centre'
One intention of the Forum for Belfast is to come up with stitching plans. But first it had to show the city that it had a problem. Drawing together professionals and students from around the city in a joint summer school, one of the forum's first projects was to document the 'missing city'. The resulting map, produced in January 2010, clearly showed the 'grey doughnut' of encircling roads and the blight alongside them that observers had seen for years in empty plots. Quantifying the problem not only threw it into sharp relief. It also suggested answers to the city's other problems. The map covered an area inhabited by 32,000 people. But just half of those patches of land could potentially house 50,000 people; more than doubling the population of central Belfast and leaving a chunk for commercial development. Built on, they would restitch the city centre and help make it thrive.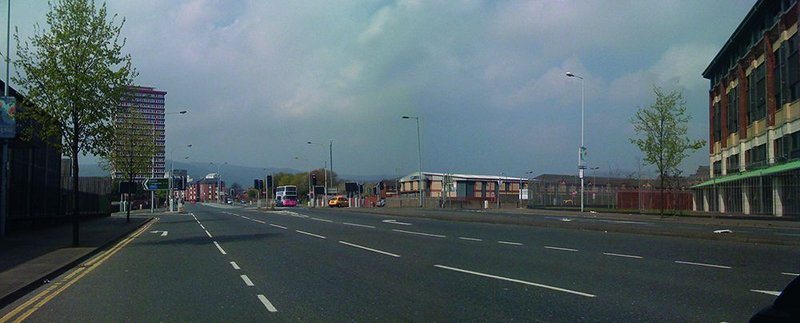 How it looks now.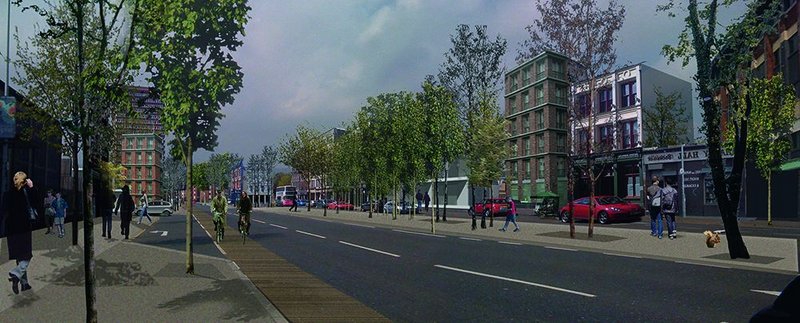 The view populated by buildings, trees and even some people.
'We have been operating for three years now behind the scenes,' says Hackett. 'There are no quick wins, but there are times when people quote back to you what you have been saying.' Recently he gained a fair bit of publicity for the forum's showing in Venice Takeaway, part of the British pavilion at the Venice Biennale. The forum's proposal borrowed the Berlin 1980s Internationale Bauausstellung (IBA) as a model for developing Belfast. Plan-based with resident involvement and architectural competitions, it brought work by a new generation of international architects to Berlin by the young Zaha Hadid, Alvaro Siza and others. It is an alluring proposition but Hackett knows there is a lot still to do before this kind of grand plan could get off the ground. 'We're not pushing the idea too hard,' he says. He reckons on some months building consensus before trying to make it anything more official. Recent research from the Conflict in Cities team bears out the close relationship between 'post-conflict' cities and how radically they have to address the legacy of conflict in built form.

With the sectarian divisions of Belfast any change will really rely on close working with local neighbourhoods and this is where Hackett hopes he can lay the ground work for a more proactive approach to the city's spatial planning. One of his successes in drawing together community, traffic planners and opportunity has been in west Belfast, where the arterial Westlink slip roads intersect with Divis Street. He describes the 'massive shatterzone' around the junction which is so over-engineered as to be 30m wide in places. 'It makes sites difficult to develop,' he says. 'But you can cut it back by 10m, without taking any lanes out or really challenging the junction, which gets you little pockets of land that make sites valuable'. The forum has worked those sites up into feasibility studies to give an idea of the areas being looked at and to give people a vision of this highway as an activated boulevard. The road service has agreed to the changes in principle. And after a period of silence funds from two separate bodies have arrived at the same time – for environmental improvement of the road (Department for Social Development) and a public art project (Fáilte Feirste Thiar which promotes tourism) – and it is starting to look like it might happen, especially as the road engineers will get the value of the land, explains Hackett.

The forum chose Divis Street/Westlink as the biggest junction, a place where the economics might most easily stack up. But Hackett has plenty more shatterzones in his sights, including where Bridge End Street meets east Belfast. He is not holding his breath but is sowing the seeds for moves he thinks could, and should, bring Belfast's centre back to life.
---
After the Troubles - Conflict in Cities

The very concept of 'post-conflict', often cited by political leaders, cannot apply to divided cities as these urban conflicts don't begin or end in the same way that wars do. Divided cities such as Jerusalem, Belfast and Nicosia will permanently retain the symptoms of cities at war while the physical features of their division remain.

If these cities are to develop while high levels of conflict remain, international efforts need to connect directly with communities to ensure that funds are channelled away from politically biased, short-sighted plans. 'Local participation in planning decisions is vital in giving people a stake in the rejuvenation of their cities and a role in addressing their conflicts' says Cambridge University's Dr Wendy Pullan, principal investigator for 'Conflict in Cities and the Contested State'.

These findings came from a five year, cross-disciplinary study of some of the world's most troubled cities. The project is led by researchers from three UK universities – Cambridge, Exeter and Queen's Belfast – and includes architecture, urban studies, politics, geography and sociology. For more see www.conflictincities.org/