Ancient skills and modern technology, practice and academia, theory and making, Ireland and China: Superposition in Hong Kong purposefully mixes it all up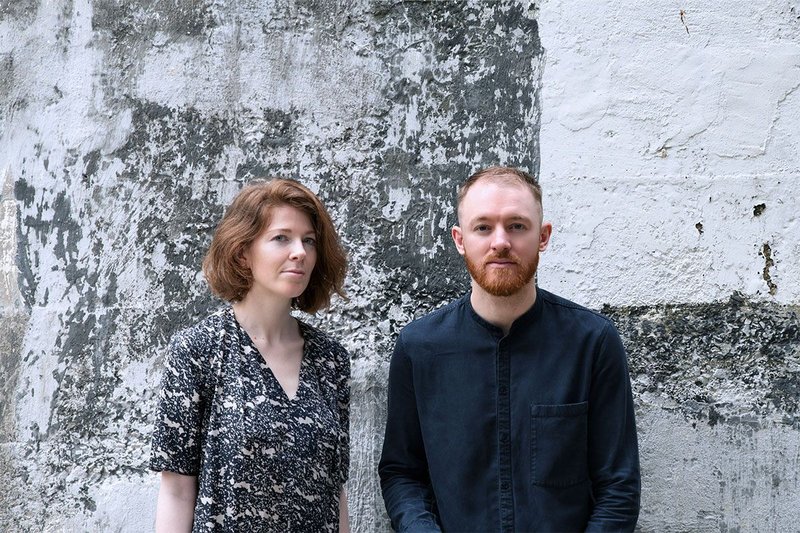 Elspeth Lee and Donn Holohan of Superposition - from Ireland to Hong Kong, combining practice with academic research.

Credit: Superposition
The University of Hong Kong (HKU) is an agreeable place, perched half-way up the hill towards the western end of the island. Its very colonial original Edwardian building, now somewhat shabby and scheduled for an upgrade courtesy of Wilkinson Eyre, is not really at the heart of the action: that takes place on the higher ground where a sequence of modern buildings arranged along lofty covered walkways, terraces and squares gives a processional feel and wonderful views. Here, in the square in front of the rather impressive Knowles Building where the architecture school is based, I meet Donn Holohan.
He and his fellow Irish colleague and partner Elspeth Lee (away on the day I called in) run a practice, Superposition, that is among other things designing a community theatre performance space in Hong Kong and some rural co-housing in Ireland. Holohan's principal research project at HKU is a thoroughly practical, hands-on affair. It marries traditional materials and techniques with modern design technology to produce useful and lyrical buildings in the southern Chinese village of Peitian.
The two of them previously had experience with leading Irish firms such as O'Donnell + Tuomey, Grafton, Paul Keogh, Bucholz McEvoy, plus in Lee's case spells with firms in Germany. She's an assistant lecturer at HKU, reviewing and teaching while building up the practice, he a full time assistant professor. Both alumni of University College Dublin, they share with the likes of long-term UCD teachers Sheila O'Donnell and John Tuomey a love of and fascination with the craft and communal aspects of building.
Moving to Hong Kong in 2014, with the possibilities that opened up in China, allowed them to do things that were increasingly difficult in Ireland or the UK, says Holohan. 'We couldn't practise in the way we wanted to – making things rather than specifying products,' he says. Having a degree in furniture design as well as a masters in architecture, making is what he's used to – at HKU he also helps run an enviable workshop where traditional materials like handmade brick meet the world of the computer-controlled robot.
Hong Kong has its fill of large practices, both native and outposts of overseas organisations: smaller experimental firms are less well represented. Superposition offers a way through this. There are some parallels with the work of Rural ­Urban Framework, the non-profit collaborative teaching practice at HKU run by Joshua Bolchover and John Lin. That is a larger-scale affair dealing with the judicious urbanisation of rural communities in China and Mongolia. In contrast, Superposition the practice is outside the university – though as Holohan says, 'there are unavoidable overlaps and interests – indeed the goal of Superposition is to blur the lines between practice/building, teaching and research.' The series of HKU built projects in Peitian – one per academic year – learn from and develop the traditional techniques found there.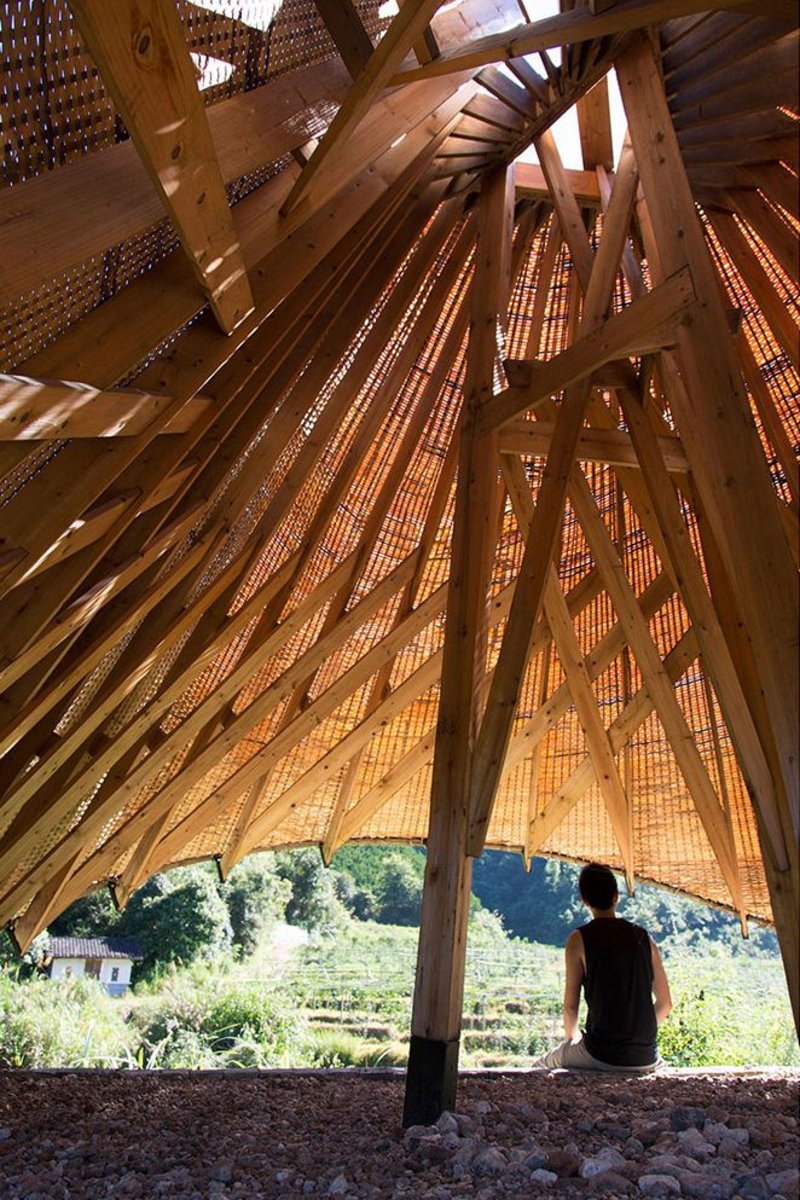 The composite "Sun Room" in Peitian uses traditional bamboo-weaving techniques in an entirely new way.

Credit: Superposition
Peitian in Fujian province is a village where traditional craft skills were on the wane, and historic buildings falling into disrepair, but where the traditional agricultural way of life survives. Working through an NGO, Gengxin Village Co-Creation, Superposition has so far realised three projects there: the Wind and Rain Bridge in timber that acts as a covered walkway, shelter and meeting place; the 'Sun Room' shelter and resting place comprising an in-situ composite woven bamboo shell; and the 'Living Museum' archive and workshop, inserted into a disused grain store. So far 180 students have participated.
The 'Wind and Rain Bridge' of 2015-16 is an interlocking timber structure made of 265 digitally-designed components with no mechanical fastenings. This mountainous fertile area had been devastated by flooding in 2014 and reconnections had to be made. The bridge, spanning a rocky torrent in the fields, is also a flight of shallow steps making a seating area: a place to pause, not just traverse.
Sun Room, the second project of 2016/2017, is the most lyrical in form: students and villagers worked with the last remaining (and very old) bamboo weaver in the village, scaling the material up to make a sun and rainscreen for the eventual structure which also functions as a chimney to move air through (it can get very hot there).
The third, 'Living Museum' of 2018/19, moves beyond the scope of the earlier buildings to become something of an economic generator for the village. By finding a new use for the old granary the Living Museum provides a knowledge exchange for crafts and skills and makes a museum of the place itself and its hinterland, so encouraging tourists. Given the continuing commitment of Holohan/Superposition to the village and their description of the project as a place where 'knowledge is shared between students, teachers, villagers and the academic community', one might also see it as an occasional rural atelier for the architecture school and the practice.
'Merging vernacular means and methods with digital tools' is how Holohan describes this process, and it could even be a motto for this practice with a strongly community-centred view of evolving tradition and place. Superposition is designing, making and building to excellent purpose.