Peter Barber's skill in filling small urban gaps with sociable, contextual homes fosters right-sizing to please everyone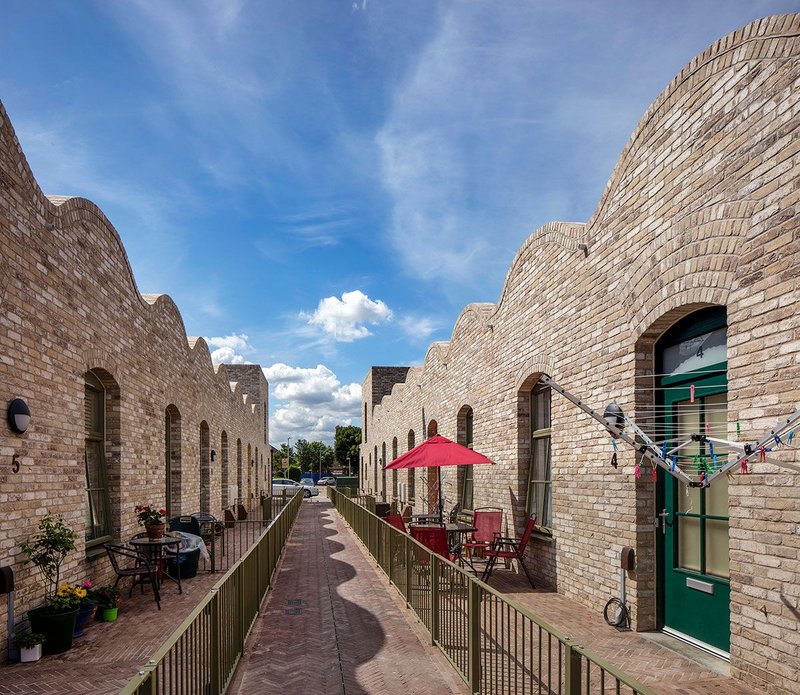 The return of the traffic-free alley: little front yards make a congenial environment for older people.

Credit: Morley von Sternberg
I'm nosing around at the back of some garages in east London. Naturally, this seems suspicious. Accordingly a beefy man in an equally beefy SUV (note to future archivists: this means sports utility vehicle, an automotive fad of the early decades of the 21st century) pauses on his way in, lowers his window, and gives me a Hard Stare. What's my business there? – the stare suggests. I explain that I'm interested in the little terrace of housing just behind the garages, and happen to know its architect, Peter Barber. The Hard Stare relaxes. It seems Barber's name is OK in these parts. Beefy man becomes helpful. Barber has done another, identical, set of housing in the street behind, he offers, and gives me directions. It's the first I've heard of it so I set off to see and so it is: an identical little mews behind another set of garages. It's so new the builders have clearly only just left.
Set in the heart of the 1920s Becontree Estate, arguably still the world's largest council estate which was conceived as 'homes for heroes' nearly a century ago, Burbridge Close –and its clone Tarling Close – are the first two of three infill developments by Peter Barber Architects which show the practice's skill in conjuring homes out of restricted sites which draw on successful examples from the past.
Each is a little mews of six single-storey homes for over-60s placed either side of a narrow alley. A further pair of two-storey two-bed houses act as a gateway from the main street. Built by Barking and Dagenham's development company BeFirst, this is a development which has successfully tempted older people to downsize (or right-size in the current jargon), so freeing up larger homes for families. Rather than the standard flats in blocks of sheltered housing, it offers a congenial environment where everyone gets a front door and front yard on a cheerful little street. The front room ceilings are vaulted as the ­facades indicate. In a way it is an anti-loneliness design, encouraging interaction. One resident reveals that it's not unknown for them to break into song when they're out front ­together. Barber points out that it is based on similarly hugger-mugger 19th century precedents such as Choumert Square in Peckham.
Later, Jennie Coombes of BeFirst explains the rationale. The blocks of garages, built by the Greater London Council on what were formerly short cross-streets, had fallen into disrepair, many used only for storage and so targeted for break-ins. A deal was made with the Becontree Estate residents: if half of the garage sites were given over for these little mews, then the remaining garages would be refurbished and made secure. It's a halfway-house variant of what is happening all over London right now as space-hungry and little-used local authority garages are replaced by new social housing.
Peter Barber Architects has evolved a highly distinctive approach to its housing, and if you know that, you'd immediately recognise this as his. Both our judges and local councillors point out how it also draws on the tradition of the old East End of open front doors and people sitting chatting on their front door steps. They are effectively bungalows, but have more the air of almshouses. As for the residents, so far so good: they say it's a splendidly sociable way to live. This is urban densification with a human touch, ingeniously carried out for the benefit not only of those living there, but also those whom it helps to house elsewhere.
Beyond that, it introduces an interesting new (or old, if you prefer) housing type into what is otherwise a fairly uniform and loosely-­structured interwar estate which nonetheless enjoys a strong sense of community identity, and is now gearing up for its centenary in 2021.