Mark Wallinger and Studio Octopi's Magna Carta project has a sense of presence and history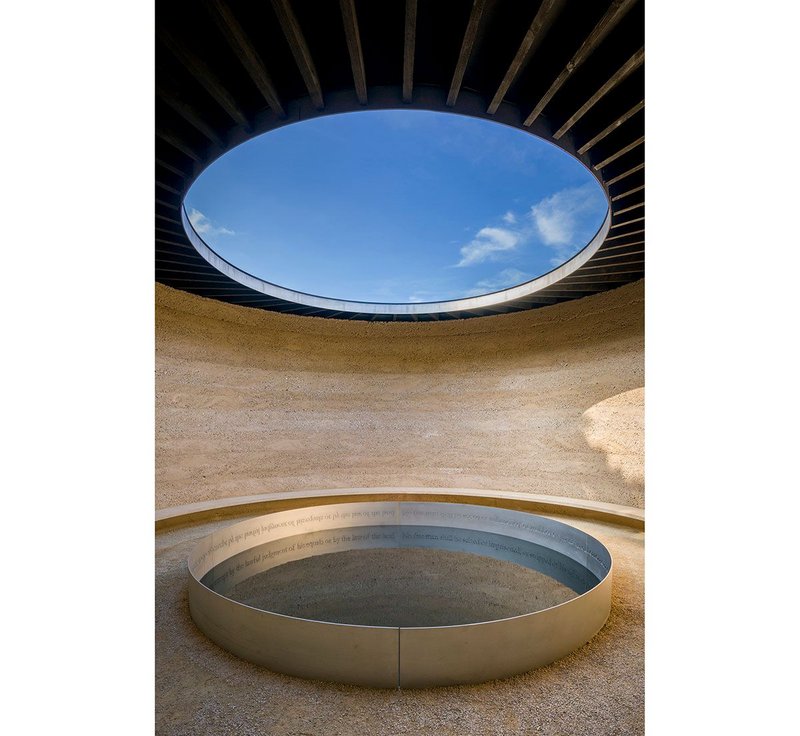 Relax and think.

Credit: National Trust - Andrew Butler
Very unlike anything else on this year's shortlist, Writ in Water provides a lasting space for reflection on the significance and influence of Magna Carta and its extraordinary role in the history of human rights.
Part of a wider masterplan, this architectural artwork emerges on a small natural plateau between oak trees. Its materials are drawn from the context, the form physically embeds itself in the landscape and encoded in the design are references to the passage of time
Today we don't really do a lot of architecture that is consciously part of a cultural heritage - this is architecture as sculpture – Judge Yuli Cadney-Toh
The building is 30m diameter and 12 cubits high. An exterior doorway leads to a simple circular labyrinth, in which the visitor can choose to turn left or right to reach an inner doorway that opens out into a central chamber. Here the sky looms through a wide oculus above a pool of water.
The roof structure consists of 52 Douglas Fir rafters, continuing a reference to time; there are 12 apertures at low level in the outer walls lighting the path between the two walls. The disturbance of the reflection is a reminder of the fragility of our human rights. The sides of the pool are inscribed on the inner face, the water reflecting the reversed and inverted lettering of Magna Carta Clause 39.