Residents of the Kipling Estate and Bell Phillips show what local input really means with Marklake Court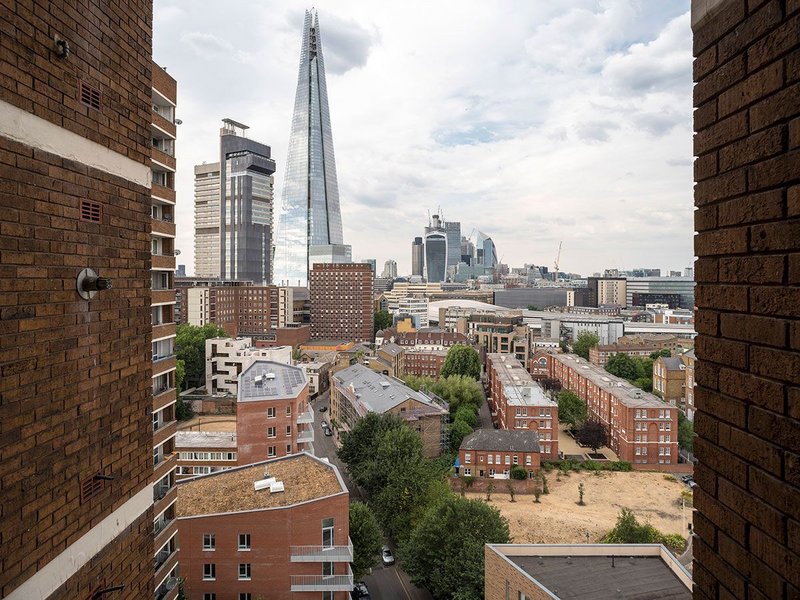 View from one of the estate towers over Marklake Court, bottom left.

Credit: Kilian O'Sullivan
A mid-rise, community-led development of 27 council rent homes crowning the low-rise Kipling estate in Southwark encapsulates a possible ground-up way of addressing the UK housing crisis.
Looking to increase the density and suitability of the estate's housing stock, Bell Phillips worked throughout with local residents, who had formed the LCBS in 2011 to develop new affordable homes on a site of 20 redundant garages on the northern edge of the estate. The skill of the architect's proposal is that its mid-rise towers, enclosing the semi-public square, seem to complete the estate rather than encroach on it.
Its clear success comes from the way Marklake Court was procured. An estate-wide consultation identified areas of specific tenant need. In turn, the moving of residents into it from unsuitable properties released them for upgrade and occupation by tenants and families more suited to the provision. This virtuous circle met the needs of far more than the 27 families who moved into the new building.
At Marklake Court, all homes are dual or triple aspect, with generous floor to ceiling heights, excellent levels of natural light, and stunning views of the wider city. Big balconies and terrace areas encourage social interaction between neighbours and floors. Detailing such as brick corbels echo those found on old estates in the area, and was done in consultation with residents looking around the locality.
The result is a development that not only meets the needs of new residents, but brings palpable benefits to the wider estate community.