The winning MacEwen Award scheme, Park Palace Ponies offers children skills rarely seen in the inner city. Architect Harrison Stringfellow enabled the dream
Delight builds on delight. First, discovering that architects Sarah Harrison and Su Stringfellow have known each other since they met at school aged four. Second, that they have a five-strong studio in a shop in the legendary Penny Lane. 'We wanted a shop because we wanted to be somewhere people could see what architects do,' Stringfellow explains. It's very public: in your ears and in your eyes, you might say. The barber shop of the song, I later discover, is about a five minutes' walk away. And then thirdly, when I go back to the original Beatles' 1967 promotional film for the song – one of the very first music videos – there they are, the Fab Four, riding horses through a city. This brings me to Harrison Stringfellow's project Park Palace Ponies, two and a half miles west of their studio. This is a riding school for the urban youth of south Liverpool – the Dingle area and beyond – which is every bit as surreal as any of the images in that film. Because it is inside a derelict music hall-turned-cinema.
In a way this is just a fortunate accident. The original idea, which came from their client Keith Hackett who had been behind another thriving community venture nearby, Toxteth TV, was for a new-build facility – as that was. Hackett had taken to equestrianism and soon realised that the whole business of horses – their welfare, their tackle, their grooming, the organisation of them as much as the riding and the companionship of them – together presented a package of fascinating skills that urban kids seldom have a chance to experience. 'But collectively we felt that the success of the project depended on the buy-in of the community,' says Stringfellow, 'their support would be critical to issues of security.'
Hence the new charity taking a lease on the old 1893 music hall on the corner of Mill Street. Having closed as a cinema in 1959 and subsequently been used as a factory and for storage, the open covered space was just big enough to make a covered riding school for young children, with stables and a shipping-container office placed in a yard outside: the theatre itself, complete with patch-repaired ornamental ceiling and proscenium arch of Corinthian columns and broken pediment, is unheated and ventilated through high-level air grilles. Harrison Stringfellow put together a strategy for the venture which also included five acres of grazing on various sites nearby (there is plenty of council-owned open land though housing is now starting to encroach) plus an arrangement with local allotment holders to use the manure produced.
Community is important here: the Park Palace, as Hackett points out, is pretty much on the dividing line between South Liverpool's two Irish communities – the orange and the green. He points out a 'Peace Wall' enclosing a housing estate across the street: deemed at one point to be a necessary measure during marching season. But in the memory of the community, he says, the Park Palace was neutral ground: everyone went there and mingled. In the community consultation sessions organised by Harrison Stringfellow, this affection for the place came through.
Started as a 12-month trial, the venture has been a considerable success and so continues: one school party was leaving and another arriving while I was there, the ponies trotting gently round their arena (it's not big enough for cantering, I was told, and children wanting to progress graduate to a bigger riding school further away). The community has bought into it, as have the powers that be, notably the British Equestrian Foundation which funded the pilot period.
There's something Detroit about this and how urban farming has been reintroduced there Judge Hana Loftus
There is almost no new 'architecture' to be seen, it's all in the planning and ­consultation and enabling. Physical works on site are done in self-build, DIY fashion: indeed I found Hackett himself there painting a wall in a back room. Having proved itself, it could now become permanent and the architect has put in a planning application. As a way of bringing life and interest to a neglected part of town, it's terrific.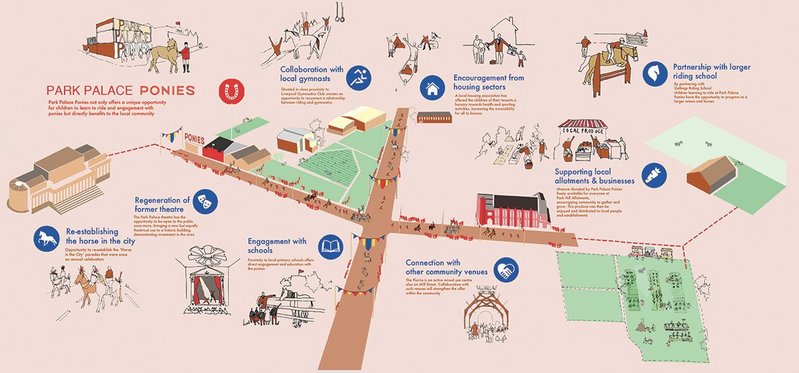 Of course there's a 'ruin porn' aspect to this – there's no doubt we judges all loved the seductive image of the horses in the old music hall and, as Hana Loftus observed, it has a post-industrial Detroit quality to it. But as she added, 'They've done the minimum to the building to make it do what it needs to do – there's no gestural anything.' For Dan Kerr, last year's MacEwen winner, it was the way a threatened building first acquired a new temporary use, and could well now become permanent, that appealed. Cecilie Sachs Olsen, a curator at the recent Oslo Triennale with its theme of 'degrowth', sees it as exemplary in its incredibly lean use of materials (even the stabling is second-hand and the arena barriers demountable and re-usable) to achieve a considerable beneficial social impact. And Kathy MacEwen pointed out the therapeutic qualities of riding – her own parents after whom the award is named, both partially disabled 'with two good legs between them' as they used to joke, themselves took to riding for this reason.
So this steampunk, anti-posh Liverpudlian youth version of the Spanish Riding School of Vienna is the MacEwen Award 2020 winner. For a project cost of around £50,000, Park Palace Ponies has got the horsepower.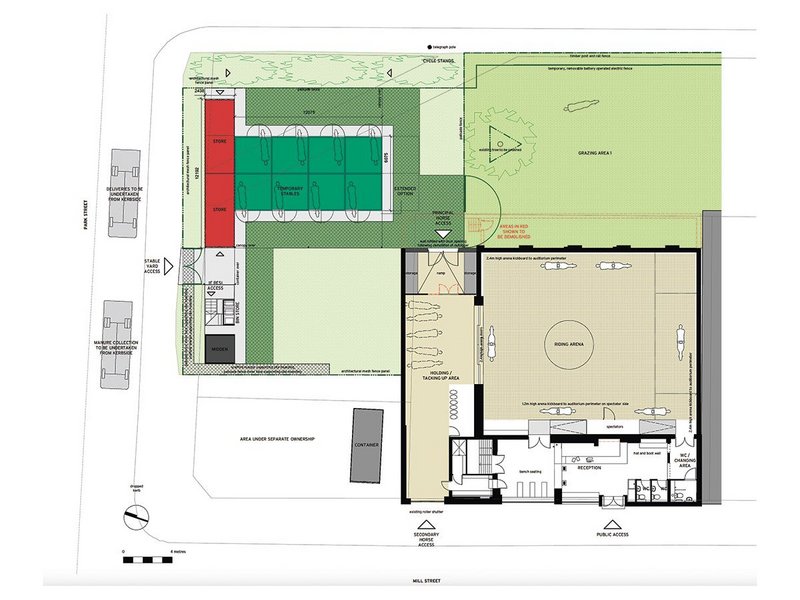 Credits
Client Park Palace Ponies CIC
Architect Harrison Stringfellow
Structural engineer Elliot Bond Consulting